Graduation Parties Commence — While Staying Safe at Home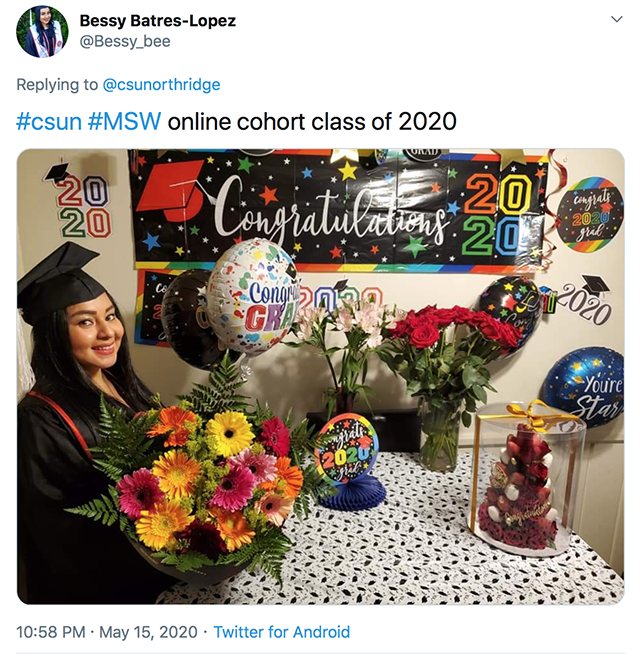 Stay-at-home orders didn't stop CSUN's newest alumni from celebrating their big accomplishments this weekend. Many students and their families marked the completion of a degree with cake, flowers, balloons and pride — all enjoyed responsibly and safely, of course.
The CSUN class of 2019-20 can't yet come together for an official ceremony — there are still plans for one later this year, when it is safe to do so — so Matadors and their loved ones partied at home and shared their joy on social media.
We'll be back together soon. In the meantime, we wanted to share some of our favorite celebrations.
"CSUN's Library in Our Backyard"


"A Special Moment"
"Today Was a Good Day"
Family Pride
Super proud of my sister 🥺❤️ my grandma would be very proud of you we love you ❤️❤️❤️ CSUN graduate 🤪 pic.twitter.com/ZgSeypripW

— Hilda🌵 (@ramosh10_) May 16, 2020
Double Celebration
Extremely Proud
Extremely proud of myself and my fellow classmates! Cheers to the class of 2020!!! 🥳👩🏽‍🎓👑❤️ #CLASS2020 #BachelorsDegree #CSUN pic.twitter.com/64zFr1kqwy

— ann ivazov (@ann_ivazov) May 17, 2020
Hard Work Pays Off