Africana Studies Week 2022 Looks to the Future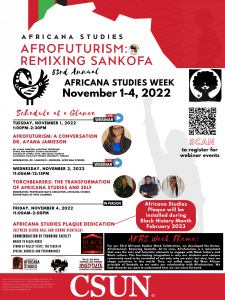 Africana Studies Week starts Tuesday, Nov. 1, with a series of roundtable discussions and culminates on Friday, Nov.4  with a special commemoration ceremony honoring the department's founding faculty.
This year's theme for the week is "Afrofuturism: Remixing Sankofa." Afrofuturism is an arts movement that blends futuristic or science fiction themes with black history and culture.
Cedric Hackett is a professor of Africana Studies and the director of the Dubois-Hamer Institute of Academic Achievement. "We believe it [Afrofuturism] creates spaces for African Americans to take back their history," he said. "That's why [we incorporated the term] 'remixing Sankofa' which means 'to go back and fetch' in Swahili–  It's not just about reclaiming the history of the past but [claiming] the future as well."
There will be two presentations via Zoom in honor of Africana Studies Week. On Tuesday, Nov. 1, there will be a conversation between Ayana Jamie Jaimeson, a professor of ethnic and women's studies at Cal Poly Pomona and Sharon Johnson, a CSUN professor of Africana Studies on Afrofuturism.
On Wednesday, Nov. 2, there will be a roundtable discussion with CSUN Africana Studies alumni members called "Torchbearers: The Transformation of Africana Studies and Self."
On Friday, there will be a ceremony at 11 a.m. between Sierra Hall and Jerome Richfield Hall to dedicate a plaque to the founding faculty of Africana Studies.
"[This is an] historical marker that folks who are going on tours can see how the ethnic departments, in particular Africana Studies, was erected," he said. "It was erected out of student protests and activism."
CSUN's ethnic studies programs, including Chicana/o Studies and Africana Studies, as well as the Education Opportunity Program (EOP) were among some of the first of their kind in the nation and came about during student protests on campus during the 1960's.
Two members of Africana studies' founding faculty Barbara Rhodes and Rehema Gray, will be present for Friday's ceremony, that will finish with a march to the Black House. The plaque will be formally installed next February as part of Black History Month celebrations.