Campus Care Advocate Supports CSUN Survivors of Sexual Assault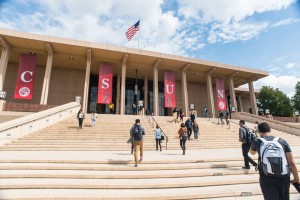 As the issues of sexual misconduct and sexual violence attract increased attention on college campuses across the nation, California State University, Northridge continues to ramp up its efforts to tackle those issues, with increased support resources for survivors.
Katie LaRue is preparing to start her second full academic year as the university's first "campus care advocate," a supportive resource for CSUN students, faculty and staff — whether their incident occurred on campus or off (which is the case for most). LaRue's private office is located in the Klotz Student Health Center on the east side of campus, where she already has assisted dozens of survivors of sexual misconduct, domestic violence, dating violence and stalking.
"I'm there to emotionally support the survivor and help them navigate the process afterward," said LaRue, a CSUN alumna (M.S., Marriage and Family Therapy). "In addition to supporting students, I'm also a resource for faculty and staff — anyone who has a CSUN I.D. card or any sort of CSUN affiliation."
LaRue explains to survivors their rights, as well as their options for reporting sexual misconduct to the university's Title IX coordinator (or choosing not to report). She also explains their options for reporting the incident to CSUN's Department of Police Services and other law enforcement agencies.
As campus care advocate, LaRue works for Strength United, which is operated through CSUN's Michael D. Eisner College of Education. The organization was founded 27 years ago by Department of Educational Psychology and Counseling faculty. Ninety percent of its staff are CSUN alumni.
Strength United serves thousands of children and adults annually. It provides 24/7 support and crisis intervention, along with long-term counseling, victim advocacy and prevention-education programs to individuals and families affected by child maltreatment, domestic abuse and sexual assault.
In the past, survivors often were referred off campus to Strength United. LaRue's presence on campus has made such support more accessible and immediate. With a survivor in her campus office, LaRue can pick up the phone and make calls on the person's behalf — to a detective, for example — if they don't feel comfortable making those calls on their own. She also offers to accompany survivors as they make reports and provide statements, obtain restraining orders or undergo a forensic medical exam at Dignity Health Northridge Hospital Center for Assault Treatment Services (at Strength United's Family Justice Center).
"It is not uncommon for individuals to feel confused and overwhelmed 24 to 48 hours after an assault," LaRue said. "Reaching out to a trusted family member, friend or campus care advocate can help make sense of the range of emotions such as fear, anxiety and sadness.
"Physical effects such as insomnia and nausea are also common, which can make [keeping up with] the academic schedule difficult," she said. "In my first year, I was so impressed with the resilience of students after going through a violent crime and still being able to stay in school and stay on track."
From July 2015 through July 2016, LaRue said, she assisted 66 students — 60 females and six males. At their request, LaRue accompanied 12 of them to help make a formal report to the university under CSU policy, which adheres to Title IX. The landmark 1972 federal civil rights law prohibits discrimination on the basis of sex in all education programs and activities at institutions that receive federal financial assistance. Title IX, and more specifically the federal Violence Against Women Act, requires campuses to address sexual misconduct allegations.
LaRue accompanied six survivors to a police station, and three to Strength United partner Neighborhood Legal Services, to help the survivors obtain restraining orders.
She also has made dozens of presentations at events, classes and workshops around campus, educating students, faculty and staff about sexual violence prevention and the resources available.
"It's important to note that it doesn't have to be an incident between two CSUN students," LaRue said. "It's still a campus issue because [the survivor] is a CSUN student. The resources are all still available to them."
Often, students find her after they've confided in a professor, who may escort that survivor to her office, LaRue said. Many students have contacted her after hearing presentations on campus. She also tries to greet every University 100 freshman class, all of which tour the Klotz Student Health Center in the fall.
The addition of the campus care advocate to the CSUN community strengthens the university's network of support services, according to Susan Hua, CSUN's Title IX coordinator and director for the Office of Equity and Diversity. That network includes Hua as Title IX coordinator and three other university staff members as Title IX deputy coordinators, with two specifically trained to investigate Title IX-related allegations. The Sexual Violence Prevention Committee, a group of staff, faculty, students and community responders, also meets regularly to assess the university's programming and initiatives around eliminating sexual violence.
In the upcoming academic year, LaRue said, she hopes to do more presentations to fraternities, sororities and student-athlete groups at CSUN. She also wants to continue increasing awareness across campus about resources for survivor support.
"The most rewarding part of this job is connecting with the students and providing this safe environment for them and instilling empowerment," LaRue said. "To see them go from that fragile state to more confidence — to see that healing is possible. I feel so honored to be part of that journey."
LaRue's door is open to any CSUN student, faculty or staff member, 8 a.m. to 5 p.m. Monday-Friday. Her office is located in the Klotz Student Health Center, room 140G, and she can be reached at (818) 677-7492 or katelin.larue@csun.edu.
After hours and on weekends, or to learn more about helping someone affected by child maltreatment, domestic violence or sexual violence, call Strength United at (818) 886-0453 or (661) 253-0258.