CSUN, Metro Partner to Ease Student Commutes, Save Students' Money
Getting to California State University, Northridge will be easier for its more than 40,000 students starting the first day of the fall 2016 semester. Earlier this month, Metro Los Angeles partnered with CSUN to pilot its Universal Student Transit Pass (U-Pass) — allowing students to purchase an unlimited Metro bus and rail pass for the entire 21-week semester at a deeply discounted rate.
"Public transportation is a vital need for our campus community," said CSUN President Dianne F. Harrison. "The Metro U-Pass program will provide a cost benefit and ease of use that was not available before. We are delighted to be among the first Los Angeles universities to provide this opportunity for our students."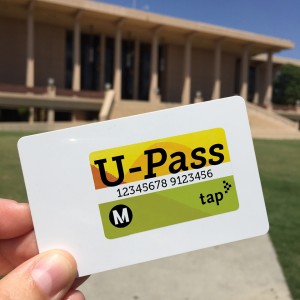 Metro U-Pass turns the CSUN student identification card into a Metro TAP card by applying a smart chip-enabled sticker to the back. The sticker is pre-loaded with unlimited Metro rides and has the ability to be loaded with a balance for other local transit fare, on services such as Antelope Valley Transit Authority or Santa Monica Big Blue Bus, that can be loaded at any TAP payment terminal.
"I am really happy that students will be able to utilize the U-Pass this semester," said former Associated Students President Jorge Reyes Salinas. "Especially for students who are working 20 to 30 hours a week and commuting to campus, this will give them some extra breathing room in their budget."
Fall 2016 passes will be valid Aug. 29-Jan. 23 and will be on sale though Oct. 15, 2016. The $95 pass is subsidized by Metro, Associated Students and CSUN Parking and Transportation. Metro's College/Vocational Tap pass is normally $43 a month and a regular monthly Tap pass is $100.
The Metro U-Pass is available to CSUN undergraduate students with eight or more units, or graduate students with six or more units, who have a CSUN student ID card. Students can purchase the pass in their myNorthridge portal, where they will find "Purchase/Renew Metro U-Pass" in the "Financial Matters" tab. After purchasing, students can pick up their sticker from the Associated Students Box Office. Passes may be renewed online each semester a student is eligible, allowing for them to keep the same U-Pass.
"The introduction of the Metro U-Pass and schedule changes to accommodate evening classes are two ways we are working to provide better service to CSUN students," said Phillip A. Washington, chief executive officer of Metro Los Angeles. "These changes are partially a result of student feedback received at the community meetings held on campus."
Earlier this summer, Metro extended service on two lines to better align bus schedules with evening classes. Metro Rapid Line 744, which serves the CSUN Transit Station, and Metro Line 239, which travels to and from the Sylmar/San Fernando Metrolink Station, added two additional trips after 9 p.m.
Additional CSUN transit priorities include the addition of a Bus Rapid Transit (BRT) line along Nordhoff Street from Chatsworth to the East San Fernando Valley, stopping at CSUN. The new BRT is included as part of a plan to better connect the San Fernando Valley to the Metro transit system that will appear as part of Metro's Measure M on the ballot in November 2016.