Celebration Highlights CSUN's Focus on Research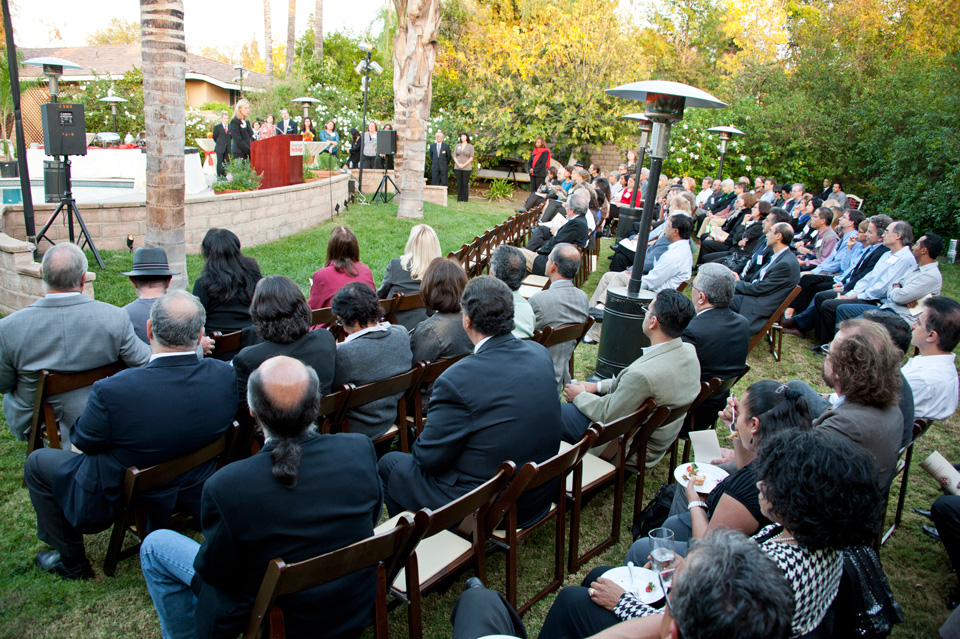 More than 100 faculty researchers were recognized by CSUN President Dianne F. Harrison at inaugural Principal Investigators Recognition Celebration event. Photo by Lee Choo.
When President Dianne F. Harrison joined the California State University, Northridge community this summer, she set an ambitious goal: to double the amount of grant or contract-funded research on campus in the next five years. In keeping with that goal, the president has renewed the campus' focus on supporting faculty who are conducting funded research projects.
On Nov. 1, Harrison hosted about 100 faculty researchers from each of CSUN's nine colleges at the inaugural Principal Investigators Recognition Celebration at her home. Each principal investigator, the lead researcher on a funded project, was individually honored and presented with a token of the university's appreciation for their dedication to projects that cover subjects that range from nanotechnology and solar astronomy to education and ecology.
Before introducing the researchers, the president affirmed her dedication to research on campus, which she said not only contributes to the ongoing development of crucial basic and applied science—essential to solving today's challenging problems—but also benefits students. Principal investigators serve as mentors for the students and fellow faculty working with them on their projects.
"We know that students who are involved and working with faculty, side-by-side, do better," Harrison said. "They do better academically. They do better in completion. They do better in a whole host of ways."
Harry Hellenbrand, provost and vice president for academic affairs, also spoke about the importance of research in effective teaching. "If you aren't out there practicing what you preach, then you can't preach well," he told the researchers. "So what you're doing is essential for good teaching."
In addition to mentoring students, principal investigators mentor young faculty, preparing the next generation of CSUN's faculty to lead funded projects, an essential element to reaching the president's goal to double research funding—important in today's challenging budget environment.
"Any kind of additional, non-California-state revenue that we can bring in is all to the good," Harrison said
Radha Ranganathan, a CSUN biophysicist and the principal investigator on a National Institutes of Health-funded project to model the relationship between cell membrane structure and enzymatic activity, was encouraged by the event.
"The inaugural principal investigator event was very special," she said. "The president's focus on increasing grant-funded research is crucial to the university's future and recognizes the importance of research in an institution of higher learning. I am excited to be part of it."