CSU Welcomes Next Chancellor, Joseph Castro, with Livestreamed Conversation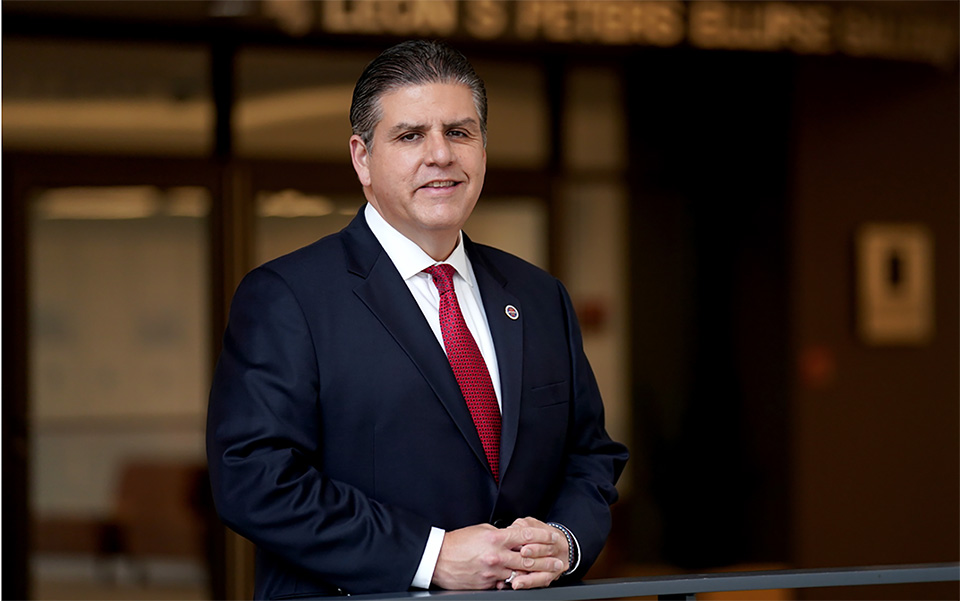 CSUN joined in the California State University (CSU) systemwide welcome of Joseph I. Castro as CSU chancellor-select.
On Friday, Sept. 25, Castro introduced himself via livestream to the 23 campuses, which make up the nation's largest four-year university system. When he takes the helm in January, Castro will be the first-ever California native and Mexican American to lead the CSU. Castro will succeed Chancellor Timothy P. White, who is retiring after leading the CSU since 2012.
Castro has served as the president of Fresno State since 2013.
"Dr. Castro is a trusted colleague who knows firsthand the excellence and positive impact of the CSU, from his time serving as president of California State University, Fresno," CSUN President Dianne F. Harrison said in an email to the CSUN community last week. "The CSU is in fantastic hands. Dr. Castro brings a depth of knowledge of California higher education that will elevate the entire system as we emerge from the current challenges of the ongoing pandemic and related economic downturn."
The Friday "Conversation with the Chancellor-select" was hosted and moderated via CSU livestream by Monica Lozano, president and CEO of the College Futures Foundation. More than 3,600 people tuned in to the livestream.
"I want to express my gratitude to Chancellor White, who's done a magnificent job," Castro said. "We've got a much more powerful CSU than we did when he started, and my desire is to build from that with our CSU team — including our 3.8 million alumni. If we're all going to keep rowing in the same direction, talk about a powerful force! There's nothing like it in the country. I'm hopeful that I can inspire the very best in everybody, so we can elevate the CSU to new heights of greatness."
Castro reflected on his upbringing in the agricultural town of Hanford, in the San Joaquin Valley. As a first-generation and Educational Opportunity Program (EOP) student at UC Berkeley, his background is similar to that of countless CSUN students. That "transformational experience" during his undergraduate years is what inspired his career path in higher education policy and leadership, Castro said.
"It was my higher education that made the difference in my life — the ability to go to the UC Berkeley campus," he said. "It was a program that Chancellor [Mike] Heyman at the time had designed to get more students from the San Joaquin Valley to go to Berkeley. It was an example of real leadership that changed my life."
He choked up as he reflected on the honor of leading Fresno State, a mere 40 miles from his hometown.
"Very few people get to serve at home as a university president, and I've been able to do that here at Fresno State," Castro said. "The fact that [Fresno State students] grew up under circumstances similar to my own has been so meaningful."
The CSU is home to approximately 482,000 students, and 53,000 faculty and staff. Of taking the helm of the CSU system during this pandemic, a time of unprecedented challenges for the university and the global population, Castro was optimistic.
"It will be difficult in the short term, certainly, but we will persevere through that and be much stronger for having gone through this experience," he said. "I understand that this is a stressful experience for so many in the CSU: students, faculty, staff, their families. Some have lost loved ones to COVID-19. Some are taking care of young children while trying to learn or teach. I want to begin by empathizing with that situation.
"The power of the CSU is that we can learn from each other," he continued. "We're learning, we're adjusting, and we all care deeply for our students and want to make sure they have the support they need. … I'm encouraged by the innovation that's happening right now. We all realize that we're not going to go back to where we were in March. We're going to go to some new place, and that new place could be really exciting, especially when we eliminate the pressures of COVID-19."
A recording of the event and more information about Castro is available at calstate.edu and the CSU YouTube channel: youtube.com/user/csuco.