CSUN's de la Vega Honored as HR Professional of the Year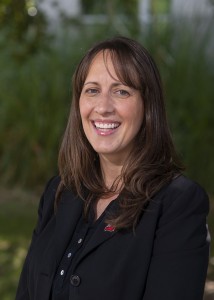 Kristina de la Vega, associate vice president of human resources, received the "HR Professional of the Year" award from the San Fernando Valley Business Journal at the annual Chief Financial Officer and Human Resources Awards ceremony in June.
The Business Journal honored de la Vega based on the impact of her work, the amount of time she's spent in the industry and her involvement in the community.
Her CSUN career began in 2011 as director of employee relations. Since her promotion to associate vice president of human resources in 2013, her focus has remained on recruiting and retaining talented employees for the ultimate success of CSUN students. She manages more than 40 human resources professionals responsible for supporting nearly 4,800 employees.
The university benefits from de la Vega's "CSUN Shine From Within" program, which provides employees with helpful tools to succeed as a member of the CSUN staff. She also has participated in the development of campus leadership summits and launched the first New Administrator Orientation, which educates new leaders on the campus priorities and employee engagement.
"I am grateful for the opportunity to develop engagement opportunities for our employees, so each person knows and understands the value of their work here and the positive impact to our students," de la Vega said.
"None of this could be achieved alone," she added. "Thank you to the entire HR team, whose passion and dedication inspire me each day, as well as CSUN leadership for their support and commitment to employee success."