Dr. Brandon Martin Named New CSUN Director of Intercollegiate Athletics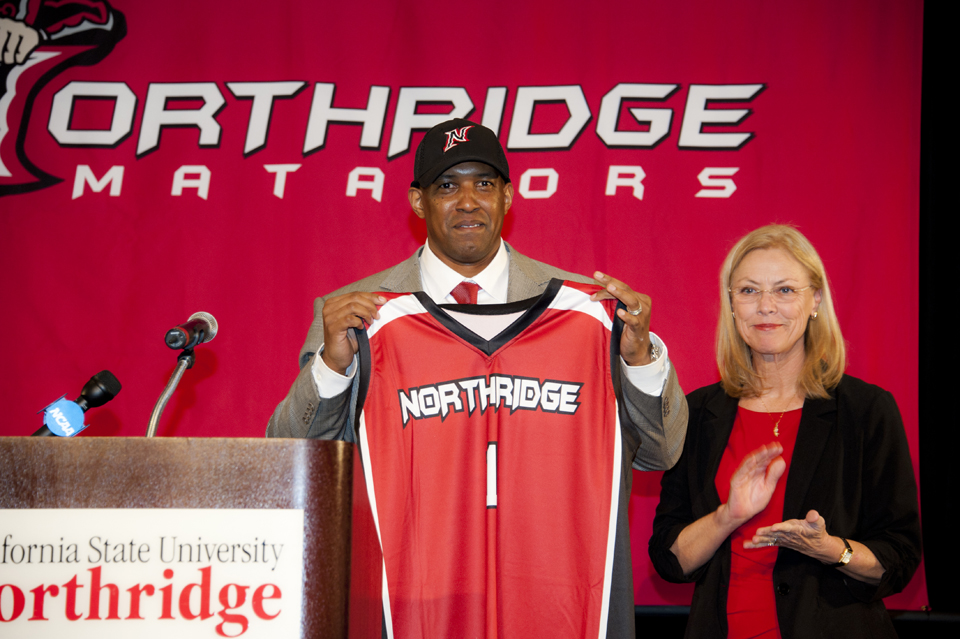 Dr. Brandon Martin (left) is welcomed as CSUN's new athletic director by President Dianne F. Harrison. Photo by Lee Choo.
California State University, Northridge President Dianne F. Harrison announced today the hiring of Dr. Brandon Martin, a former Cleveland High School and USC basketball star who has more than a dozen years of experience in intercollegiate athletics and sports administration in NCAA Division I athletics, as the new athletic director of the Matadors' 18-team intercollegiate program.
When Martin, 39, assumes his new position April 1, he will be joining a small number of African-Americans who head an athletics program at universities in the United States. According to the 2010 College Racial and Gender Report Card from The Institute for Diversity and Ethics in Sports in all of Division I, African‐Americans hold only 7.4 percent of athletic director positions.
Harrison introduced Martin to the campus community this afternoon during a special gathering in the Northridge Center of the University Student Union. Martin will be responsible for Northridge's NCAA Division IAAA athletic program that includes a $9 million budget and about 350 student-athletes in eight men's and 10 women's teams.
"We are pleased to welcome Dr. Martin back home to the Los Angeles region and to the San Fernando Valley, and are proud to welcome him into the Matador family," Harrison said. "He has played a key leadership role in one of the country's top sports programs. We look forward to him bringing his extensive experience to CSUN and taking the Matadors to the next level."
Martin says he is excited to join the CSUN community.
"I am truly honored to be welcomed to the Northridge family," Martin said. "I look forward to making comprehensive excellence a priority within the department. With hard work and unity, we can be one of the best athletic departments in the country."
Bernard Franklin, NCAA executive vice president and chief inclusion officer, said he felt Martin's appointment was a great one.
"I was very supportive of Brandon during the process," Franklin said. "He will be a creative and visionary athletic director for the institution. I am excited about the appointment."
Martin is part of the Division 1A Athletic Directors' Association's Fellow Program, which is designed to prepare senior association athletic directors for athletic director positions.
Dutch Baughman, executive director for the Division 1A athletics directors association, hailed Martin's hiring at CSUN saying, "He is one of the most remarkable young men I have come across. In a period of time that I have known him, not only is he eloquent, but he has a plan and over time through determination and diligence he has made it happen. He is absolutely ready for this opportunity. Not only does he understand athletics, he understands higher education and the role intercollegiate athletics plays in higher education."
Former NCAA President Cedric Dempsey, who served as a consultant on the search to fill the athletics director position, concurred.
"I congratulate CSUN and Dr. Harrison on the section of the new director of athletics," Dempsey said. "I think Dr. Brandon Martin is an excellent choice and will prove to be a strong leader of the university's sports programs."
Martin, who has a doctorate in higher education administration from the University of Southern California, comes to CSUN from the University of Oklahoma, where he is a senior associate athletic director for administration. His duties at Oklahoma include supervision of men's basketball, track and field, cross country, soccer and rowing, in addition to human resources, NCAA legislation and certification, strength and conditioning, risk management and strategic planning. He is the chair of Oklahoma's Athletics Diversity Council and manages all diversity and inclusion programming within the department. He previously held a similar role at USC.
While at Oklahoma, Martin played a critical role in capital projects, namely the Oklahoma University on-campus rowing facility. Martin also was on the front lines of hiring head men's basketball coach Lon Krueger at Oklahoma and head women's soccer coach Matt Potter.
Martin also serves as an adjunct professor in the Rainbolt College of Education, the Department of African American Studies Department and the Department of Human Relations at the University of Oklahoma. He has co-authored eight peer-reviewed journal articles as well as five book chapters and presented at more than 40 national higher education conferences. His dissertation, "A Phenomenological Study of Academically Driven African American Male Student Athletes at Highly Selective Division I Universities," won the 2005 Outstanding Dissertation of the Year Award from the USC Rossier School of Education. In 2004, he earned the National Association of Academic Advisors award for Student Athlete Excellence in Research.
He was appointed to the Sports Management Institute Executive Committee in January of 2010. Founded by the Universities of Southern California, Notre Dame and North Carolina, the Sports Management Institute provides a specialized executive program for sports management professionals.
"He is a respected scholar with a doctorate in higher education who maintains an active research, publishing and teaching agenda that examines the broad scope of leadership issues in intercollegiate athletics," Harrison said.
Martin first drew the attention of San Fernando Valley residents as a star member of Reseda's Cleveland High School basketball team in the early 1990s. His coach at the time was current CSUN men's basketball head coach Bobby Braswell. While at Cleveland, Martin was the 1992 City Section 4-A player of the year.
He was a four-year letter winner on the USC men's basketball team, starting his final three seasons and serving as team captain the last two years. He finished his career among USC's top 20 scorers (1,070 points). He also played professionally in China and Venezuela.
Martin was selected from among five finalists for the position who emerged from a nationwide search that began late last year. Associate Athletics Director of Internal Operations Ashlie Kite has been serving as athletics administrator in charge during the past few months.
Harrison thanked Kite for her leadership during the interim, saying she provided a "steady hand for the department while it was in transition and we look forward to her continued contributions to the Matador family."
Thus far in the 2012-2013 academic and athletics year, there have been several notable achievements among CSUN's sports teams, including the men's soccer team, which won the Big West Conference regular season and tournament championship to qualify for the NCAA Tournament. In women's soccer, the Matadors advanced to their first NCAA tournament appearance by virtue of winning the Big West Conference Tournament. In women's volleyball, Cal State Northridge had its first 20-win season since 1996.
Martin has a bachelor's degree in primary education and general studies, a master's in post-secondary administration and student affairs and a doctorate in higher education administration from USC. He and his wife, Rosemary, have three children.
View the highlights of Dr. Martin's campus introduction:
Video produced by Dylan de Mott and Krishna Narayanamurti.