Drive. Park. Study. Repeat: Big Changes to Alleviate CSUN Parking and Traffic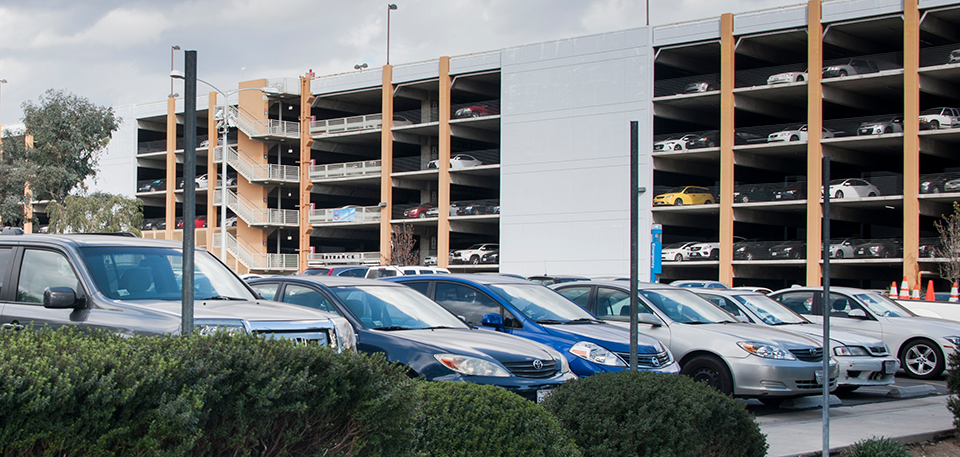 CSUN students, faculty and staff can look forward to a few major updates coming to campus this academic year and next that will help alleviate daily commutes.
The biggest update at CSUN is rising along Zelzah Avenue at Plummer Street: the new G6 parking structure. This new, 1,500-space structure — currently under construction — features an entrance/exit to the Zelzah/Plummer intersection, additional electric vehicle charging stations; bicycle and scooter storage; and energy-efficient LED lighting. The structure is scheduled to open at the start of fall 2020 semester, according to Ken Rosenthal, vice president of Facilities Development and Operations.
In addition to the G6 structure, a new stoplight is in the works for the often-bustling intersection of Darby Avenue and Plummer Street, added Rosenthal. This new stoplight will make left and right turns from Darby to Plummer much safer. Pedestrian safety will also improve, according to planning and development officials, with the addition of a new crosswalk bridging Plummer Street on the east side of the intersection (along with the two current crosswalks crossing Darby Avenue on the north and south).  Part of the intersection will include a new entrance to the F6 parking lot.
The stoplight plan is awaiting final approval from the Los Angeles City Bureau of Engineering to begin construction, but CSUN officials anticipate the approval toward the end of this spring semester. Once approved, it will take approximately six months to build, with a completion goal by the end of 2020. Construction may begin as early as the end of spring semester, but no disruption of spring semester finals, commencement or campus traffic is anticipated, according to Rosenthal.
These parking and traffic updates will take some time before making a significant impact on campus, but there are resources available now to help students, faculty and staff plan for parking throughout the spring semester.
Students, faculty and staff can download the MobileNOW app and purchase daily or hourly parking passes through their smartphones. The CSUN Mobile App also tracks available parking spaces in parking structures B3, B5 and G3, and F10 lot. The app can also be used to directly purchase long-term parking passes and daily or hourly passes through the "Getting Around Campus" link.
Stay up to date on the new CSUN parking and roads projects at www.csun.edu/parking.