National Peers Recognize Provost Hellenbrand with Career Capstone Award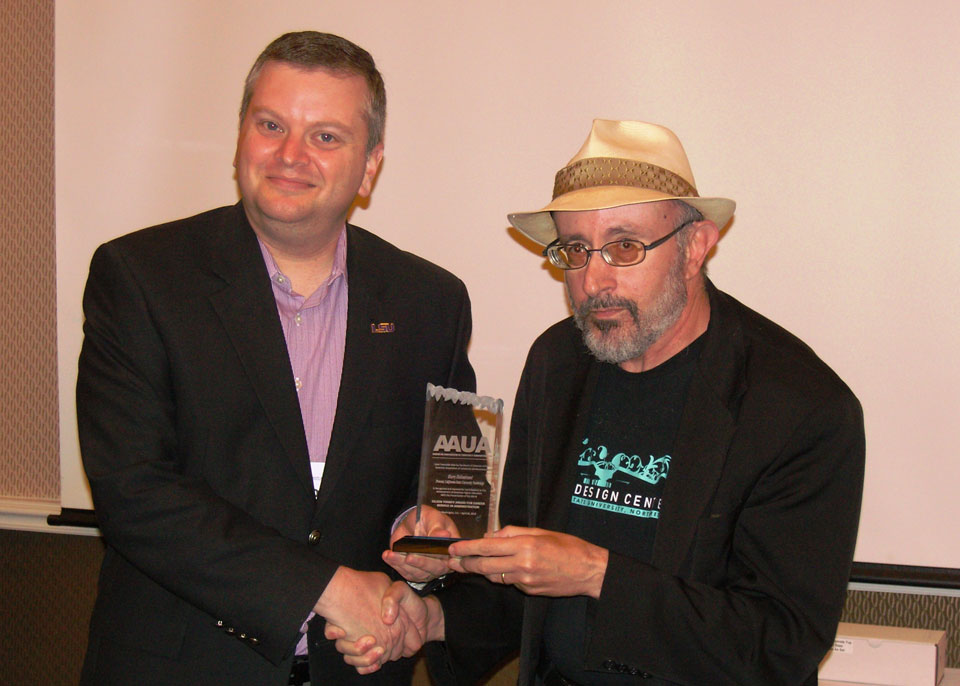 Photo courtesy of the American Association of University Administrators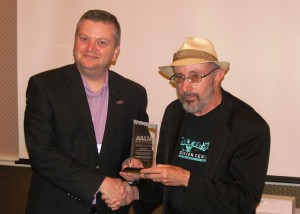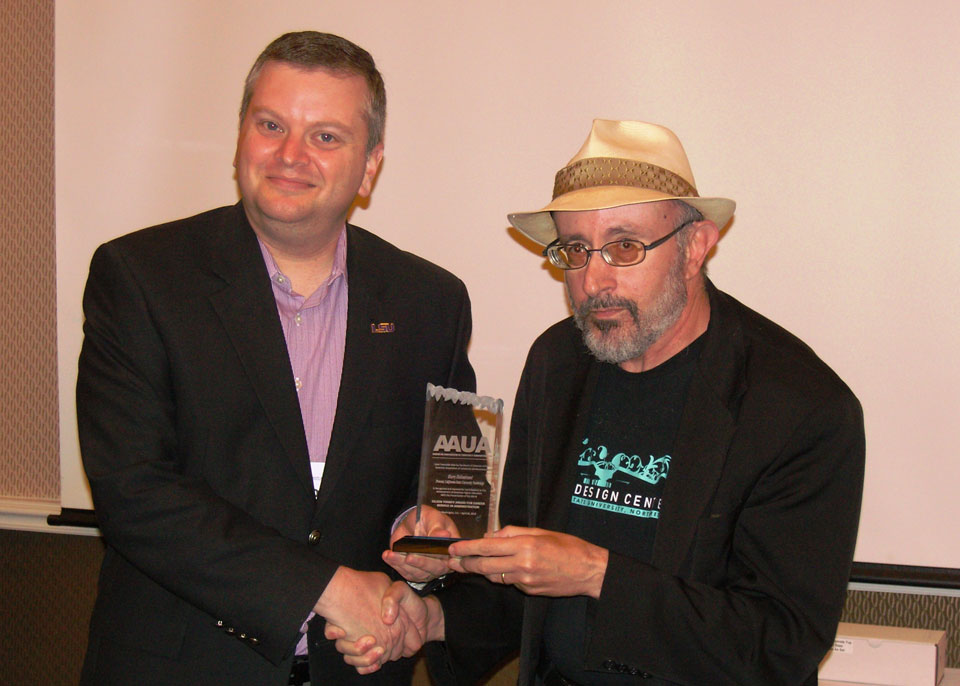 California State University, Northridge Provost Harold "Harry" Hellenbrand accepted a lifetime achievement award from the American Association of University Administrators for his "outstanding, long-term experience as an administrator in the field of higher education — most often awarded as a career capstone recognition."
Hellenbrand received the Eileen Tosney Award at the association's annual awards luncheon on April 26.
Serving CSUN since 2004 as provost, vice president of academic affairs and, briefly, as interim president, Hellenbrand is a respected figure on campus and longtime champion of public education.
"It's always flattering to receive an award," Hellenbrand said. "I look at this more as a testimonial of survival than anything else. I compare it to surviving the trenches of World War I — a lot of hiding and gaining very little territory."
Hellenbrand is known at CSUN as an erudite, eloquent man and steadfast supporter of students, faculty and accessible higher education.
"Harry's career is the epitome why the AAUA created the Eileen Tosney Award," CSUN President Dianne F. Harrison said. "Harry has committed his life to elevating students' minds and is a true champion of access to education. He is an outstanding administrator who uses his keen intellect, his compassion, his dry wit and lots of data to constantly further the mission of the university."
Hellenbrand said he came to CSUN because its mission aligns with his own values.
"CSUN is an urban university, very much like the City University of New York, where I grew up (in Brooklyn)," he said. "It's what I call the universalist church of education."
As provost and vice president for academic affairs, nearly all academic matters fall under Hellenbrand's purview. Organized into nine colleges with more than 50 academic departments, the academic affairs division also includes the Oviatt Library and six administrative offices: Educational Opportunity Program, Department of Academic Resources and Planning, Office of Faculty Affairs, Office of Research and Graduate Studies, Office of Institutional Research, and Undergraduate Studies.
"Most of the highlights (of my tenure) are shared — with faculty, deans and fellow administrators: the growing size of the university, the student body, the remodeling of the library, the increase in graduation rates, coming through the budget crisis," he said.
In these challenging times for state-funded institutions, how does Hellenbrand achieve so much and bring so many people together?
"Dialogue," he said matter-of-factly. "Most can be achieved in the university through dialogue. You can't be afraid of conflict."
One of Hellenbrand's biggest highlights, which he lists as a top accomplishment during his decade at CSUN, is the makeover of the Oviatt Library's main floor — from a dry space that lacked dynamism to a new Learning Commons, created from additional funding secured for the project by President Harrison that enabled the Commons to open in fall 2013, sooner than originally planned.
"There was always something troubling to me about the library here. It was too staid," said Hellenbrand, a bookworm himself who earned a bachelor's degree in English and American literature from Harvard College, and a doctorate in modern thought and literature from Stanford University. "Colin Donahue (CFO and vice president of administration and finance) and Mark Stover (dean of the library) are the ones who made it happen. What we had to do is turn the library into a big living room. It's the best thing we've done while I've been here."
Now the library is alive with activity, with the Freudian Sip coffee shop, group study tables, modular furniture, flat-screen monitors, WiFi and a wealth of comfy couches. The makeover is just one piece of what Hellenbrand considers CSUN's upward trajectory in higher education.
"I think we can easily become one of the five to 10 best universities in our classification in the U.S.," he said. "We're not in a race against time, but I don't see why we can't get there."
After graduating from Harvard, Hellenbrand worked in politics, in Hugh Carey's campaign for governor of New York — then "jumped ship."
"I hadn't intended to work in academia. … The family business was politics and law, and I wanted to get away from it," Hellenbrand said. "I went to Stanford to study modern thought — I knew I wanted to work in literature and thought. I was interested in the work of landscape architect Frederick Law Olmsted (who designed New York's Central Park, San Francisco's Golden Gate Park and the University of California's flagship campus at Berkeley, among American masterpieces). It's a very classical style. In fact, the (Oviatt) Library and the quad on this campus are in a similar style."
Hellenbrand came to CSUN in August 2004. Previously, he served as dean and professor at the College of Liberal Arts at Cal Poly San Luis Obispo (1998-2004), dean and professor at the College of Liberal Arts at the University of Minnesota, Duluth (1994-98), and English Department chair at California State University, San Bernardino (1982-94).
His CSU experiences have varied widely. "CSUN is like San Francisco State, Long Beach State and San Bernardino. It's a great urban university, with all the opportunities, diversity and challenges of the urban setting," Hellenbrand said.
As CSUN provost, Hellenbrand leads all academic and faculty concerns for one of the largest campuses in the 23-campus CSU system. The university enrolls more than 38,000 students and employs more than 4,000 faculty and staff. As a comprehensive university, it offers more than 90 different degrees at the bachelor's and master's levels in more than 60 different majors, as well as an education doctorate.
Before transitioning to administration, Hellenbrand taught a variety of topics — from the Lincoln-Douglas debate to the Salem witch trials — but he counts his courses in early American literature, introduction to the novel and introduction to poetry as his favorites.
Colleagues and staff use words such as "brilliant" and "revered" when speaking of Hellenbrand.
"Harry has an uncanny ability to easily dissect complex issues and provide concise, thought-provoking insights," Donahue said. "Casual, off-the-cuff conversations with Harry often lead to strategies for solving some of our most perplexing issues."
In addition to spending time all over campus with students and faculty, Hellenbrand treasures the time he spends with a few close university friends in several book groups. So what's on the top of his nightstand right now?
"I read a lot of history these days," he said, ticking off titles. "I read a lot of the histories of the Middle East, and I'm rereading a lot of the classics. I'm reading the Treatises by John Locke, Hume, Tom Jones, and I'm rereading Abraham Lincoln's speeches.
"I also just reread The Bridge Over the Drina," a 1945 novel by Yugoslav writer Ivo Andríc, who wrote the novel in Belgrade during World War II. "It has a lot to say about the tribal history of people. The events in Crimea, Ukraine, made me want to reread it."
As Hellenbrand returned from the award ceremony in Washington, D.C., he prepared to wrap up another academic year with commencement in mid-May. The Eileen Tosney award, a "career capstone," offered a moment to pause and reflect.
"I don't think in terms of legacy (for myself)," he said. "A legacy is not physical, external. It is internalized within others. The best thing you can leave people is the confidence to move on, to move forward."