New Media Studio Provides Students with Resources to Get Creative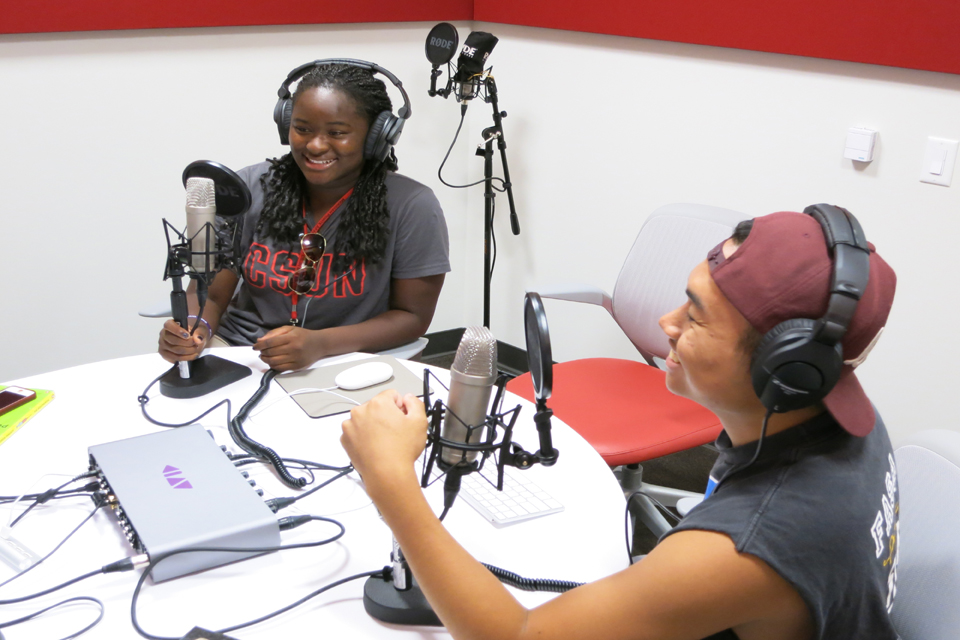 Students use the soundproof recording room and professional recording equipment for their digital audio project. Students can use this space to create audio voiceovers, interviews, podcasts, music recordings and mixes. Photo by Joyclyn Dunham.
California State University, Northridge students now have access to a new creative space to produce and design multimedia projects.
Thanks to library funding from the Campus Quality Fee, the Creative Media Studio (CMS) provides specialized hardware and software to create digital, audio and visual productions.
As an extension of the Learning Commons renovation, the CMS is fully equipped with:
• 27-inch iMac computers, equipped with software such as Adobe Creative Cloud Master Collection, Final Cut Pro and Pro Tools.
• A soundproof recording room and professional recording equipment for the production of audio voiceovers, interviews and podcasts.
• Media equipment checkout including HD cameras, tripods, headphones, audio recording devices and green screens.
• A fully remodeled space, with new furnishings that complete the first-floor transformation of the library.
A wide variety of equipment is available to students for four-day loans outside of the CMS. After a student is finished using the equipment, he or she can return to the CMS and edit footage using the extensive software selection including Final Cut Pro or Pro Tools.
For the not-so-media savvy, the CMS offers friendly assistance  to help projects look professionally done.
"What makes the Creative Media Studio at CSUN unique is that we have compiled software and hardware resources used across these multimedia-based majors and made them available to all CSUN students," said Sarah Sayeed, coordinator of the CMS. "Students will be able to utilize the CMS resources in countless ways in order to create music recordings and mixes, podcasts, audio voiceovers, film editing, graphic design portfolios and image editing."
Lynn Lampert, the library's interim associate dean who originally conceived of the idea and co-wrote the proposal for the studio, said the CMS shows the library's diversity as a specialized support center.
"It is important to view the Creative Media Studio as a special space that reflects the fact that libraries are no longer solely access points to knowledge and collection sharing — but they are also important places that provide specialized support for knowledge creation and skills development," said Lampert. "The Creative Media Studio is a place where students can gather to create, invent and learn from one another about 21st century media skills and emerging technologies in a supportive space that engages their voices, ideas and research needs."