Smartphone App Brings CSUN to User's Fingertips
Do you want to enroll in class, find a building on campus or look for a place to eat at California State University, Northridge?
Those resources and many others will be available to faculty, staff, students and visitors to the campus starting this fall semester via the new CSUN Mobile App.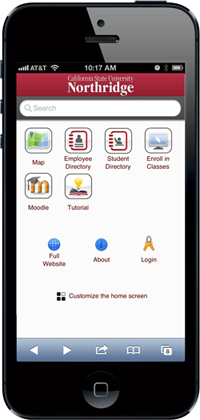 "This app is going to help students, employees and visitors navigate the campus and find information about CSUN services," said Danita Leese, executive analyst in the Division of Information Technology. She said moving to a more mobile-friendly campus was one of the key themes in the September 2011 "IT Vision@2015" report.
Edward Zix, director of Web services in IT, said CSUN's mobile app will be available at the start of this fall semester.  The free CSUN app will be available for download in the Apple iTunes store for iPhone users and the Google Play store for Android users.  A mobile Web page is also available at m.csun.edu.
CSUN students can use this new app to add or drop classes; of particular note is that CSUN is the first CSU campus to have students enroll in classes directly from their smartphones. Students can also access Moodle from the app.  The campus mapping feature will identify about 300 locations at CSUN that include buildings, colleges, departments, centers and institutes, athletic venues, and dining and parking lot locations.
Features include:
Enroll in Classes: Using your CSUN user ID and password, you can view your class schedule and add and drop classes.
Map: You can search campus locations by category (e.g., building name, college, department) and use the GPS-enabled map to navigate to that location from your current location.
Moodle: Using your CSUN user ID and password, you can sign into Moodle to access class information and course work.
Employee Directory: You can search for faculty or staff by name and view their university email address and telephone number as well as their office location.
Student Directory: Using your CSUN user ID and password, you can search for your student by name and find their email addresses.
For more information about CSUN Mobile App, visit CSUN's IT webpage.