Bringing the Past to Life for a Future in Film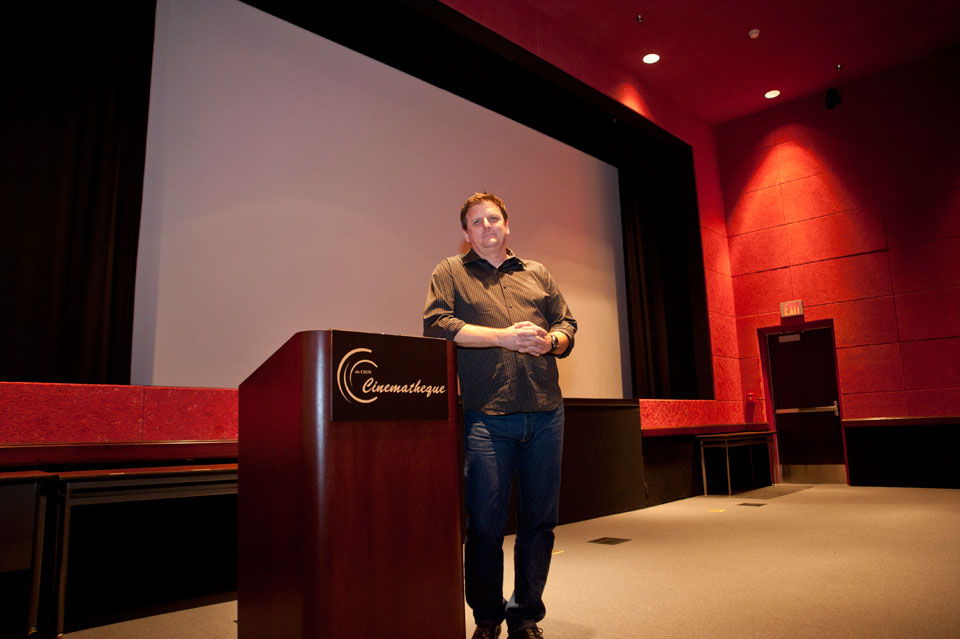 Cinema professor Tim Halloran looks to expand his audience's horizons. Photo by Lee Choo.
As a university in a city known for it's film-making, it's no wonder that CSUN graduates a significant number of professionals currently working in Los Angeles' entertainment industry. However, before they begin their industry work, cinema professor Tim Halloran is trying to make sure they get an equal amount of history during their years at Northridge.
Halloran has been hosting film retrospectives for the past eight semesters at the campus theater (called, in an ode to that history, the Cinematheque). Focusing on the masters of the medium like Akira Kurosawa and Ingmar Bergman, this fall semester Halloran has chosen one of the main influencers on modern cinema, François Truffaut. Halloran, who began the program using only word of mouth and, recently, social media, believes the French New Wave master is a perfect fit for what he and his colleagues are trying to do with the cinema students in the Mike Curb College of Arts, Media, and Communication.
"Truffaut is important in the history of cinema… as the founder of the French New Wave," Halloran said, sitting in the Cinematheque, "but I also think he's important for this department because he always had a focus on being a commercial director. He always wanted to please his audience, whereas Jean-Luc Godard his comrade in arms would see cinema as more of a political act."
Begun as an offering of film screenings and film festival associations by Dr. John Schultheiss, the current incarnation of the Thursday night film series kicked off after Halloran was sitting in on a production meeting with some students watching some of their work. He mentioned that one of their shots reminded him of a shot in Godard's "Breathless," and they hadn't seen it. So using the ingenuity of a guerrilla filmmaker, Halloran decided to throw his own film festival — not as an introduction of new works, but historical ones.
"Everything is completely done on my own," he mentioned. "I do all the promotion. The first semester, I had to huff around campus putting up flyers on my own." And it's not just cinema students who are welcome to the screenings in the 130-seat Armer Theater. Students and the community at large are welcome to the 7 p.m. screenings, which will run a new Truffaut film every Thursday this semester. In the future, Halloran is looking to choose a contemporary library of films and focusing on African, Asian and South American films. In the end for Halloran, no matter what the film's subject, it's all about exposing the audience to something other than what's at the Cineplex.
"At first it was a question of exposure," he noted, "exposing them to different things. And I get little simple pleasures when one of my students comes up to me and says, 'Oh I've never watched a subtitled film, or I've never watched a black and white film,' it brings me joy. So I ask, 'What'd you think,' and they'd say, 'It's interesting.'"
For more: CSUN Cinematheque