CSUN Conference on the Influence and Impact of the K-pop Phenomenon BTS
---
Tickets for their concerts sell out in minutes. A single tweet can mobilize an ARMY of millions to rally behind social justice causes, include hauling in $1 million in roughly one day to support Black Lives Matter last summer. The South Korean supergroup BTS is a global phenomenon whose reach extends well beyond the music they make.
For two days in May, California State University, Northridge officials are inviting academics, fans and music and media industry practitioners to take part in a virtual conversation about the influence and impact of BTS.  "BTS: A Global Online Interdisciplinary Conference" is scheduled to take place May 1 and 2.
"I attended the first conference in London, and there was so much enthusiasm and energy that I thought the next logical place to hold a BTS conference was Los Angeles, which is K-pop central outside of Seoul," said CSUN cinema and television arts professor Frances Gateward, one of the organizers of the conference. "It was going to be a conference that truly embodied BTS and its ARMY, with karaoke, a flash dance and so much more, in addition to all the academic presentations. Then the pandemic hit. This online conference is the next best thing."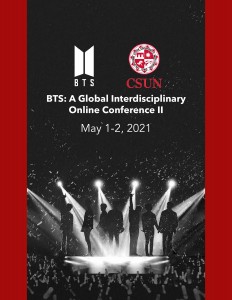 The CSUN BTS conference will include more than 70 presenters from a dozen countries, covering such topics as music, fandom, education, film and media, dance performance art, culture, social movements and fashion. Gateward noted that there is even a presentation on BTS and the U.S. military detention camp at Guantanamo Bay.
Gateward said the CSUN conference is a continuation of a conference held in January 2020 at Kingston University in London, England. It was the first inclusive inter- and multi-disciplinary conference to examine the success and popularity of BTS from a variety of perspectives.
With more than 150 presentations at the Kingston University conference, Gateward said it was clear that a second conference was "both desirable and necessary to continue to explore the phenomenon that is and surrounds BTS."
For more information about "BTS: A Global Online Interdisciplinary Conference," visit its website https://csun.edu/mike-curb-arts-media-communication/bts. Tickets to attend the virtual conference are $8 for general admission, and can be purchased at https://www.accelevents.com/e/BTSatCSUN.
Keynote speakers at CSUN's conference include Crystal Anderson, an associate professor and assistant director of the Stearns Center for Teaching and Learning at George Mason University. She works within the fields of transnational American studies and global Asias, focusing on African-American, Asian and Asian-American cultures in popular culture, media studies visual culture, audience reception and literature. Her most recent book, "Soul in Seoul: African-American Music and K-pop," explores the impact of African-American popular music on contemporary Korean pop, R&B and hip-hop, and the role of global fans as the music press and promotional apparatus.
Also giving a keynote address is Colette Balmain, a senior lecturer in media and communications at Kingston University in London. She specializes in East Asian cinema and cultures, and has written numerous articles and reviews focusing on identity politics, aesthetics and ideology.
BTS — comprised of Jin, Suga, J-Hope, RM, Jimin, V and Jungkook — debuted in 2013 with their solo album "2 Cool 4 Skool," and quickly rose through the Korean music charts. By 2017, the group had crossed into the global music scene, leading the "Korean Wave" into the United States and breaking numerous sales records.
They became the first Korean group to receive a platinum album certification from the Recording Industry Association of America (RIAA) for "Love Yourself: Answer," as well as the first Korean act to top the US Billboard 200 chart with their studio album "Love Yourself: Tear" in 2018. BTS also became the fastest group since the Beatles to earn four U.S. No. 1 albums, doing so in less than two years. "Love Yourself: Answer" was the first Korean album certified platinum by the RIAA. In 2020, BTS became the first all-South Korean act to reach No. 1 on the Billboard Global 200 and US Billboard Hot 100 with their Grammy-nominated single "Dynamite" and remix of "Savage Love (Laxed – Siren Beat)" and, with the release of the song "Life Goes On," became the first Korean group to have two No. 1 debuts on Billboard's Hot 100.
Despite K-pop's reputation for highly orchestrated performances, BTS has a reputation for authenticity and independences. Its member are heavily involved in the writing, production and choreography of their music, videos and dances, earning the respect of music fans across the world.
Originally a hip-hop group, BTS' music style has evolved to include a wide range of genres. Their lyrics often focuses on personal social commentary, mental health, troubles of school-age youth, the journey toward loving oneself and individualism.