KCSN Joins Mudcrutch in Benefit Concerts for the Midnight Mission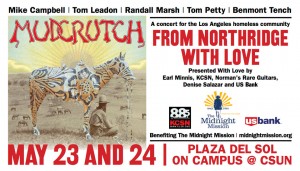 KCSN 88.5 FM/Los Angeles is joining forces with the members of the band Mudcrutch — Tom Petty, Mike Campbell, Benmont Tench, Tom Leadon and Randall Marsh — for two benefit concerts for The Midnight Mission on Monday, May 23, and Tuesday, May 24, at California State University, Northridge.
The concerts are scheduled to take place at 8 p.m. in the Plaza del Sol Performance Hall, the same hall where Tom Petty & the Heartbreakers played KCSN's first benefit concert in 2011. The theater is on the east side of the campus located at 18111 Nordhoff St. in Northridge.
Proceeds from the two shows, titled "From Northridge With Love," will go to support The Midnight Mission, which has served Los Angeles' downtown homeless community since 1914.
"KCSN is honored to join forces with Mudcrutch as their media partner in presenting this tremendous show of support for The Midnight Mission," said Sky Daniels, the station's general manager and program director. "Anyone who saw Tom Petty & the Heartbreakers perform at the first benefit for KCSN at the Plaza del Sol will attest to the magic of seeing them in this intimate 500-seat hall."
KCSN members will receive a unique code to get pre-sale tickets for the two shows. Pre-sale tickets become available at 10 a.m. on Thursday, May 5, through Ticketmaster.com. General tickets for the show will be available at 10 a.m. on Friday, May 6, through Ticketmaster.com.
"From Northridge with Love" is presented by Earl Minnis, KCSN, Norman's Rare Guitars, Denise Salazar and U.S. Bank.
Founded in 1914, The Midnight Mission offers paths to self sufficiency to men, women and children who have lost direction. Its emergency services, 12-step recovery, family living, job training, education and workforce development programs offer a compassionate bridge to achieve and maintain heathy, productive lives.
A service of California State University, Northridge, KCSN offers a 24-hour, commercial-free blend of rock, alternative, soul, blues and Americana, featuring a wide range of artists such as U2, Bruce Springsteen, Jack White, Arcade Fire, Wilco and Beck. The station's programming also is available on KCSN's HD1 channel and online at KCSN.org.