KCSN to Kick Off Fall Membership and Pledge Drive
With a fresh new logo and a hot benefit concert announcement waiting in the wings, California State University Northridge's radio station, 88.5 FM KCSN, will kick off its seven-day fall pledge drive on Oct. 6.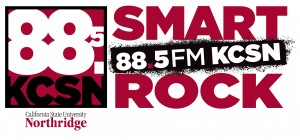 Through a unique blend of Adult Album Alternative (Triple A) programming, what the station calls "smart rock," KCSN caters to a variety of musical interests.
"We're trying to do something that most radio stations don't do," said General Manager Sky Daniels. "We are forging a bond with real fans by playing a mix of music that hasn't existed in Los Angeles radio for a long time."
If input from the station's Facebook following is any indication, the audience approves. Listeners regularly post messages of thanks after show hosts spin not-often-heard classics or the latest by an up-and-coming artist.
In 2011, Tom Petty and the Heartbreakers showed their support of the station via a hugely successful benefit performance, and Paul McGuinness, manager of the group U2, has described the station as a "mold-breaking, groundbreaking, taste-making station" with a sound definitely worth supporting.
The pledge drive, taking place Oct. 6 through Oct. 12, will include on-air and online invitations to listeners to become contributing members. Memberships start at $50 and up, with "thank you" premiums ranging from restaurant certificates, CDs and concert tickets to a banjo signed by Mumford and Sons and a Chris Isaacs-autographed guitar. In addition, any listener who donates a minimum of $50 will receive the station's new, limited-edition "smart rock" T-shirt and limited-edition KCSN Sampler CD.
To receive breaking announcements about the upcoming benefit concert, become a member of the KCSN Community by registering online at www.KCSN.org. For more information, tune in to KCSN 88.5 FM or listen online at www.kcsn.org or via www.iheartradio.com.