New Sustainable Fashion Program Coming to CSUN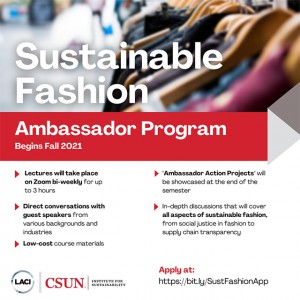 Reduce, reuse and recycle are often terms associated with plastic consumption, but what if these same principles were applied to the fashion industry? This idea and other environmentally responsible choices are taught in the new sustainable fashion program at California State University, Northridge.
The program is the first of its kind in the CSU system and will teach students at CSUN how to responsibly source material, select textiles that reduce waste, and more.
"I feel like I am always teaching the dark side of the fashion industry," said Tracie Tung, an assistant professor of family and consumer sciences at CSUN. "All of the techniques and the strategies [we teach] are to help us reduce the negative impact of the industry."
Tung hopes that students will learn to incorporate the lessons learned in the program into their designs and careers.
"The steps in the strategy are to consume less and evaluate the quality of your garment and apparel," said Tung. "Such as when you pick natural fibers over synthetic fibers for your product."
She went on to explain that some polyester fibers are not biodegradable and, when thrown away for the next season's clothing, can be similar to plastic in a landfill.
"We don't cherish clothes anymore, partly because of fast fashion," said Tung. "So as a result, we have a huge problem of textile waste."
Along with teaching students how to choose more sustainable textiles, the program will also prepare them to spread awareness about the cause on social media.
According to Tung, the students have two project options. They may create a persona on Instagram to promote sustainable fashion ideas and interact with their audience, or conduct research-based case study on the topic.
The program will also explore the topics of social justice in fashion, product lifecycle, sustainable communities and more.
More information on the program can be found on the CSUN sustainable fashion page.