CSUN Welcomes New Matadors at New Student Convocation
The university offered New Matadors a special welcome this fall with the return of the New Student Convocation. On Oct. 13, CSUN's new class of first-year and transfer students were welcomed with a celebratory event. It was the first time convocation has been held in person since 2019. Nearly 1,000 students met at Matador Square on campus, where campus organizations like Associated Students and the CSUN Mentorship Program greeted the crowd of students. Next, event organizers led the procession to the University Library Lawn for the main event, where student-athletes, the Matador Band and other students gave them high fives, fist bumps and cheers.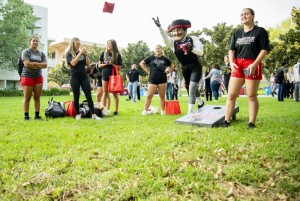 The convocation opened with the National Anthem, performed by CSUN's Jazz A Band. Students listened to speeches by Dr. William Watkins, dean of students and vice president for Student Affairs, and CSUN President Erika D. Beck, who welcomed them to the university and explained the traditions surrounding New Student Convocation. The deans of each of CSUN's colleges also offered greetings. As their own college's dean — from Humanities to Engineering and Computer Science — stepped up to the podium, groups of students roared their approval.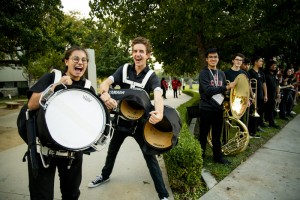 New CSUN alum Devan Prince '22 was the graduate student speaker for the event, and she encouraged students to work hard and get involved at CSUN. The keynote speaker for the night was Mary Beth Walker, provost and vice president for Academic Affairs, who plans to retire early next year. As the formal program concluded, CSUN Associated Students President Shayan Moshtael led students in singing the university Alma Mater, accompanied by the Jazz A Band, and President Beck gave closing remarks.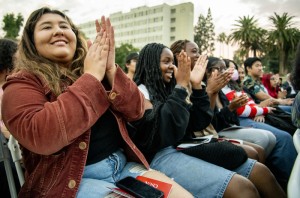 After the president, provost, deans and other dignitaries led the recessional, new students gathered back at Matador Square, where they enjoyed food and some university swag. Matty the Matador was also on hand to pose for pictures with students, and the new Matadors also had the opportunity to participate in their first Tradition of the Rose, where students place a red rose on the Matador statue in Matador Square.