Oh, Canada! CSUN Men's Basketball Hits Great White North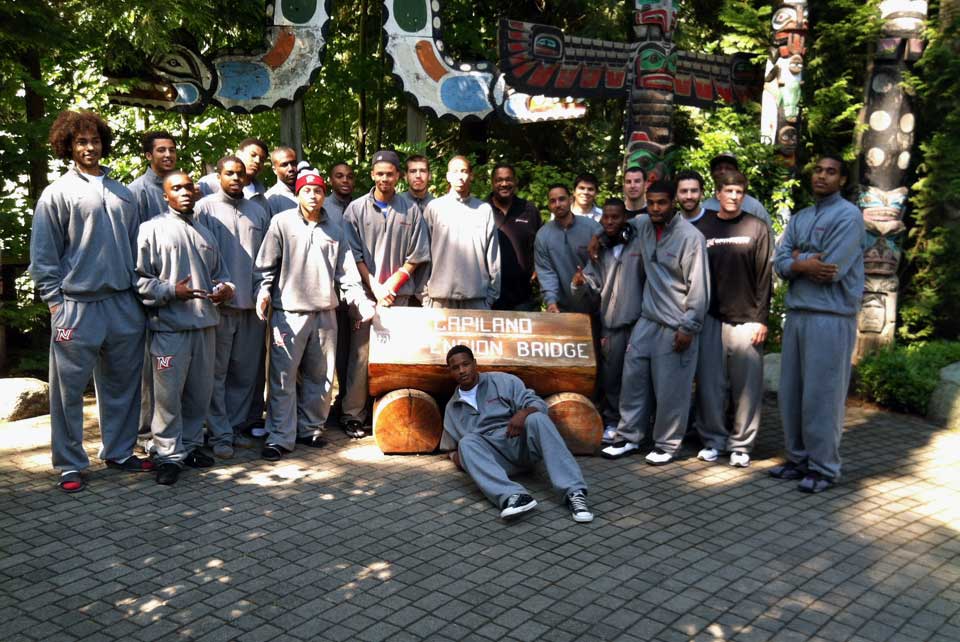 CSUN Men's Basketball team at the Capilano Suspension Bridge in Vancouver, Canada.
The Matador men's basketball team decided to test its mettle against some of the finest teams Canada has to offer when it travelled north to face off against Vancouver Island University, the University of Victoria, Quest University and Fraser Valley. In that span of games, CSUN showed that they were in mid-season form, taking the four games to go undefeated in their Canadian road trip.
The first night was a breeze for coach Bobby Braswell's squad as they headed into the Canadian city of Nanaimo and took care of the hosts, Vancouver Island University, by a score of 85-45. The next night was a little tougher, however, as the University of Victoria gave the CSUN a run for their money by only allowing the victorious Matador men a four-point edge in Victoria, BC. The next two games — against Fraser Valley and Quest University — were more comfortable affairs as the travelling team got a sizeable cushion in each game; they captured both by a combined margin of 209-108.
As important as the victories were to shape the team into fighting form for the season ahead, the team bonded over experiences during the trip. They spent a lot of time touring Vancouver and the other cities visited, sang "Happy Birthday" to CSUN guard Lonnie Watson during a celebratory dinner after his day starting for the Matadors, and tackled the 450-foot Capilano Suspension Bridge, one of the longest suspension bridges in the world.
For more: Cal State Northridge overwhelms Vancouver Island University, 85-45, In Exhibition Game [GoMatadors.com] Cal State Northridge Enjoys Hard-Earned 89-85 Victory Over the University of Victoria [GoMatadors.com] Matadors Score 113-56 Win Over Quest University in Canadian Exhibition Game [GoMatadors.com] CSUN Completes Canadian Tour Unbeaten with 96-56 Victory Over Fraser Valley [GoMatadors.com]