CSUN Men's Soccer Coach to Pick Up Awards in Indianapolis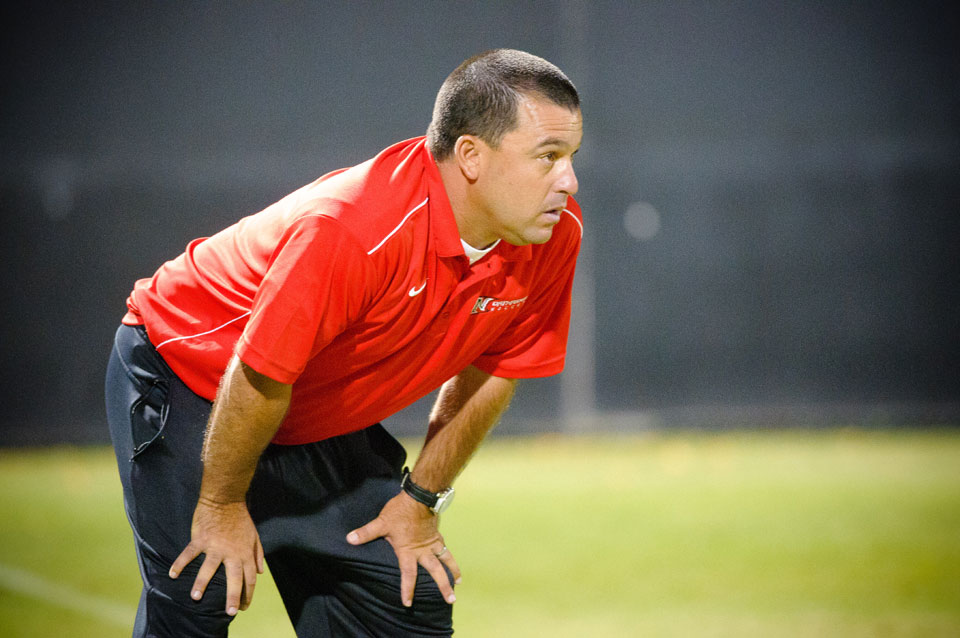 CSUN men's soccer coach Terry Davila watches his team take on the University of Akron. He will receive an award from the NSCAA on Jan. 17 and is up for National Coach of the Year as well.
Next week in Indianapolis, at an award banquet hosted by the National Soccer Coaches Association of America, Cal State Northridge men's soccer coach Terry Davila will pick up an award for Regional Coach of the Year (Far West). It was an outstanding 2012 season for Davila, who led the team to a 15-7 record, matching the team's best since joining Division I play. He also won the Big West Conference tournament and sent the Matadors to their first NCAA tourney visit since 2005. He was the architect of a turnaround that took his team from the middle-of-the-pack to the top—not that he sees it that way.
"Anytime you are recognized with something like this, there is a staff that goes along with it," Davila said. "I would not have been recognized had it not been for the amazing student-athletes, our assistant coaches, the trainers, strength and conditioning coaches, and everyone else involved with our program." His Regional Coach of the Year award is only the second in CSUN's men's soccer history, and the only one captured at the Division I level (Davila's coach at CSUN, Marwan Ass'ad, who got the other award). And while he recognizes how much success his team had on the pitch this season, he knows it was a hard climb up after the past two seasons, which saw the Matadors go 11-22-6.
"The last couple of years have been tough, and we haven't had the consistent success we would like, but our program is heading back in the right direction," he noted. "We were successful in the offseason, bringing in quality student-athletes and all of our players bought into the training and education to help us be successful on the field."
Another wrinkle in the coach's trip to Indianapolis is that as part of the top group of regional coaches, Davila is in the running to be the overall NSCAA Coach of the Year. For the coach, however, being bestowed with the regional crown and also the Big West Coach of the Year already feels enough for a job well done.
"To get the same award as my mentor, Marwan Ass'ad, is very humbling and gratifying at the same time," he said. "If I were lucky enough to be named the National Coach of the Year it would really be a testament to our rich tradition at CSUN."