Eight CSUN Scholars Vie to Nab Fellow Spot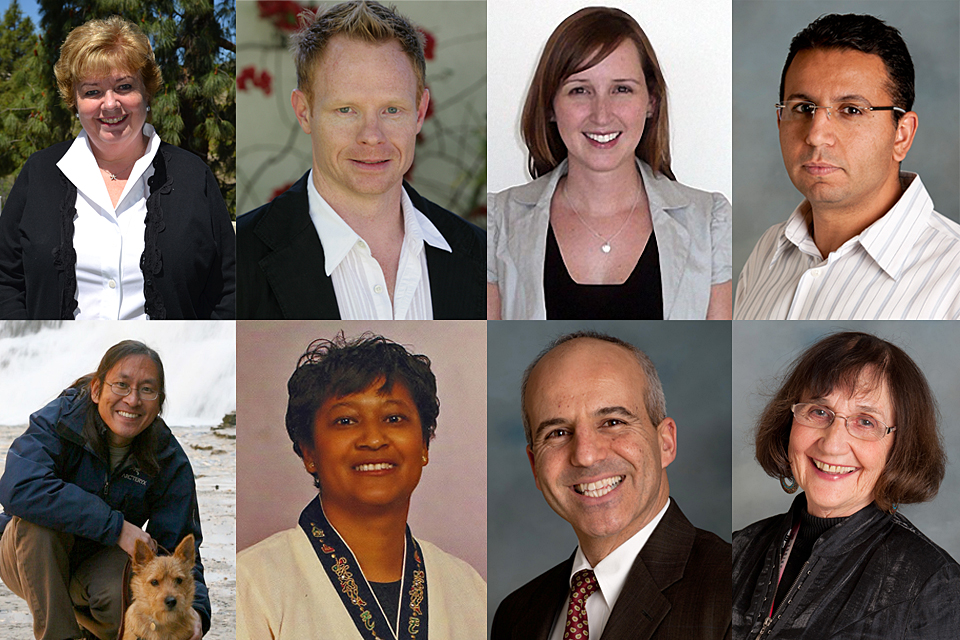 Clockwise from top right: Connie White, Sean Flanagan, Debra Malmberg, George Youssef, Marcia Henry, Rafi Efrat, Frances Gateward and Clement Lai. Photos by Lee Choo.
Eight faculty members selected for California State University, Northridge's prestigious Research Fellows Program will creatively explore the topics of our history, our future and the challenges we face as a society today.
From an examination of the effects of urban renewal policy on African Americans and Japanese Americans in a San Francisco neighborhood during and after World War II to the potential of tax incentives to address the current epidemic of childhood obesity, the fellows' eclectic projects aim to draw fresh and relevant insights out of a variety of disciplines.
Since 2007, the annual fellows program has given CSUN faculty the opportunity to spend concentrated time on projects that advance research in their respective fields. Fellows are competitively selected based in part on the extent to which the proposed activity explores creative or original concepts, the likelihood of achievement, the benefit to society and the contribution to the field of study or across other fields.
"We are delighted to have such an eclectic group of researchers named as the Research Fellows for the 2012–2013 academic year," said Marianne Afifi, associate dean of the Delmar T. Oviatt Library. "The fellowship will allow faculty from seven colleges and the Oviatt Library to spend concentrated time on projects that advance research in their respective fields. I congratulate the fellows on their nomination and wish them a productive year. We look forward to hearing about their work and the outcomes at the Research Fellows Symposium in fall 2013."
For more: CSUN Research Fellows Explore Topics that Advance Scholarship in Various Fields [@CSUN]