Student Play Honors Veterans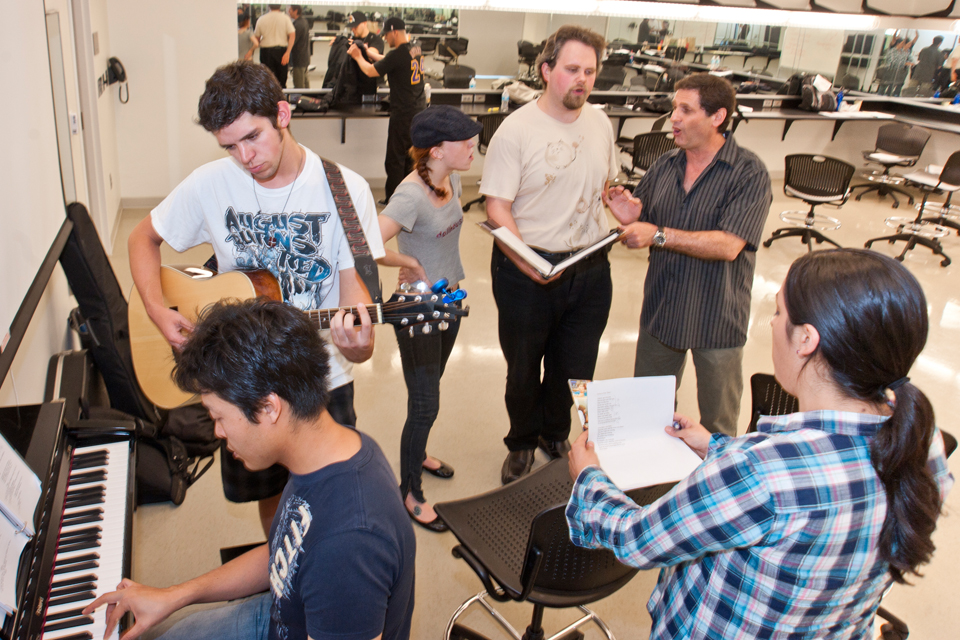 Rehearsals for "The Bonus Army." Photo by Lee Choo.
As more veterans return from their tours of duty in Afghanistan and Iraq, helping the general public understand and recognize the tough time veterans can go through reacclimating to life back home becomes even more important. CSUN theater professor Doug Kaback, through the retelling of a little-known World War I story, is helping to elevate awareness around this topic.
It was 1932 when a group of WW I veterans known as the "Bonus Army" set up camp outside the White House, demanding the immediate payment of bonuses they were promised to fight in the war. The soldiers, a mass of varying races and backgrounds, had two things in common: They were out of work thanks to the Great Depression, and they needed money to survive in the new world they inhabited. Riots and death ensued before they finally were given their bonus.
Now, more than 80 years later, Kaback has grouped together of students from varying disciplines across the campus to put on a retelling of the story in the form of a play called "The Bonus Army." Kabeck called on his fellow colleagues in the departments of social work, music and sociology to help him put together a group who could tell the story he so desperately wanted to tell.
"The students, who come from disciplines from across the campus, have gone out and interviewed World War II, Korean War and Vietnam War veterans," Kabeck said. "Six of the students are vets themselves and have shared their experiences. While the play deals with veterans of the First World War, what the students are finding as they do their research is that despite the different wars and time periods, the experiences of the veterans in coming home can be very similar," he said.
For More: CSUN Theater Project on the 1932 Bonus Army Gives Students Insight Into the Needs of Today's Veterans [CSUN Media Releases]