No Debate on the Winners at the Model United Nations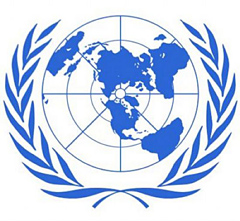 The Model United Nations is a yearly gathering during which schools debate each other over the topics of the day. This year, however, there was very little argument about how the CSUN delegation did. The group, led by political science professor Peter Kappas, walked away with several top awards, just as they have since 2002.
The overall team was recognized as one of the top in the competition, which is held in New York City and hosted and organized by the United Nations. As for individual awards, CSUN students Hillary Sandoval and Sevan Niazi each won an Outstanding Position Paper Award. Adam Salgado, Khaliah Burnley, Elina Tivmasyan and David Vassalli all won a Committee Award for being one of the three best delegations within their committees.
"This obviously reflects very positively on the students and the department," said Kappas, the advisor to the Model United Nations team. "CSUN has won the Outstanding Delegation Award nine times at national and international conferences sponsored by the National Model UN organization. And over the past nine years, CSUN delegates have won over 207 individual and team awards at over 46 local, regional, national and international conferences."
For more: CSUN Model UN Students Take Top Honors [CSUN Media Release]