Bringing Comics to Life in Class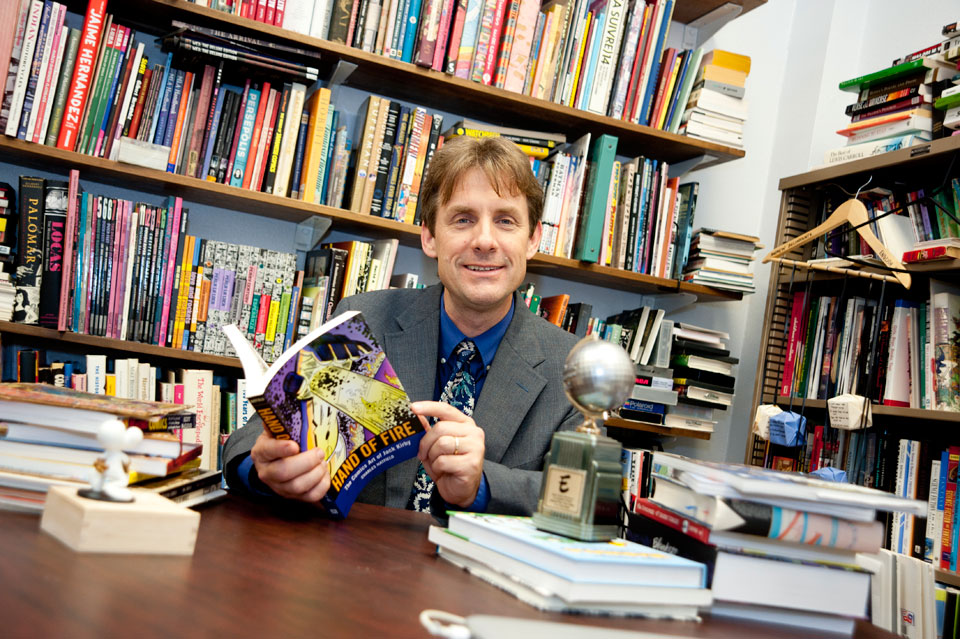 Charles Hatfield reads from his book, "Hand of Fire: The Comics Art of Jack Kirby", next to his Eisner Award. Photo by Lee Choo.
The art of storytelling through single-image frames is as old as humanity itself. Fortunately, over time, papyrus, ink and the printing press were created to expand the audience of those stories from beyond a single cave. Today, comic books — or graphic novels, manga or any other form of genre — have kept that tradition alive for close to 80 years.
It's a tradition that CSUN professor Charles Hatfield has lived and chronicled through classes as well as his latest book, "Hand of Fire: The Comics Art of Jack Kirby," based on the life of the revered Marvel Comics illustrator who created or helped create some of the biggest characters in the universe: the X-Men, Hulk, Thor and Captain America. "Fire" is the first academic work to win the esteemed Eisner Award, given for creative achievement in American comic books. For Hatfield, it was a story he had been waiting a long time to tell.
"Kirby was something that I had a proprietary interest in as a 10 and 11 year old," Hatfield said. "What little money I had … a lot of that went into following those things by Jack Kirby and appreciating and digging those things." Kirby was one of the main influencers that would spark the professor's love of comics, a world where the likes of Art Spiegelman ("Maus"), Harvey Pekar ("American Splendor") and The Hernandez Brothers ("Love and Rockets") are held in the same esteem as highly regarded contemporary authors. Teaching classes in the English department like "Superheroes in Comics & Culture" and "Portal Fantasies in Children's Fiction and Film" is his way of growing the field of comics studies, one he believes some take too lightly.
"People think that because they see young readers who become accustomed to reading comics it has a semblance of simplicity," Hatfield said. "But for me it's really a complex kind of reading. I've seen young readers read comics with ease … but I've also seen students struggle to read those same texts in class." He says there are many reasons why this could be, such as not being familiar with the form, or trouble with combining the tracks of text and images into one cohesive narrative.
Eventually, Hatfield says most students become fans of the medium and believes it's because humans have an innate ability to do what the cave dwellers in France drew on their walls over 35,000 years ago.
"A lot of children will verbalize stories while they draw them," Hatfield said.
"They may draw the before and after of a story — here's an airplane, here's a bomb the plane drops, here's the explosion, and here's how the people and the animals respond. They'll start a single drawing, and it'll remain a single drawing, but it actually has a whole past-present-future thing implied in it." It's this implicit narrative that Hatfield believes is a big reason for why comics, in one way or another, are here to stay.
"The power of comics as a very intimate self-expressive medium has become clear to a lot of people through 'zines, through mini-comics, through punk publishing — the comics equivalent of garage rock or what hip-hop was when it was on a street corner in (the early '80s)."
Hatfield believes that because the ability to tell stories is in everyone, it will keep people checking out comics. Being excited by the adventures of outcast mutants or a green hulking man is just a part of being human. For Hatfield, and the future Jack Kirbys of the world, it's a culture worth expanding and exploring, if only to show the world there are no limits in the stories told, or yet to be told.