Environmental and Occupational Health Mentors Help Keep Students up to 'Speed'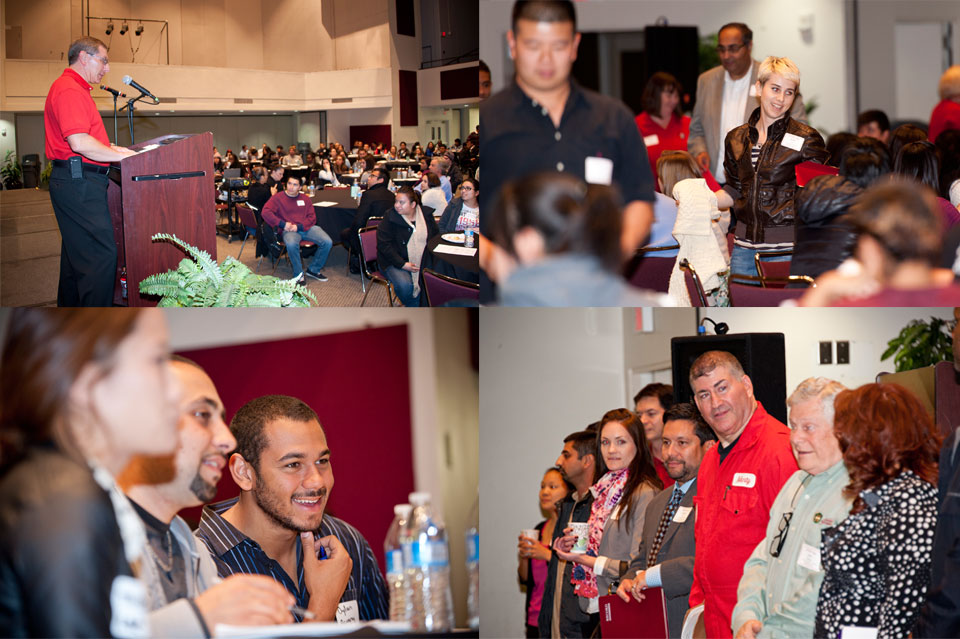 Participants—28 mentors and 116 students—engage in the Department of Environmental and Occupational Health's 10th annual Speed Mentoring event on Nov. 15, during which professionals working in the field help guide current CSUN students on possible career paths after graduation. Photos by Lee Choo.
Studying for a degree in college is a lot like finding that perfect someone. You have a lot of dates (classes), have ups and downs throughout the relationship (your collegiate career), maybe try another discipline (a new mate), all before you finish your dalliance and finally graduate (tie the knot). Don't agree? Tell that to the Department of Environmental and Occupational Health at CSUN. The EOH put on its 10th annual speed dating-esque Speed Mentoring event on Nov. 15, bringing professionals working in the field to CSUN to help guide current students on life after graduation.
The event is held every year in the United Student Union, and it always has a great turnout of mentors and mentees. This time around was no different, with 28 mentors and 116 students ready to pick their brains. For those unfamiliar with the concept, the mentors hop from table to table, talking to 7 or 8 students about their jobs. What those jobs are varies greatly when you're working in one of the EOH's many career paths.
Jobs that fall under the Environmental and Occupational Health umbrella are based in science. They deal with making work areas safe, be it from radiation or chemicals, bad ergonomics at someone's workstation, or for the public doing food inspections. It's a fascinating field, one that Bob Finklestein '78 (EOH) stumbled upon, and has become an advocate for. He is now the President of the CSUN EOH Alumni Chapter, and has been participating in the Speed Mentoring event for the past nine years.
"When I got into the field, I didn't even know industrial hygiene existed," Finklestein recalled. "And because of interning and talking to folks, I found out about it, and it ended up being a great career for me. I just found it by accident, so to speak." He notes that every year, students from all disciplines like biology and chemistry come to the event to see what it has to offer. Many times, those students end up enrolling in the EOH program, which currently has 242 students and graduated 88 in 2011 (24 masters-level and 64 undergraduate).
"We find that students that graduate in the EOH field can go basically out and hit the ground running, and that's one of the great things about the Cal State University system," said Finklestein. "The education is practical in nature."
As one of the leading EOH universities in America, CSUN brings a lot of those graduates back to the Speed Mentoring event to help out. Former students Jennifer Saba '10 (EOH) and Milton Guerrero '09 (EOH) know that they got a lot out of talking to professionals and knew they wanted to come back to reciprocate.
"I'm looking for the opportunity and satisfaction of sharing something meaningful to students," Guerrero said. "Sharing our successes and learning experience with younger graduates may help them stumble less and be more focused when they decide to follow a career path."
For Saba, the new mock-interview happening during the event piqued her interest. For the six-time mentor, it's all about the students knowing that preparation, both during and after their schooling, is key."If students go home with a few more interview techniques and understand that there are plenty of jobs out there for our profession, I would be content," Saba said. "I graduated with my Masters in 2010 and was hired at Baxter BioScience … with only internship experience. It all has to do with the way you present yourself and letting your potential employer know that no challenge is too small to overcome."
That message is clear to the likes of senior Hasmik Jasmine Hakobyan. She's been part of the EOH program since she arrived at CSUN, and has loved each of the three Speed Mentoring events she's been to. She particularly loves the intimate setting where she can get an idea of what she should expect in the outside world, especially when it comes from a fellow Matador.
"The one aspect of Speed Mentoring I love is being able to speak with the professionals that are CSUN alumni," she said. "It really puts my future in perspective. And when I've reached those goals, I would love to give back to future students by participating as a mentor myself."