Bridge of Hope: EOP Wraps Up its 50th Year, Continues Transition Programs for Underserved Students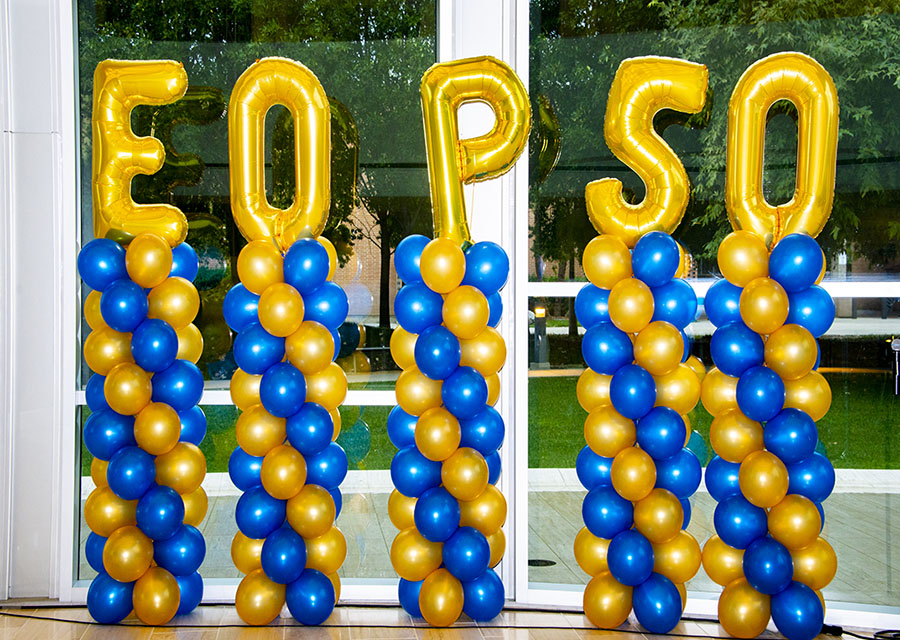 Fourth in a series celebrating 50 Years of EOP at CSUN.
Applying to college and getting accepted can be a stressful and difficult journey. For many young Californians, that journey might be even longer and harder if they grew up in a low-income household or are a first-generation college student.
Whether you're a student from a traditionally underserved community, from a family with a history of low-income or have grown up in the foster care system, there are multiple pathways to college — and, more important, graduation. CSUN's Educational Opportunity Program (EOP), which is celebrating its 50th year during the academic year that concludes this month, helps bridge the gap between the educational disadvantages of hundreds of local students each year and their ultimate higher education success.
The coronavirus pandemic and sheltering in place may have interrupted college life and made the process slightly more difficult for current and future EOP students, but the program is still running strong and accomplishing its goals.
Since EOP students may already have issues at home, the statewide shelter-in-place order has had a big impact on how EOP operates, said Shiva Parsa, director of CSUN EOP.
"This pandemic affects EOP students significantly," Parsa said. "In addition to lack of resources, many of our students do not have a supportive environment in their residence and have a very difficult time focusing."
Motivation is the key to EOP students not losing hope during this time, Parsa said. The program is in the planning process of aiding its educationally underserved students by providing virtual support programs for the foreseeable future.
EOP typically has worked with students from historically low-income families. The goal of EOP is to expose students to the demands of educational excellence and campus diversity for which CSUN is known, while providing the tools, community support systems and feeling of belonging that allows them to succeed.
The program offers several transitional programs, or "bridges," that redirect and guide the paths of teens and young adults who may not otherwise have had the opportunity to attend a university and receive a higher education degree. Residential, Commuter and Transfer bridge programs punch those students' "ticket" to CSUN and college life.
In addition to the transitional programs, EOP runs the Resilient Scholars Program, which welcomes college students who grew up in the region's foster care system. Many Resilient Scholars also participate in the bridge programs. For students who are not enrolled in one of EOP's other programs, CSUN's TRIO program offers supplemental, community-focused support to Matadors.
Jason Lumague '12 (Art), M.A. '15 (Educational Administration), an EOP alumnus and currently the EOP transitional program coordinator, knows well the struggles of  EOP students.
"Our bridge students are historically low income, educationally disadvantaged, first-generation college students," Lumague said. "These are students that, if they were to apply to the university [without EOP assistance], may not have gotten admitted."
'Special Admits' Open the Door
CSUN's main bridge program is offered during summers and is aptly named Summer Bridge. Within the summer program, EOP offers students a variety of methods to transition to college life.
For incoming high school students, the Residential Bridge and Commuter Bridge programs give future Matadors a chance to ease into school work by taking reading and writing skills courses linked to CSUN's University 100 curriculum and math courses over the summer term, while earning university credit, Lumague said. This pre-college experience can be invaluable to many EOP students, often giving them the head start needed to transition with confidence.
There are slight differences between the bridge programs. Residential Bridge students are "special admits," which means they did not get accepted to CSUN through the regular admissions process. The stories and reasons are mostly due to the student's challenges they have faced in their environments growing up.
However, CSUN EOP officials recognize that these challenges may have impacted the student's academic life — they refer to these students as "high potential" rather than "high risk," Parsa said.
This means they have the potential to succeed but may not have had the opportunity to demonstrate it. Therefore, the program has incorporated admissions interviews to determine the student's challenges, the ability to overcome challenges, motivation and other factors, Parsa added.
"They have potential, which is why EOP brings students like them and myself into the program. I was a special admit," Lumague said. "I did not get into CSUN through regular admissions, but EOP saw potential in me. Without them, I would have not earned a B.A. and an M.A."
Residential Bridge also provides the opportunity to stay in campus housing for six weeks during the summer session, allowing for closer transitional guidance by the EOP staff and its mentors.
Obviously, those bridge programs will look very different during the summer 2020 term, which begins May 26 for CSUN students.
"We are in the midst of planning for our virtual bridge programs, which will include academic skills, academic mentors in the class and many of the critical-thinking skills and community building in a virtual setting," Parsa said. "Of course, there are limitations, so we are trying to incorporate more time in the fall semester for the students to be more engaged with EOP. We also may follow up in the following winter, spring and summer for more bridge activities."
Two other bridge programs, Commuter Bridge and Transfer Bridge, serve students who are "regular admits" and commute to the university but still need EOP support. For EOP transfer students, many of whom come from the community college system, the Transfer Bridge program offers the same support as the other bridge programs.
Not One-Size-Fits-All
Some educationally disadvantaged or low-income students, who may not qualify for the bridge programs or may have been denied state admissions, can still find their way into college. CSUN EOP offers the FreshStart program to regular admit students. Its' focus is student who already have taken some college math or English courses or may not be coming directly from high school, thus not qualifying for a bridge program. FreshStart includes a four-day program where students watch films like "The Storm at Valley State", a documentary chronicling CSUN student and faculty protests in the late 1960s and early 1970s at what was then known as San Fernando Valley State College. The students also break into discussion groups to discuss the film, share ideas and personal experiences. Much of EOP's history and start is due to the protests.
Lumague emphasized the critical importance of these EOP programs, in a world where everyone is different.
"It's good that we have all these programs because it's not one blanket, you know, one-size-fits-all," he said. "All of these different programs are catering to the different challenges and supporting things that our historically low-income, educationally disadvantaged students are going through."
Former Residential Bridge student Samia Howard, a kinesiology major with a sports studies option and Africana studies minor, already has benefited greatly from the EOP program, she said.
"EOP is something that I will never forget because they believed in me when no one else did," said Howard, who is on track to graduate in 2022. "EOP is my life. Thanks to EOP, I am able to enjoy my life at CSUN and have a chance to actually succeed in college and life."
Howard, who graduated from King Drew Medical Magnet High School of Medicine and Science in Los Angeles, was working a dead-end job in fast food.  After her high school graduation, she needed a change and started attending CSUN. EOP has helped Howard in school and in life, pushing her to work toward a better future, she said.
"EOP gives everything they possibly can to make sure everyone is able to succeed in college," Howard said. "They have opened my eyes, so I can see how important it is to be successful, not only in college but in the real world."
Howard said she intends to mentor other EOP students during her time at CSUN. She wants to help motivate incoming EOP students and assist in their success, just as her many mentors did for her, Howard said.
Mentorship is Key
One of the key elements to EOP's success — and, in turn, the bridge programs' success — are the mentors. Many EOP students receive close mentorship from former bridge participants, who provide a familiar resource and support system. Mentors at EOP don't just help with the academic side of a student's college experience, they are there to guide students in life, as well.
Alondra Reyes, a graduating senior and criminology and justice studies major, struggled in her initial years as an EOP student. With thoughts of dropping out constantly on her mind during her freshman year, Reyes felt her university journey could end abruptly, she said. However, the mentorship within the program pushed her to succeed when she expected the opposite.
"I thank my mentor, Sandra, because she was the one who helped me through those thoughts and helped me understand that I cannot give up because something is hard," Reyes said.
"I've had a few mentors in EOP that have helped me throughout my time here at CSUN," said Reyes, who went on to serve as a mentor herself in the Residential Bridge program. "Especially if you need someone to speak to and understand your situation, they are best to hear you out. … They will understand, support and push you through any situation. When people back home might not understand what you're going through — they will."