CSUN Conference to Explore Pathways to Success for Individuals with Autism
Every parent worries about whether their child will be ready for college. Is the child ready to be on her own? Does she have the skills she needs to succeed? Have I done all I can as a parent? If your child has an autism spectrum disorder, this uncertainty can be heightened.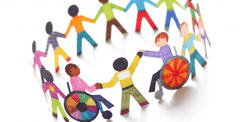 California State University, Northridge's Family Focus Resource Center has joined with the Autism Society of Los Angeles to host a two-day conference next week to offer parents of children with autism and individuals on the spectrum advice and some support as they prepare for adulthood.
The Future is Now Conference: Creating Meaningful Lives of Individuals with ASD is scheduled to take place on Friday, Jan. 11, and Saturday, Jan. 12, in the University Student Union's Northridge Center on the east side of the campus off Zelzah Avenue.
CSUN special education professor Ivor Weiner, director of the Family Focus Resource Center, said the conference is responding to a need in the community.
"The center started getting calls a couple of years ago from parents of children with autism," Weiner said. "Their kids weren't doing well in the post-high school years and they just didn't know what to do. We also heard from parents who hadn't thought about adult transition until it became an issue in their lives."
Weiner said conference attendees will "gain valuable transition skills and will be empowered to focus on solutions that are successful."
Among the days' speakers are Dena Gassner, an award-winning advocate and writer with Asperger Syndrome, the mother of a child on the spectrum and a professional in adult support services; Diana Blackmon, primary author of the California Department of Education's "Transition to Adult Living: An Information and Resource Guide"; Steve Miller, executive director of the Tierra Del Sol Foundation, which offers educational and other services to help adults with developmental disabilities reach their full potential; Geri Fuchigami, coordinator of transition services with the Los Angeles Unified School District; Darlene Hanson with the Whittier Area Parents Association for the Developmentally Handicapped; and Det. Gilbert Escontrias, a member of the Los Angeles Police Department's Autism Support Group.
Weiner noted that in the next 10 years, 500,000 to 800,000 autistic people will enter the adult world. Current unemployment rates for individuals with autism are estimated between 80 and 90 percent.
"We've got a great transition community and we have families who are becoming more empowered to laser focus on what they need to get ready for the adult years," he said. "For families and individuals struggling with post-high school years, they will walk away from the conference with a toolbox full of particular strategies and confidence."
The cost to attend the conference is $120 for one day or $195 for two. For more information or to register, visit the website http://autismla.org/Jan-2013-Conference.htm or call CSUN's Family Focus Resource Center at (818) 677-6854.