Freshmen Celebrate First Semester Achievements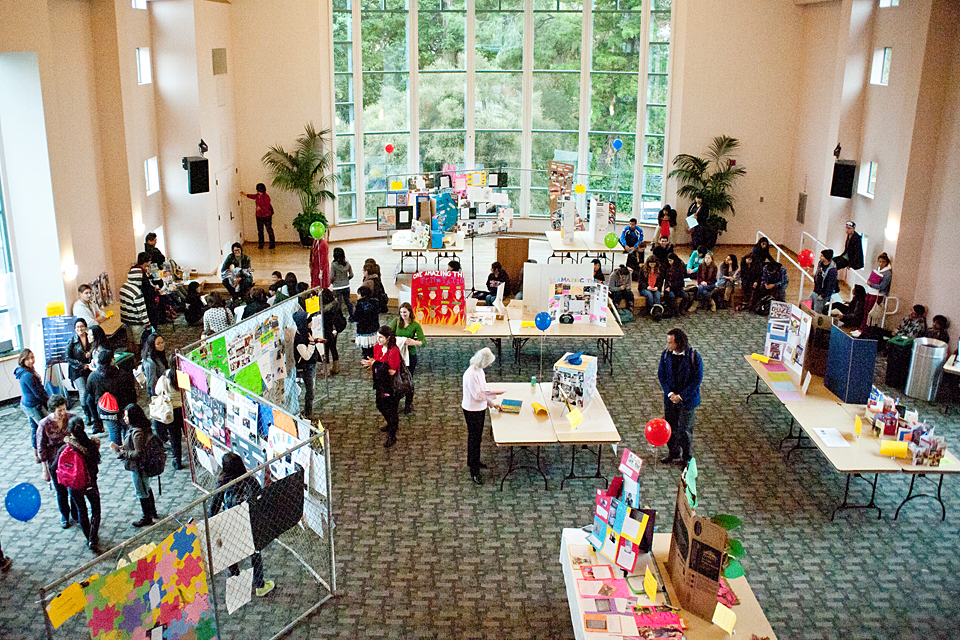 Hundreds of freshmen students filled Cal State Northridge's Grand Salon to share and display their Freshman Celebration projects as well as to support and applaud the work of their peers. Photo by Victor Kamont.
Roxanne Moschetti's University 100 class created a massive California-shaped cardboard cutout ornamented with photographs of parents, best friends and all of the other "amazing" things that the students appreciate in their lives. This project, like many others displayed at California State University, Northridge's seventh annual Freshman Celebration, was inspired by the 2012 Freshman Common Reading book, "One Amazing Thing."
Written by Chitra Divakaruni, who also served as the keynote speaker at this year's Freshman Convocation, "One Amazing Thing," tells the story of nine characters who find themselves trapped in an Indian embassy basement office after an earthquake hits somewhere near San Francisco. The characters share their personal, amazing stories and, in turn, inspire hope in one another.
About 900 students enrolled in University 100, a first-year freshman seminar dedicated to ensuring long-term academic success, participated in the Freshman Celebration on Nov. 28 and 29 in the University Student Union's Grand Salon. The Academic First Year Experiences program pulls together various freshman-learning programs taught by faculty and staff from across a range of the university's departments and divisions to enhance the experience of students at Cal State Northridge. Students are encouraged to submit projects as part of the culmination of their work at the end of the semester, and prizes are given.
"They (the students) loved it and had so much fun. It really empowered them to see their work displayed," Moschetti said. "They worked together and it helped them connect outside of class as well, which I know is really important."
Lori Baker-Schena's class project, entitled "Following Your Dreams: The College Connection," showcased students' talents through dramatic, live performances.
Student and aspiring music producer Connor Schatzel, a major in cinema and television arts, played one of his original songs while Antoine Irby, a theatre major, did a live break dance routine for the audience.
"The purpose of our project was to show people our dreams and to inspire others to tell us their dreams," Irby said. After his success in University 100, Irby plans to expand his Freshman Celebration project by chartering a new dance club, Liquid Fuse, on campus in the spring.
Cheryl Spector, director of CSUN's Academic First Year Experiences program, said the event is an opportunity for freshmen to applaud their own achievements.
"The objective is to celebrate freshman scholarship and creativity," Spector said. "The Freshman Celebration provides an opportunity to celebrate your first semester of university work. It's a monumental achievement to get to college and to persist in college—and that's something worth celebrating."
This year's grand prize went to Terry Hatkoff's University 100 class for their project: "A Critical Examination of Four Propositions from the 2012 California State Ballot," which weighed the pros and cons of four crucial propositions from the 2012 general election. The Virtual Celebration grand prize went to Christopher Aston's University 100 class for their YouTube project entitled "Learning, Growing, and Celebrating at CSUN." Shadi Ganjavi's class project, "Our Story," and Marnie Eldridge's class project, "Beyond the Cover" won People's Choice Awards.
For more information about the Freshman Celebration, visit the Freshman Celebration website.