Mary Schaffer: Dual Role as Professor and Student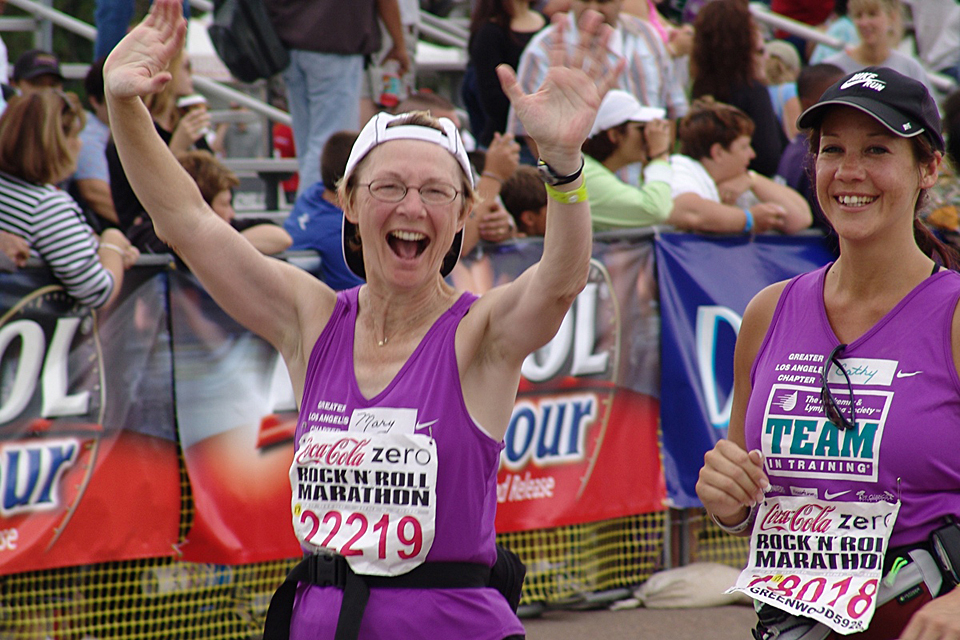 When Mary Schaffer returns to the classroom at the start of the fall 2012 semester, it will be as both a professor and a student.
Schaffer not only teaches in CSUN's Department of Cinema and Television Arts but is also a graduate student in the Department of Kinesiology, where her area of interest is exercise and "older people."
"I call them 'my people,'" she said, laughing. "I'm 63."
Even with the potential of retirement glistening in the future, Schaffer shows no signs of slowing down. She was recently elected vice president for academic relations of the Broadcast Education Association. She already has a varied career history that includes stints as a television producer (during a time when women were a scarcity in the newsroom), the first producer of "Morning Edition" on National Public Radio in Washington D.C. and the director of production at Disney Interactive Studios. So, her return to life as a student is part of Schaffer's next career goal: teaching classes in exercise movement for older people.
"You're more apt to do something if the person training you is the same age you are," Schaffer said. "Older people don't like 29-year-olds training them. It's hard to explain to a 29-year-old trainer that your knee and hip ache. But when older people who exercise tell me about stiffness or pain, I understand very well."
Schaffer developed an interest in exercise for the older population after running her first marathon eight years ago. She currently runs a half-marathon each month and one or two full marathons every year, often running with people 20-plus years her senior.
"I once ran a marathon called 'Grandma's Marathon,' and I ran with a guy who was 87 years old," said Schaffer. "I'm seeing older people run, and I'm also seeing people ask me how they can improve their physical well-being."
Research she recently conducted as part of a class indicates that "older people" represent one of the fastest-growing segments of the population.
"According to the U.S. Census Bureau, the number of Americans age 65 and older will rise from 40.2 million to 54.8 million by 2020," she said. "In eight years there will be 14 million senior citizens, and by 2030, one-fifth of Americans will be over the age of 60."
In her dual role of professor and student, Schaffer said that exercise, healthy eating and time management are crucial. It's advice she not only follows but also dispenses to students, especially during hectic finals periods. When her students appear frazzled by finals, she recommends—via demonstration—an invigorating round of jumping jacks.
"Do jumping jacks for 10 minutes, and it will improve your attitude, get oxygen to your brain and you'll feel refreshed and not as stressed," she said. "If you don't want to do jumping jacks, go for a walk around the block, get a hula hoop … do something.
"I've actually had students email me and say, 'It works!'"
Her tutelage not only helps students manage the stress of finals week but also prepares them to become successful producers of multimedia who are recognized for their work both on- and off-campus. Her students have placed in competitions offered by the National Association of Broadcasters and received the prestigious J. Michael Brinkman Scholarship. Brinkman, for whom the scholarship is named for, was a leading figure in Hollywood's broadcast and post-production communities and was a founding member of the Hollywood Post Alliance. Most recently, one of her CVTA students was awarded a Fulbright Scholarship to Malaysia for January 2013.
Schaffer is thankful for the wonderful relationships she has with students, both those she teaches and those with whom she attends class.
"I'm surrounded by wonderful students at CSUN," she said. "My students are innovative and creative, and the students I attend class with are accepting and fun and curious about why I'm doing this. All the graduate students in kinesiology have embraced me and welcomed me, even though I'm really old compared to them."
Deciding to return to student life at 63 might strike some as unusual, but for Schaffer, it was a no-brainer.
"It's what I tell my students: If you don't try it, you won't know … You can't let fear get in the way. You can't put roadblocks in your way. You have to move ahead. You might find something you're really passionate about."