CSUN Is Working Hard to Help Students Bond with Science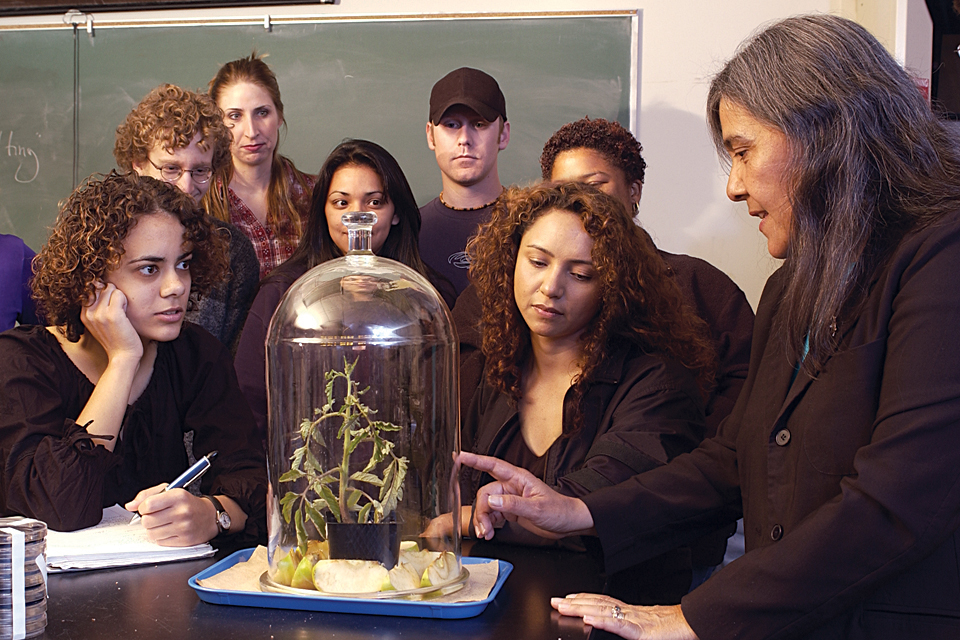 CSUN biology professor MariaElena Zavala (far right) in the lab with students. Photo by Paul Talley.
Over more than two decades, California State University, Northridge, has earned a reputation as a leader in efforts to build and diversify the nation's scientific ranks. Thanks to grants totaling more than $1.3 million from the National Institutes of Health (NIH), two CSUN programs that encourage students from underrepresented communities to consider careers as biomedical researchers are going to continue.
The university received more than $600,000, the third installment of a five-year grant, for its Minority Access Research Careers Undergrad Science Training and Academic Research (MARC U*STAR) program The results to date are impressive. Since the program's inception, all of the CSUN student participants have presented the results of their research at regional, national and international scientific conferences. All MARC students who entered Ph.D. programs have also been awarded five-year fellowships to complete their academic pursuits.
"We're very grateful for the continuation of the support provided by the NIH," said CSUN biology professor MariaElena Zavala, director of the MARC and MBRS RISE programs. "Not only do these grants support the students directly, but they also provide an opportunity to have institutional impact as we develop and shape courses to ensure that the students have the tools they need to succeed."
With more than 2,000 faculty members teaching courses leading to bachelor's degrees in 69 disciplines, Northridge is now ranked among the top universities for bachelor's degrees awarded to minority students.
For more: CSUN Receives $1.3 Million for Programs That Encourage Students to Consider Careers in the Sciences [CSUN Media Releases]