College of Science and Math Receives Transformative Bequest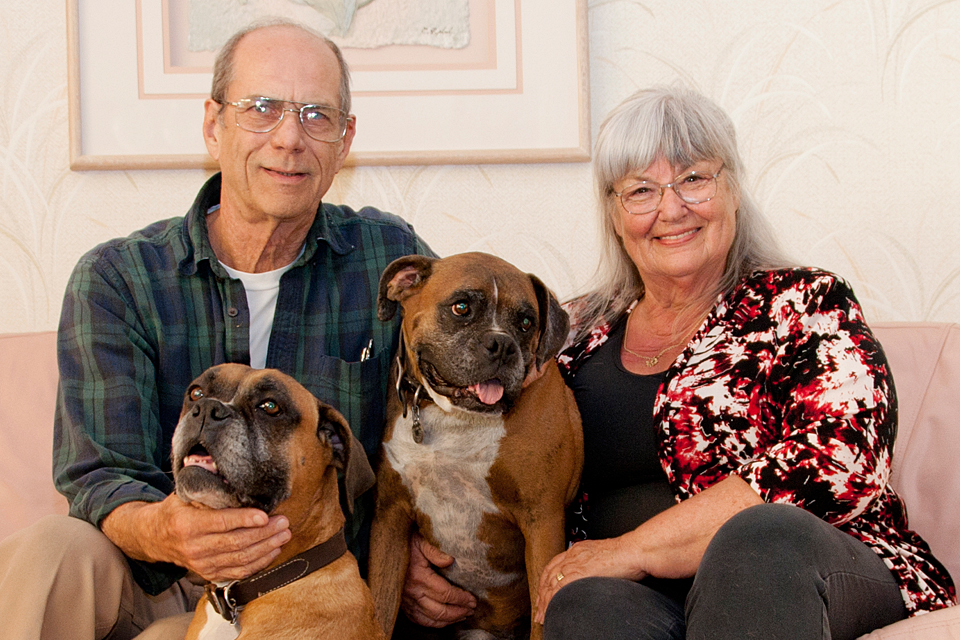 CSUN donors Dr. Richard and Ilona Buratti at home with their beloved boxers, Travis (right) and Phoebe. Photo by Lee Choo.
Dr. Richard and Ilona Buratti's lives were transformed by education. Now, they are transforming education for others with an estimated $750,000 bequest to the California State University, Northridge College of Science and Mathematics.
When he was 16, Richard Buratti dropped out of high school, figuring that he'd be set for life with a job that paid $80 a week and a '50 Mercury convertible in the driveway. He joined the Navy and, after four years in the service, returned home and started working in his father's pool plastering business.
Shortly after the birth of his first child, Richard began to think about going back to school, telling Ilona that if he could do it over, he would have stayed in school and become a doctor or lawyer. Ilona sprung into action, scheduling an appointment for Richard with a high school counselor for the following night. Richard started high school courses that same evening, went on to attend community college, and eventually began a long, successful career as a podiatrist.
After buying a local podiatry practice, the family settled in Northridge. Since then, they have considered California State University, Northridge a wonderful neighbor. Their children attended pre-education foreign language classes and the Teenage Drama Workshop on campus. Later, their son attended classes at CSUN, their daughter-in-law earned her master's degree at the university, and Ilona became involved with the Friends of the CSUN Botanic Garden. "As I got more involved with the university, I got to see what it actually does, and it's a phenomenal place," Ilona shared.
After years of getting to know their "neighbor," the Burattis decided to give back. "You can always go borrow a cup of sugar from a neighbor," Ilona said, "and you don't have to return the sugar, but I wanted to return a little bit."
The Burattis' first gift was a small bequest to support student scholarships in the College of Science and Mathematics in honor of the teacher who taught Ilona to read. In subsequent discussions with CSUN development professionals, the Burattis realized they could do even more and eventually decided to direct a portion of their estate to support graduate students in the College of Science and Mathematics.
Even with the sizable bequest, the Burattis don't consider themselves major philanthropists. "I'm not in a position to write a huge check," said Ilona. "But I noticed on the community level that there is a need, an opportunity and a mechanism for us to be able to set aside a portion of our life's work to go to the university and be used in the exact way that we intend, without taking away from our lifestyle at all."
Working with CSUN to set up their gift not only provided the Burattis the satisfaction of supporting education, but it also allowed them to make arrangements for their beloved dogs and any future pets. Through gifts to two local rescue groups, the Burattis now have the peace of mind that their animals will be cared for well.
Their gift will fund graduate student scholarships and research-related expenses, including travel to conferences. In choosing to support graduate students, the Burattis recognize that graduate students provide valuable teaching and mentoring assistance, enriching undergraduate education and enhancing the overall reputation of the college.
Jerry Stinner, dean of the College of Science and Mathematics, called the Burattis' gift "transformative."
"I can't think of a better way to invest in the future of this country," he said. "The future is the STEM majors — science, technology, engineering and math. Education is at the heart of all our advancements, and I really admire people like the Burattis who realize the importance and value of education."
"Many of the people in California are land rich," Stinner continued. "Their homes are worth considerably more than they paid for them. So, they may not have the means now, but with that kind of real estate, a planned bequest works beautifully."
For Richard and Ilona, being able to give in this way is very important. Recalling his own indirect path to education, Richard said, "I don't believe the path I took in my education is practically open today for many people because of increased fees and restricted classes. I'd like to see it open back up."
Ilona echoed his sentiments. "The most important thing is for anyone who could contribute to consider it," she said. "Working with the university made me realize that, even in my ordinary—comfortable, but ordinary—financial situation, I could contribute, and it will make a difference on several fronts, and for that, I'm grateful."
For more: Visit CSUN's Planned Giving website for information on including the university in your estate plan and for other ways to give.