CSUN and Shanghai Normal University Collaborate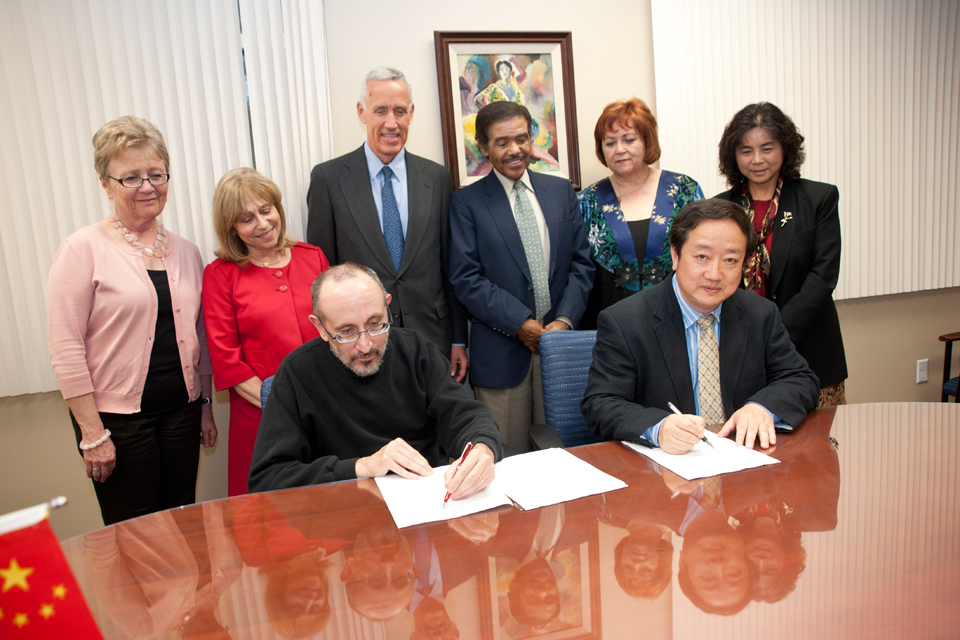 From left (standing) : Elizabeth Sellers, Maureen Rubin, Robert Bucker, Mack Johnson, Katherine Baker; (seated) Harry Hellenbrand and Justin Su. Photo by Lee Choo.
It's been proven time and time again that music can make any situation better. For students studying the discipline at the Shanghai Normal University (SHNU), it can also lead to an amazing time in Southern California. That's because SHNU teamed up with CSUN to offer its students a chance to study in the San Fernando Valley for an accelerated master's degree in music.
The "3+1+1" program will be for SHNU students who qualify for conditional enrollment in the CSUN Department of Music's graduate program. Cong Li, dean of the Music College at SHNU, called the CSUN music department one of the best in the world, and noted, "One of the most important goals of Chinese education is to be international. Music is without borders. We are really happy to develop this relationship."
This isn't the first collaboration between SHNU and CSUN. The two universities have had a relationship for more than 20 years, hosting the Women's Chorale, jazz band and theater students. Visiting scholars from SHNU have come to Cal State Northridge, and CSUN administrators and faculty have gone to China. The College of Business and Economics and the Department of Art at CSUN also have undergraduate programs that allow SHNU students to earn bachelor's degrees through courses taken at both schools.
"This kind of a partnership is very enriching for our own students and faculty," said Robert Bucker, dean of the Mike Curb College of Arts, Media, and Communication. "The introduction into our community of more international students just gives our youngsters a better sense of what the competition is around the world."
For more: CSUN Cements Deal to Offer Accelerated Master's Degree With Chinese University [CSUN Media Releases]