Top CSUN Brass Visit CSUN Interns, Alumni in Washington, D.C.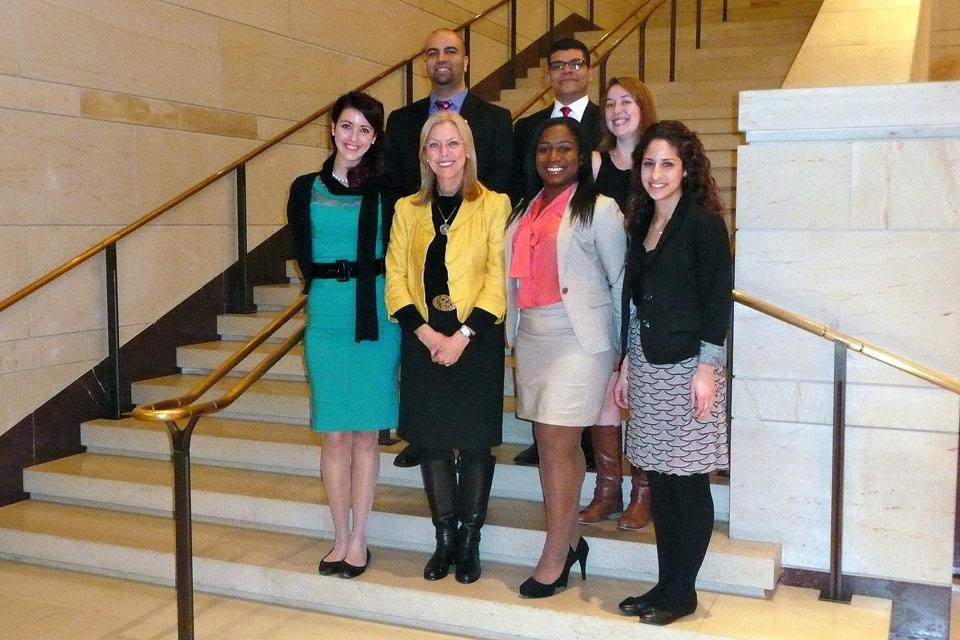 CSUN President Harrison meets with CSUN interns working in Washington, D.C. She was in town as part of the CSU Hill Day program.
California State University, Northridge President Dianne F. Harrison and Director of Government and Community Relations Francesca M. Vega spent the past week in Washington, D.C. visiting lawmakers and meeting with the CSUN political intern contingent in the city as well as area alumni.
The trip was part of the CSU's Hill Day, a yearly event in which each of the California State Universities send ambassadors to the nation's capital to advocate on behalf of their institutions and the CSU.
Among the officials Harrison and Vega visited was Congressman Brad Sherman, whose district includes the Cal State Northridge. They talked about federal issues and legislation that affect CSUN.
The trip wasn't all Congressional business. Harrison and Vega made spent time with Matadors learning the ins and outs of the political process.
"President Harrison's meeting with the CSUN student interns was a highlight of our advocacy trip to D.C.," Vega said. "It was not only an opportunity to hear about the unique experiences each student has had while working in our nation's capital, but it also gave the students a chance to meet and talk with President Harrison in an informal setting. It was refreshing to see such enthusiasm in our students!"
CSUN is an active participant in Cal State D.C., an internship program. Since 2006, the program has offered CSUN students an opportunity to spend the summer working with governmental and nonprofit groups in the nation's capital. The CSUN students currently working on in Washington, D.C. are Daniela Barcenas, who is interning with  the Mexican American Legal Defense and Education Fund; Yolanda Castelion, who is working with Youth Builds Public Charter School; Jose Garcia, who is working for Congressman Buck McKeon's office; Jasmine Gibbs, who is working in Congressman Sherman's office; Maia Hariton, who is work with Earth Day Network; Mike Saghbazarian, who is working with the Armenian National Committee of America; and Sheila Zamora, who is interning at the Ponds Law Firm.