A Photojournalist's Journey to the Pulitzer Prize
By Cary Osborne
Fire walked across power lines like an army of ants marching toward a morsel of food. Bottles and concrete flew through the evening sky. Electrical pops, the crashing sound of landing debris and angry voices provided the evening's dissonant soundtrack.
CSUN alumnus Julio Cortez walked down a Minneapolis street that resembled something he had only seen in apocalyptic movies. He stopped for a moment, then took off his gas mask. A wave of heat hit his face, like opening an oven door. The fear of being mistaken for a police officer ran through his mind because he was dressed in black and wearing a Kevlar vest. To the enraged protesters, law enforcement was public enemy No. 1.
The 41-year-old had another fear—not returning home to Baltimore to see his wife and two toddlers again.
He freed a hand from his Canon 1DX Mark II camera and took a drink of water from a plastic bottle, to soothe his dry throat. Then he noticed a tall man walking alone down the center of the street.
The man was holding an American flag upside down.
The moment reminded Cortez of a December morning in 2019 after the first impeachment of President Donald Trump, when Cortez, an Associated Press photojournalist, snapped a photo. An American flag had come undone from a loophole and hung upside down from a pole, with the Washington Monument in the background. Cortez recognized the symbolism: The United States flag flown upside down is a signal of distress or danger.
Cortez shifted back to the present in Minneapolis— the same city where, three days earlier, a white police officer knelt on the neck of a Black man, George Floyd, for 8 minutes and 46 seconds, killing him.
Cortez thought this lone protester may have been quietly sending a message of distress or danger, as others audibly decried Floyd's murder. Cortez grabbed his camera, then followed the man for 40 seconds.
His ISO setting on the Canon was at 6400. The aperture was at F4. Cortez composed himself and the image. He pushed the shutter button at 11:59:38 p.m. on May 28, capturing one of the most iconic images of 2020—a photograph that helped tell one of the most globally affecting stories of a generation. For the next few days, the picture appeared in newspapers, websites and newscasts around the world. It eventually led to Cortez winning a Pulitzer Prize for the Associated Press in 2021.
All Julio Cortez '06 (Journalism) ever wanted in life was a shot. And despite his fear and the surrounding chaos, he took it.
"This was a moment for me to step up and show that I can do this. It was a chance for me to make it whatever I could," Cortez said. "Kind of like coming to the States. All I wanted was just a shot, just give me a shot. Give me a shot to go to school. Give me a shot to work at a newspaper."
A Passion Found in America
A used Pentax K1000 camera sat on a shelf inside a San Fernando Valley pawnshop and caught the eye of then 17-year-old Cortez. But he couldn't take it home immediately. The price tag was $200—too much for a teenager to justify spending all at once, and too much to ask from his parents. So he put it on layaway and made payments on the camera, $10 at a time.
Photography was just a hobby—a supplemental way to document stories. The actual storytelling Cortez wanted to do was as a sportswriter covering the Los Angeles Dodgers.
His father, Julian, was the first member of the family to come to the U.S. from Mexico. He arrived the week the Dodgers won the World Series in 1988, and he worked as a day laborer. Julian went on to work in construction on a Sherman Oaks mall and, in later years, on the mall's maintenance staff. Nearly a year after Julian arrived, Cortez, his mother, Rocio, and two younger siblings, Nancy and Carlos, made their first attempt to join their father and live in the U.S. They took a flight from Mexico City to Los Angeles, but were stopped at the airport and sent to a detention center, where they were held for a week. Their room contained nothing but a stained blue mattress and a lightbulb. The family had to peer through a window with steel bars to see sunlight.
Rocio decided she didn't want to put her children through this. Instead of waiting for a judge to decide the family's fate, she took the kids and boarded a bus, packed with other immigrants, to Tijuana, Mexico. The family tried to reenter the U.S. the next day. Cortez, then just 10 years old, stood with his family at the fence dividing the U.S. and Mexico. As they planned their crossing, Cortez hesitated and cried. His mother asked him what was wrong.
"I knew we were doing something bad," he recalled. "I was like, 'I don't want to go to the U.S. Nobody ever asked me if I wanted to come to the U.S.'"
The family, smuggled by a coyote, crossed the border and eventually met up with Julian to begin a new life in America and the San Fernando Valley.
Cortez found a passion quickly—journalism. At Madison Junior High and Grant High schools, he wrote for the school newspapers. He knew education was his ticket to a better life. So, after high school, he enrolled in community college with an eye toward pursuing a career in sports journalism. At 19, he got a permit to work in the U.S. and landed a job covering high school sports for the Los Angeles Daily News.
He wanted to make an impression. In addition to a notepad and pen, he would take his Pentax K1000 to games and capture the action on film. A staff photographer gave Cortez discouraging feedback: "You focus on the writing. We'll focus on the photography."
"I still think about that day because I think back and see that not only did I have people who encouraged me along the way, but there were people who tried to stop me from chasing my dreams," Cortez said.
Journalist to Photojournalist
Cortez was in a political science class at Pierce College on Sept. 11, 2001, a few hours after two planes had flown into the World Trade Center in New York City. Once the class was over, he raced to the Daily News building, just a few minutes away by car.
"I'm going to the paper because they probably need somebody to read copy, or run copy, or do whatever. I want to help," Cortez recalled thinking.
Every day Cortez worked, he'd take the same path inside the Daily News building, passing the photo department on the way to the sports desk. Recognizing the historic importance of the day, Cortez stopped to look at photos and read captions.
One photograph stopped him in his tracks: Associated Press photographer Suzanne Plunket had captured a moment on a New York City street when a cloud of smoke and dust from a fallen tower seemingly chased a group of men. In the foreground was a man in business attire, running away, the look of fear clear upon his face.
"I looked at it and I was like, 'Wow, this is history. I need to do this. I want to do this,'" Cortez said.
Cortez continued to hold on to his education like it was his lottery ticket. But now, photography would be his direction.
The problem was his undocumented status. To attend a California university, he would have to pay out-of-state resident fees. Instead, he spent seven years taking community college classes because they were affordable.
In July 2003, at age 24, he went before a judge to plead his case for permanent residency. Cortez advocated for himself, showing her a binder stuffed with pages of accolades—journalism awards, a letter of congratulations from his community college president for his journalism work, a Los Angeles Times scholarship letter, Los Angeles Marathon finishing times and school diplomas.
"This is the track record of somebody that's been doing something really good here. I'm not trying to take away anything from anybody," he told the judge. "Here's the evidence! This is what you want in your country!"
She agreed and approved Cortez's permanent resident application. With his new status, Cortez enrolled at CSUN for the fall 2003 semester.
Sí, Se Puede
Though getting to CSUN was a triumph, his seven years at community college gave Cortez the itch to get through his time at the university as quickly as possible.
He had a plan: shoot photographs, get them published and build a portfolio. He started with CSUN's bilingual publication El Nuevo Sol. He worked and developed a friendship with a fellow journalism student, Salvador Hernández, who later joined the university's English-language newspaper, the Daily Sundial, and became its news editor. Hernández wanted Cortez on his team again.
"He was super talented, and I wanted to recruit and try to get people into the Sundial that were not just great, but especially during that time, it was a little bit challenging to find people of color to recruit into the Sundial," said Hernández, now a reporter for Buzzfeed.
Cortez accepted Hernández's invitation and began shooting photographs for the Daily Sundial. But after one semester, another opportunity presented itself.
Hernández accepted an internship at the Dallas Morning News Spanish publication, Al Día. Soon, Cortez was hired too, and they went to Dallas together. Hernández said he admired Cortez for his versatility—he had a knack for capturing the story in one photograph, and he could write. But there was one other quality that stood out.
"Honestly, his hustle, which I think was unique to him," Hernández said. "Julio would shoot anything and everything. He just really had a gift already at that time to be able to tell a story just with the image."
With more experience on a professional stage, Cortez gained confidence, and his photography continued to improve. When he finished the internship and returned to CSUN, he also returned to the Daily Sundial as its photo editor.
Soon, with more internships under his belt, he had completed his journalism degree at CSUN.
"It's so symbolic to me. I'm the first in all my extended family to graduate from an American university. For me, graduating from CSUN really meant 'Sí, se puede,'" Cortez said.
He intentionally used the Spanish phrase, which translates in English to, "Yes, it can be done." The words are a rallying cry popularized by Cesar Chavez and Dolores Huerta to represent the determination of the United Farm Workers movement in 1972.
As Cortez took the stage in front of CSUN's University Library to collect his bachelor's degree in 2006, he sported a rectangular cardboard sign with a foot-high, lime-green cardboard arrow attached to his mortarboard. The sign read: "immigrant." After officials called his name and handed him his diploma, Cortez approached the microphone and shouted, "Sí, se puede!"
Coming Into Frame
As a student, Cortez attended events where CSUN alumnus Kevin Olivas was often a speaker. Olivas, a former radio news reporter, transitioned to work with nonprofits that supported journalists from diverse backgrounds, including the California Chicano News Media Association (CCNMA): Latino Journalists of California. Cortez caught Olivas' attention.
"I might have brought doughnuts or something with me just to serve the people who took the time to be there [at the event]," Olivas said. "Then, I would take it out to my car when I was done. And if I got somebody who just voluntarily followed me and helped me, but also kept asking questions, then I knew I had a winner. My recollection was that Julio did that."
Cortez would also show Olivas his photographs, and in that area, he also knew he had a winner.
At CCNMA, Olivas served as a pipeline for people of color to find opportunities with news organizations across the country—including the Associated Press. Olivas recalled the AP making a push in 2005 to recruit interns from diverse backgrounds.
"When they were asking if I knew of any good interns, one of the names that came up was Julio because of how good he was at taking pictures that told a story," said Olivas, now the news recruiting manager for the Sinclair Broadcast Group. "He had a really great eye for it, was very inquisitive and seemed dedicated to a career in journalism. He wouldn't just let the picture speak for itself. He tried to find out something about it to enhance the story."
Cortez landed a 12-week internship at the Associated Press' Chicago bureau. That internship eventually led to a full-time job with the AP—eight years at its New Jersey bureau and the past two at its Baltimore office. During that time, he has covered Super Bowls, Olympics, the aftermath of the Sandy Hook shooting and the hunt for the Boston Marathon bombers.
The latter shook him but didn't cause him to hesitate before taking an assignment. He wasn't married at the time, nor did he have children, so he wasn't worried about the dangers often associated with his profession.
Things have changed.
Julio met an aspiring photojournalist and high school teacher named Emily. They first connected when Emily, living in Mississippi, reached out to Julio, who was living in New Jersey at the time, for mentorship. Originally from upstate New York, Emily would stop to visit with Julio on trips to see her family in the tri-state area.
The couple married in 2017. Their first boy, Sebastián Cuauhtémoc, was born in 2018. Roman Miles followed in 2019.
On January 20, 2020, Cortez was sent on assignment to Richmond, Va., to photograph a rally for gun-rights activists. An estimated 22,000 people gathered, many openly carrying weapons. Because of the potential danger, as activists protested plans by Virginia's Democratic leadership to pass gun-control legislation, Cortez wore a helmet for the first time on assignment. He also was issued a gas mask by the Associated Press and learned how to use it.
"That night, I was talking to one of my friends, and she mentioned the rally," Emily said. "The way she spoke of it, I thought, 'Oh, wow. This is going to be really dangerous. So, I made the mistake of looking it up. I Googled it. I realized maybe he's putting himself in harm's way more than I realized."
The Focus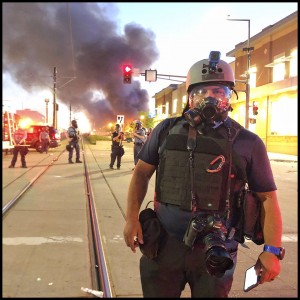 Four months later, on May 26, 2020, Cortez watched TV throughout the day as the name George Floyd spread and outrage led to protests in Minneapolis. Cortez recalled thinking that the AP should be there to cover this event. But he never thought he'd be the one to go.
Two days later, at 8 a.m., Cortez's phone rang at his home in Baltimore. He was told he needed to get to Minneapolis immediately. Cortez agreed, but with one condition: He asked for a bulletproof vest.
The request was approved and Cortez drove an hour to pick it up. The drive gave him time to think. The scenes of the murder and crescendoing unrest in Minneapolis played through his mind, heightening his anxiety. Cortez thought about his mortality. He thought of Emily, Sebastián and Roman. As he drove, his knees were trembling and he was sweating. Determined to go forward, he spoke to himself to calm his nerves.
The Associated Press had sent him to Minneapolis to do a job. The AP gave him a shot to document one of the most important events of his lifetime. So, if he was going to do this, he'd better do it right.
Finally, Cortez said something to himself that gave him the courage to go forward. He thought about the Pulitzer Prize, the award that is the highest aspiration of those in his profession, and how this would show his worthiness as an American. Cortez said to himself, "Let's go get us a Puli."