Please submit notes for future publication to magazine@csun.edu.
1960s
Margo Sorenson '68 (Secondary Education, pictured at right), 2003 Minnesota Book Award finalist and Milken National Educator Award winner, had her picture book for young readers, "Calvin Gets the Last Word" (Tilbury House, 2020), featured in The New York Times Book Review children's books section in November 2021 as one of the best "Picture Books about Books." The book is in its second printing. Her most recent picture book, "Little Calabash" (Island Heritage), was selected for the Society of Children's Book Writers and Illustrators' recommended reading list for Asian American and Pacific Islander Heritage Month.
1970s
Cathryn L. Roberts '72 (Speech – Communicative Disorders), M.A. '74 (Communication Disorders/Teaching Credential) published her memoir, "Only in Alaska: A California Girl Pioneers Speech Therapy Under the Northern Lights," on Kindle.
Leonard H. Friedman '77 (Biology/Teaching Credential), M.P.H. '82 (Public Health) received the Gary L. Filerman Prize for Educational Leadership from the Association of University Programs in Health Administration (AUPHA). Friedman is professor and director of Executive Master of Health Administration (MHA) programs in the Department of Health Policy and Management at George Washington University. Prior to joining George Washington, he was a faculty member at Oregon State University. He earned his Ph.D. at the USC School of Public Administration. AUPHA is a global network of colleges, universities, faculty, individuals and organizations dedicated to the improvement of healthcare delivery through excellence in healthcare management and policy education.
Gordon Goodwin '77 (Music) released a five-song EP, "The Reset." Born in Wichita, Kan., Goodwin's parents moved to Southern California when he was four. After completing his formal music education at CSUN, Goodwin began working at Disneyland in the theme park's bands. After several years, he was commissioned to work on a musical featuring past and present Mouseketeers, including Britney Spears and Christina Aguilera. Soon, master drummer and bandleader Louie Bellson recruited Goodwin to join his band. That exposure led to studio work with the likes of Gil Scott-Heron, Mel Tormé, Ray Charles and legendary vocalist Johnny Mathis.
Vinai K. Thummalapally '77 (Engineering) was appointed by President Joe Biden to serve as deputy director and chief operating officer of the U.S. Trade and Development Agency. Thummalapally served as executive director of SelectUSA, a U.S. Department of Commerce initiative that facilitates job-creating business investment in the United States, from 2013-17. Previously, he served as U.S. Ambassador to Belize from 2009-13, becoming the first Indian American ambassador in U.S. history.
Lee Zeidman '78 (Experimental Psychology), '80 (Recreation and Tourism Management), president of Crypto.com Arena, Microsoft Theater and L.A. LIVE, was honored with the Eli Sherman Pillar of Achievement award and named to the 2021-22 Southern California Jewish Sports Hall of Fame induction class. A ceremony to celebrate the 2021-22 honorees is scheduled for June 26 at the Hall of Fame headquarters at American Jewish University in Los Angeles. Zeidman's career began at CSUN, where he created the first student programmer position at the University Student Union and provided Matadors an escape at The Pub with Monday Night Football showings, Tuesday Night Comedy, Wednesday Night Live musical performances and jazz on Thursdays. After four decades in facility management, he has helped provide escape to millions by setting the stage for the biggest names in sports, comedy and music.
1980s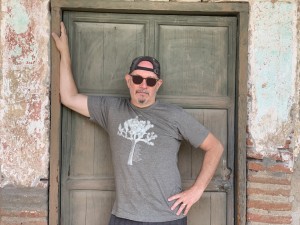 Keith Lissak '85 (English, pictured at left) launched the Keith's Music Box podcast in April 2020. A former film and TV industry journalist and lifelong rock music fan, Lissak conducts in-depth interviews with established and up-and-coming artists, including CSUN alumni such as legendary session bass player Leland Sklar, who played with artists like James Taylor, Phil Collins and Toto. Other episodes have featured curated playlists such as the music of the San Fernando Valley and Laurel Canyon. Lissak, who also runs his own marketing consulting company, Lissak Communications, lives in Mission Viejo.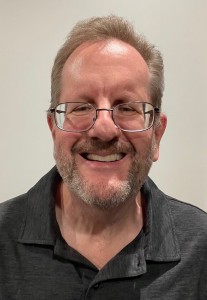 Matthew A. Stern '85 (English, pictured at right) had his second novel published by Black Rose Writing. "The Remainders" tells the story of 18-year-old Dylan, a homeless teen in Reseda, and his troubled father, who searches for him as he deals with his own history of physical and emotional trauma.
1990s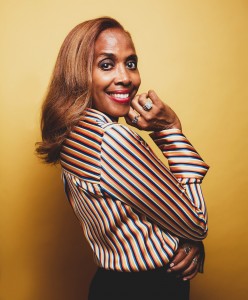 Lisa Sanchez '90 (Speech Communication, pictured at left) published her book, "Looking for Love in a Garbage Can: A Journey of Healing – How I Survived an Alcoholic Environment." Since the book's publication, she has shared her story of survival on TV, radio and podcasts.
Ken N. Schwartz '94 (Marketing), MBA '99 published a biography and tribute to heavy-metal music, "I May Be Old But I've Seen All the Cool Bands: One Fan's Story about Why Music Matters." The book delves into how music helped turn the once-shy Schwartz into "an extroverted metal head" and how a passion for rock shaped his life. Schwartz is senior manager of corporate communications at K12, public and private online schools. Previously, he served as manager of student, alumni and internal communications at Strayer University and director of communications at Altarum, a nonprofit dedicated to a more sustainable future in American health and healthcare. Schwartz lives in Portland, Ore.
Eric Martorano '96 (Political Science) was appointed executive vice president and managing director of the Americas for video collaboration firm Kinly. In his new role, Martorano is a member of the Global Kinly Management Board and oversees profit and loss management for the firm's business operations in the Americas. Previously, he served as chief revenue officer at Nextiva, chief executive officer at Accordo, chief revenue officer at Intermedia, and general manager of U.S. channel sales at Microsoft.
Dan C. Turturica '98 (M.A., Mass Communications) was appointed president director general of Romania's public television station, TVR. The appointment was approved by the Romanian Parliament. Turturica has more than 30 years of experience in newspapers and TV, including eight years as editor-in-chief of Romania's oldest daily newspaper, Romania Libera. His TV experience includes the "Reporter Incognito" program, which he produced and hosted for Prima TV. Since 2019, Turturica also has served as manager of the news portal Universul.net.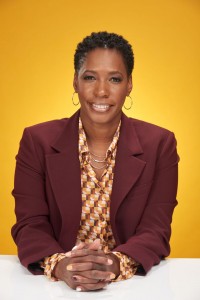 Monique A. Earl '99 (Political Science, pictured at right) is senior assistant general manager and chief of diversity, inclusion and equity at the Los Angeles Department of Water and Power. In this role, she focuses on dismantling biased practices and increasing partnerships with marginalized groups. Earl joined the city in 2003 as a deputy to Councilmember Cindy Miscikowski. She went on to hold executive positions in the Office of the Mayor and Office of the Controller, before serving as executive officer and assistant general manager at the Los Angeles Department of Transportation. Earl also holds a Master of Public Administration from American University.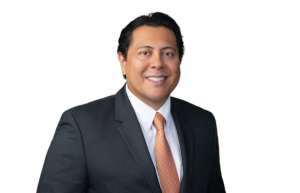 Arturo Sandoval '99 (Political Science, pictured at left) joined national litigation firm Hawkins Parnell & Young in San Francisco to defend businesses in complex commercial litigation and product liability. He advises general counsels and chief legal officers at Fortune 500 companies on managing mass torts, intellectual property, commercial contracts and employment issues. Sandoval has tried more than 20 cases in state and federal courts, and has been recognized for his stellar negotiation skills.
2000s
Noreen Lace '00 (English), M.A. '02 (Creative Writing) had her nonfiction piece "The Breeder's Lonely Hearts Club" published in the August 2021 issue of the journal Jelly Bucket, and her short nonfiction piece, "The Ghost in Her Room," published in the August 2021 issue of Dreamer's Writing.
Gayani Weerasinghe '01 (Cell and Molecular Biology) is the chair of the Southern California chapter of Women In Bio, an international organization with 14 chapters. The Southern California chapter includes more than 400 members in the biopharmaceutical and life science industries. The group recently launched a six-month virtual mentorship program to support women undergraduates and graduate students in science, technology, engineering and math (STEM). Weerasinghe noted that during her undergraduate studies at CSUN, she was mentored by biology professor MariaElena Zavala and professor emeritus Steven Oppenheimer.
Matt Bernstein '03 (English), M.A. '06 (English Literature) had his first book, "George Hearst: Silver King of the Gilded Age," (perhaps better known as father to media magnate William Randolph Hearst) published by the University of Oklahoma Press in August 2021. "The writing and researching skills I learned while earning a master's in literature at CSUN certainly helped the process," Bernstein said.
Lukas Quach '03 (MBA, Business Administration) was named as the new Building Official for the city of Agoura Hills. Quach has worked for more than 25 years in civil and structural engineering, construction, land development, real estate, and building department operations. The majority of his experience has been in the private sector, but he has spent the past eight years in public service, working for several local jurisdictions. Quach has earned a number of licenses and certifications, including a Structural Engineering License (SE), Certified Building Official certification (CBO) and Certified Access Specialist (CASp) designation, which he credited with helping advance his career.
Kristine Schomaker '03 (Art History), M.A. '10 (Art Studio) debuted her first museum show, "Perceive Me" at MOAH:CEDAR, an experimental art gallery that is part of the Museum of Art & History in Lancaster, Calif. Schomaker has had solo exhibitions at galleries throughout the Los Angeles area, including "Plus" at ARK Gallery in Altadena, "Mirror, Mirror!" at Phantom Galleries L.A. in Hawthorne; "And One Man in His Time Plays Many Parts" at the Los Angeles Art Association, and "A Comfortable Skin" at Kerckhoff Hall Art Gallery at UCLA. She is also an independent curator, the founder of Shoebox PR and publisher of the online contemporary art magazine Art and Cake.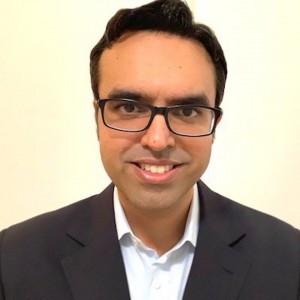 Kamesh Balasubramanian '05 (Computer Engineering, pictured at right) joined Apple as a senior software engineer. Previously, he was chief executive officer of Kubely, LLC, where he provided consulting services to Fortune 100 technology companies. Balasubramanian has more than 25 years of experience contributing to the development of world-class products and services, including extensive experience in distributed systems, microservice architecture and container orchestration systems.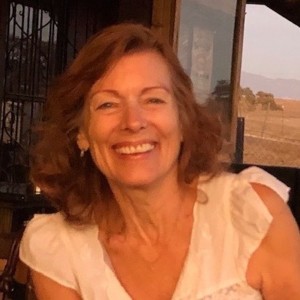 Maureen Foster '06 (M.A., English Literature, pictured at left) published her book "Alien in the Mirror," which is focused on the 2013 science fiction film "Under the Skin." After graduating from CSUN, Foster relocated to the Bay Area and worked as a teaching assistant in the Department of Film & Media at University of California, Berkeley. From 2007-13, she taught courses in writing and film at UC Santa Cruz.
Todd Wolfson '08 (Communication Studies), basketball head coach at St. Francis High School in La Cañada Flintridge, Calif., was named to the 2021-22 Southern California Jewish Sports Hall of Fame induction class. Wolfson was noted by the selection committee for coaching St. Francis to the boys' State Basketball Championship. A ceremony to celebrate the 2021-22 honorees is scheduled for June 26 at the Hall of Fame headquarters at American Jewish University in Los Angeles.
Mandy L. Macklin '09 (English Literature), M.A. '13 (Rhetoric and Composition) is the director of the Odegaard Writing and Research Center at the University of Washington (UW). Macklin earned her Ph.D. in English Language and Rhetoric from UW in 2019, and she previously served as teaching faculty and assistant director of the Center for Teaching and Learning at Antioch University Seattle.
2010s
Sean E. Pessin '10 (English), M.A. '13 (Creative Writing) started a doctoral program in Information Studies at UCLA. Pessin is also helping develop an international book studies program through UCLA's California Rare Book School, and he led a zine workshop for the emerging LGBTQIA youth group QueerLand. He had his chapbook (a tiny, bound book), "Three Stories," published by Magra Books, and he participated in the recent roundtable "Comics@CSUN: A Faculty Community Reflects on Comics Pedagogy in the Long Crisis of 2020-21" with a panel of CSUN faculty members including Charles Hatfield, Dylan Altman and Tina Bertacchi-Love.
August "Auggie" Samie '10 (English) was hired as adjunct assistant professor of history at Lewis University in Chicago. A gay, first-generation immigrant and Persian American, Samie earned his Ph.D., magna cum laude, in Middle Eastern studies from the University of Chicago. As an undergraduate at CSUN, he won the Dean's Scholar Award and the Wolfson Scholar Award, the university's top honor given to a graduating senior. He also served as the first openly gay and first Persian American president of Sigma Tau Delta.
Jada Augustine '11 (Interdisciplinary Studies) started a new position as a full-time lecturer in the Writing Programs at UCLA. She began her teaching career at CSUN and has served as a lecturer at several Cal State campuses, including most recently at San Jose State University.
Trista Payte '11 (English), M.A. '14 (Creative Writing) is director of the Writing Center at Mount San Antonio College. Payte served as the writing programs coordinator at CSUN's Learning Resource Center from 2017-21. She remains a faculty member in CSUN's Department of English and is completing the university's Ed.D. program.
Steven Bockover '12 (English) and Kelly Moreno '12 (English), M.P.A. '20 (Public Sector Management and Leadership) live together in Washington, D.C., where Bockover teaches at Francis C. Hammond Middle School in the Alexandria City Public School District. Moreno works with the National Network to End Domestic Violence, advising anti-violence advocacy programs across the nation. As undergraduates at CSUN, Bockover and Moreno were two of the four founding board members for the Northridge Creative Writing Circle. They also served on the editorial staff of the Northridge Review.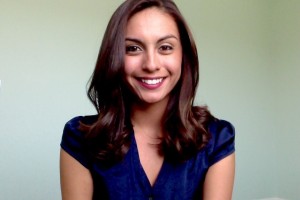 Candice Carrizales '12 (Finance, pictured at right) passed the Certified Financial Planner examination. Carrizales works at Acosta Wealth Management, where she helps clients build and maintain wealth through personalized plans tailored to meet their life goals. Previously, she spent nearly eight years at GEICO. When she isn't working, the Oxnard native enjoys spending time with her family, reading and checking out new restaurants. Since 2016, she also has volunteered with School on Wheels, which provides tutoring to children experiencing homelessness.
Tiffany Nakawatase '13 (Liberal Studies) opened an Etsy store dedicated to custom pet portraits. Her work has been featured in a pop-up art wall at the Open Market OC in Laguna Hills, and she has partnered with TalkShopLive on Instagram. Previously, Nakawatase worked as an academic and career counselor at California community colleges. She lives with her rescue dog, Finn, in Dana Point.
Elizabeth Dorssom '14 (M.P.A., Public Sector Management and Leadership) received the 2021 Excellence in Student Leadership Award from the University of Missouri Graduate Professional Council. The award honors a graduate student who shows exemplary leadership in service to graduate and professional students. Dorssom is a Ph.D. candidate in political science at the University of Missouri. She is also serving as an Oskar Morgenstern Fellow at the Mercatus Center at George Mason University for the 2021-22 academic year.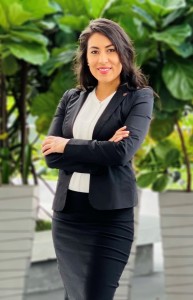 Sandra Flores '15 (English, pictured at left) was awarded the President's Scholarship from Northcentral University, in support of her doctoral studies in English language learning. As a Puerto Rican immigrant and English language learner herself, with her Ph.D., Flores said she hopes to make an impact in literacy programs and in the lives of English language learners.
Stephen P. Florian '15 (M.A., Rhetoric and Composition) successfully defended his Ph.D. dissertation, "Understanding the Effect of Labeling Developmental Writing Students as Probationary: A Critical Qualitative Inquiry." Florian completed his doctoral work at Indiana University of Pennsylvania, and he is an assistant professor at the University of Alaska Southeast in Ketchikan.
Alan Malfavon '15 (History/Spanish Language and Culture) earned his M.A. and Ph.D. in history from UC Riverside, and he landed a tenure-track job as an assistant professor of history at Washington State University.
Michael F. Mora III '16 (Manufacturing Systems Engineering) is the regional sales manager for the Western United States and Western Canada for Pharmaworks and WLS. In this new role, Mora brings packaging systems from Pharmaworks and WLS to pharmaceutical, nutraceutical, animal health, medical device and consumer goods manufacturers and contract packers. Previously, he served as a production supervisor at Kindeva Drug Delivery (formerly 3M Drug Delivery).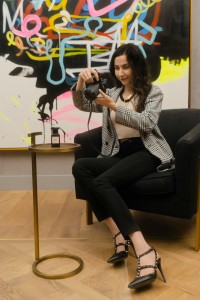 Shirin Nahvi '16 (Cinema and Television Arts – Screenwriting, pictured at right) was named an Adobe Creative Resident. The residency provides direct funding to creators to help them share their creative process with the community while pursuing their artistic passions. For her residency project, Nahvi is producing "Unfiltered Beauty," a YouTube docuseries that examines the art of creating content for top beauty brands. At CSUN, Nahvi worked as an event planner for the University Student Union, where she took the lead on large campus events such as Carnaval and the Spring Lecture.
Rolaine James '17 (M.A., Assistive Technology and Human Services) is an academic success coach in the Disability Resource Center at Berkshire Community College. Previously, she was an assistive technology access coordinator at Dartmouth College. She specializes in augmentative and alternative communication (AAC) and assistive technology tools for education.
Jade Arvizu '18 (M.A., Rhetoric and Composition) has started a doctoral program in rhetoric, with full funding, at the University of Texas, Austin — a Ph.D. program that only accepts four students each year.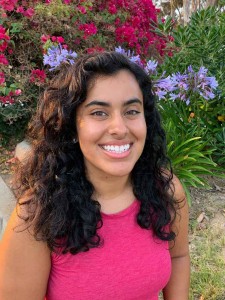 Analine Aguayo '19 (Cell and Molecular Biology, pictured at left) was awarded a Gilliam Fellowship, which helps prepare students from historically underrepresented groups in science to assume leadership roles in science and science education. The fellowship is sponsored by the Howard Hughes Medical Institute and provides support for the student and training for their mentor. Aguayo is in the Ph.D. program in biological sciences at UC San Diego.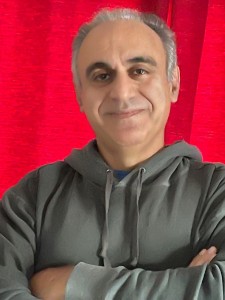 Amir Barghi '19 (Public Health, pictured at right) published a novel, "Sarah," in November 2020. Barghi was born in Tehran, Iran, where he graduated from the Tehran University of Art. He immigrated to the U.S. in 2012, and currently lives in Los Angeles.
Jasmine Daboul '19 (Vocal Arts), a singer, actress and music teacher, released her first single, "I Don't Know," on Spotify, Apple Music, SoundCloud and Bandcamp. Daboul grew up listening to classic Arabic and Latin music, and she aims to introduce audiences to the blended sounds of traditional vocals set against the musical landscape of contemporary pop. Her performance work also includes opera, and her recent roles have included "Gherardina" in Puccini's "Gianni Schicchi" and "Papagena" in Mozart's "The Magic Flute" at the Santa Monica Broad Stage.
2020s
Joelena Despard '20 (English) was accepted at several Master of Fine Arts programs, including scholarship offers from the California College of the Arts in San Francisco and the Savannah College of Art and Design. A first-generation Chicana student who overcame a learning disability and housing insecurity, Despard made the Dean's List as an undergraduate at CSUN. She plans to pursue a career as an illustrator and graphic novelist.
Kelly Geiger '20 (M.A., Creative Writing) started the Master of Fine Arts program in creative writing at Bowling Green University in Kentucky, with full funding, an annual stipend and a position as a teaching associate. At CSUN, Geiger led a five-student team in writing a collaborative YA novel, "The Portal," which has been accepted for publication by Dark Owl Press. Her own short story, also developed at CSUN, was published in Bards & Sages Quarterly.
Ronald I. Lewis '20 (Cinema and Television Arts) was promoted to associate producer at 44 Blue Productions, within a year of interning for the prolific nonfiction and unscripted production company.
Jake Tillis '20 (English) started the Master of Fine Arts program in creative writing at California Institute of the Arts, with a $20,000 scholarship. At CSUN, he had three short stories published in the Northridge Review. He plans to pursue a career as a writer for film and television.
Xavier Alexandre '21 (English) was honored as an Extraordinary Graduating Senior by CSUN's College of Humanities. As an undergraduate, he earned a Certificate of Academic Excellence from EOP's Milt & Debbie Valera Resilient Scholars Program, and he was selected for the Conrad Hilton Foundation Internship for Diversity, Equity and Inclusion. This past summer, he participated in Tiffany Haddish's "She Ready" Internship Program for foster youth, as well as Disney's Live Action Original Series Internship. He plans to pursue a career in the entertainment industry and as an advocate for foster youth of color.
Sam Bowers '21 (English) participated in the Los Angeles Review of Books Summer Publishing Workshop. At CSUN, he served as co-president of the Northridge Creative Writing Circle and as an editor for the Northridge Review. He is applying to Master of Fine Arts programs in creative writing, hoping to pursue a career as a novelist, editor and publisher.
Sophia Hejran '21 (English) started the Master of Fine Arts program in fiction at San Diego State University.
Tadeh Kennedy '21 (English) started the Master of Fine Arts program in creative writing at San Francisco State University, with a $5,000 fellowship. A first-generation Armenian American student, Kennedy plans to pursue a career as a novelist and academic.
Asusena Lopez '21 (English/Music Education) started the Master of Fine Arts program in creative writing at the University of California, Irvine, with a full scholarship with tuition remission. Lopez plans to pursue a career as a poet and academic.
Travis Rand '21 (Philosophy) started a Master of Fine Arts program at Hamline University in St. Paul, Minn. He plans to pursue a career as a novelist and academic.
Aja Russell '21 (English) started the Master of Fine Arts program in creative writing at San Francisco State University, with full tuition remission. Russell plans to pursue a career as an academic and memoirist.
Kimi Taguchi '21 (M.A., Urban Planning) was promoted to senior transportation planner for the Trinity County Department of Transportation in Northern California. Her work includes serving as airport project manager for the county. Taguchi is focused on increasing tourism in Trinity County, using the airport as a hub for visitors.