CSUN's New Maurice Amado Professor to Map the Jewish San Fernando Valley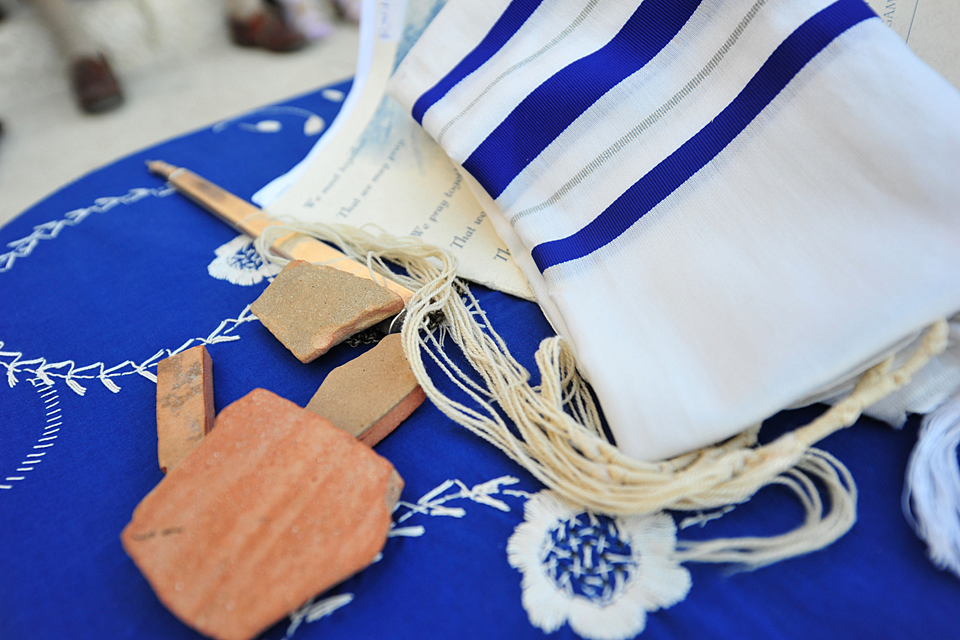 Ancient pottery pieces from Israel rest on a Jewish prayer shawl.
California State University, Northridge's first Maurice Amado Professor of Applied Jewish Ethics and Civic Engagement, Jennifer Thompson, is hoping to develop the first online map of Jewish community resources in the San Fernando Valley, and in the process help the community learn more about the Valley's Jewish heritage and culture.
"The professorship, with its emphasis on community, fits right in with my research, and it presents a wonderful opportunity to include others in my work," said Thompson, an assistant professor whose research as an ethnographer has focused on Jewish contemporary life in the United States. "I've never seen a position like this before in Jewish studies. It's exciting."
The endowed professorship in CSUN's Jewish Studies Interdisciplinary Program was created last year with the understanding that whoever holds the position would teach and engage in scholarship drawn from the heritage of Sephardic, Ashkenazic and other Jewish traditions. The Amado Professor would also teach courses that explore the Jewish ethical approach to communal and political challenges.
The endowment was created with a $500,000 gift from the Maurice Amado Foundation, which was established in 1961. It now serves as a grant-making organization with an emphasis on Jewish ethics, civic responsibility and community involvement.
Jody Myers, coordinator of CSUN's Jewish Studies Program, said the university engaged in a yearlong search before appointing Thompson to the Amado professorship this summer.
"She has won countless awards, is well published and has an upcoming book on the dynamics of intermarried Jewish couples," Myers said. "She is always active in the community and is extremely civic minded. We are very excited to have her join the CSUN community."
Among Thompson's first projects as Amado Professor is mapping the Jewish San Fernando Valley. Students in Thompson's Jewish studies classes will be conducting research on Jewish sites in the San Fernando Valley. The information they gather will be the foundation of a publicly accessible website that will detail Jewish life in the area.
"I realized when I came to Los Angeles that finding information about Jewish life was hard," she said. "The information is out there, but it's hard to find. One can go on the Web, but you have to sort through hundreds of resources to find what you're looking for. And particularly in Los Angeles, if you find a synagogue that interests you, it could turn out to be 30 miles away.
"There are tons of Jewish resources here in the San Fernando Valley," she said. "At least 50 percent of the Jewish population lives in the Valley, but most of the resources people know about are on the other side of the hill. It's time we identified what is here right in our own neighborhoods."
Thompson said she is hoping to have the new online map of Jewish valley resources up within a year. She is already receiving emails from local Jewish groups eager to help.
"I've even had colleagues in other disciplines across campus offer to help," she said.
Thompson received her bachelor's degree in English and American literature from Brandeis University, her master's of theological studies from Harvard's Divinity School and her doctorate in ethics and society from Emory University's Graduate Division of Religion.
For more information about the mapping project, call CSUN's Jewish Studies Program at (818) 677-6762.
California State University, Northridge offers both a major and a minor in Jewish studies. The program explores the rich heritage of the Jewish people. Using the methodology of different academic disciplines, it examines the experiences of Jews in the many lands in which they have lived over the past 4,000 years, as well as contemporary Jewish life in Israel, Europe, Asia and the Americas.