Alumna Rebecca Mieliwocki Wins Teacher of the Year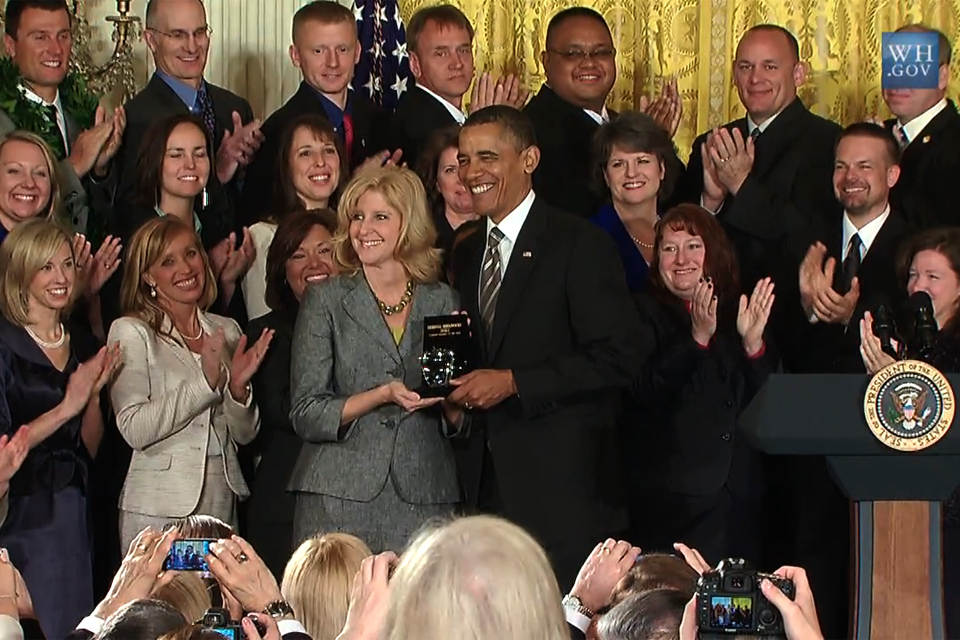 Rebecca Mieliwocki '96 receives her National Teacher of the Year award for 2012 trophy from President Barack Obama.
One of California State University, Northridge's primary functions is to mold and shape the people who will be molding and shaping the young people of tomorrow. That is why we are so happy to congratulate Rebecca Mieliwocki '96, winner of the National Teacher of the Year award for 2012.
The award, given by the Counsel of Chief State School Officers in partnership with the University of Phoenix and People to People Ambassador Programs, is the latest laud for Mieliwocki, who teaches seventh-grade English at Luther Burbank Middle School in Burbank, CA. Earlier in the year, she was named one of the top-five teachers in the state.
According to Michael Spagna, dean of CSUN's Michael D. Eisner College of Education, she is a bright, shining example of the program. "She is a teacher's teacher, a caring professional who values collaborative partnerships and academic excellence," said Spagna. "She embodies everything that makes an effective teacher, and we are very proud to call her an alumna of our college."
President Obama also called her "the definition of above and beyond." Watch Mieliwocki accept her award at the White House.
For more: CSUN Officials Congratulate America's Top Teacher, Northridge Alumna Rebecca Mieliwocki