L.A. Riots: Helping to Heal 20-Year-Old Wounds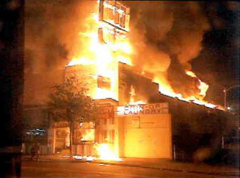 Twenty years ago, anger and fire tore the City of Angels apart during the riots that engulfed almost half of the city. In the post-mortem, the focus was on the dissection of the African-American, Latino and Korean-American population's response to the civil unrest. But even with the great amount of coverage it received, there are stories that fell through the cracks.
CSUN is looking to get those stories heard. On Apr. 25, at 4 p.m. in the Valley Performing Arts Center Lecture Hall, 181, a panel discussion featuring Jin Ho Lee of Radio Korea, Karen Slade of KJLH, Ruben Tapia of Radio Bilingue and K.W. Lee of the Korea Times will try to paint a more vivid picture of what went down on Apr. 20, 1992.
"These journalists were at the frontier of their respective communities struggling to unravel one of the most contradictory urban riots in U.S. history," said Taehyun Kim, assistant professor in CSUN's journalism department. Kim also feels that there are still some open wounds, especially in the Korean-American community, that an open discussion like this can help heal.
"[M]any people in the Korean community still had the residue of anger left over from the riots, because they had never had a chance to tell their story," Kim said. "As I did research, I discovered that other communities have the same wounds on their hearts. In order for people to heal, they need to tell their stories to others, and know that someone is listening and understands."
For more: CSUN Panel to Explore 'Sounds that Heal' from the 1992 Los Angeles Riots [CSUN Media Releases]