Please submit notes for future publication to magazine@csun.edu.
1960s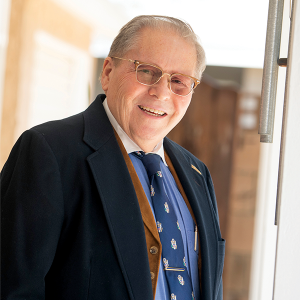 Earl Adams '69 (History), M.A. '79 (History, pictured at right) made a $3 million planned gift to CSUN, to establish endowed scholarships in the Department of History and Department of Theatre, to benefit CSUN students in perpetuity. His planned gift is one of the largest ever for the history department. Adams' generous support of his alma mater will give Matador students more access to the study of history, musical theatre, opera and much more. A Vietnam War veteran, Adams worked for 30 years in credit in the entertainment and computer industries. Also an investor in real estate, Adams' primary job now is "being retired, and it suits me just fine!" he said.
19

70s

Tom Boxwell '76 (Health Science), M.S. '79 (Environmental and Occupational Health), who was a part-time lecturer in the Department of Environmental and Occupational Health for 30 years, gave a $50,000 gift this year to the department, in the College of Health and Human Development. Boxwell said he hopes his action will have a ripple effect, encouraging other alumni to donate, too. The donation will allow for equipment purchases and student training. Boxwell and his wife, Nancy, an attorney, wanted to give a gift that will benefit students and faculty, they said. Tom Boxwell worked at Hughes Aircraft Company for 17 years, where he developed and managed an environmental health and safety audit program that completed more than 150 audits at Hughes facilities around the world. Later in his career, Boxwell worked at the NASA Jet Propulsion Laboratory, where he was a laser safety officer.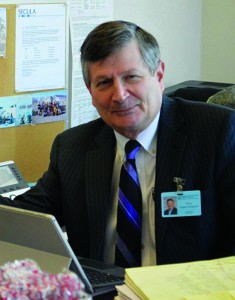 Jerry Isaak-Shapiro '76 (Political Science, pictured at left) is executive director of the American Friends of Kidum, a nonprofit based in New York City that supports the Society for Advancement of Education, Jerusalem. Previously, Isaak-Shapiro was head of school at the Joseph and Florence Mandel Jewish Day School in Beachwood, Ohio, for 17 years. After graduating from CSUN, Isaak-Shapiro earned a master's degree in international affairs, specializing in Mideast history, from George Washington University. He is a 2003 graduate of the prestigious Mandel Jerusalem Fellowship program. He and his wife, Deborah, have two children — Naomi, who lives in Israel, and Josh, who lives in New York City.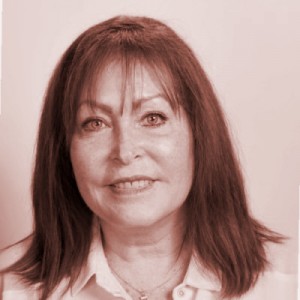 Alyse Golden Berkley '77 (Spanish, pictured at right) is president of the Jewish National Fund, Greater Los Angeles. Berkley also serves on the National Board of the Jewish National Fund as advisor to the president.
19
80s
Brad Rosenheim '81 (Political Science), founder and chief executive of Rosenheim & Associates, a Woodland Hills land-use entitlement consultancy, was named in August 2020 to the San Fernando Valley Business Journal's "Icons of Influence" list, a special designation reserved for individuals deemed among the top 20 most influential in the Valley. CSUN's impact and influence in the Valley was highlighted with its heavy representation in the magazine's "The Valley 200" list, an annual look at the 200 individuals considered to be the most influential in the Valley area. The list featured 42 Matadors including university administrators, alumni, staff, supporters and parents of students. Among The Valley 200, President Dianne F. Harrison, David Nazarian College of Business and Economics Executive-in-Residence Wendy Greuel and Bill Allen Hon.D. '14, CEO of the Los Angeles County Economic Development Corporation, joined Rosenheim on the "icons" list.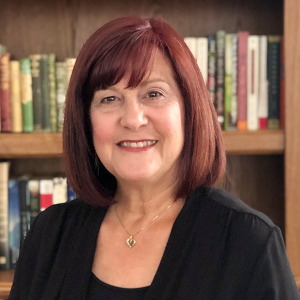 Debra DiFulvio (Daniels) Thomas '89 (Honors English), '92 (M.A., English, pictured at left) won the 2020 Next Generation Indie Book Award in multicultural fiction for her novel, "Luz." The novel also was a finalist for the 2020 International Book Awards for Multicultural Fiction, and a Pulpwood Queen Book Club selection for 2021. Her experience as an advocate for immigrant and refugee rights led her to write the book, she said. Originally from Binghamton, N.Y., Thomas has lived in Southern California most of her adult life. She has taught literature and writing at James Monroe High School, and English as a Second Language to adults from all over the world at Meet Each Need with Dignity (MEND), Reseda Adult School and Conejo Valley Adult School.
19

90s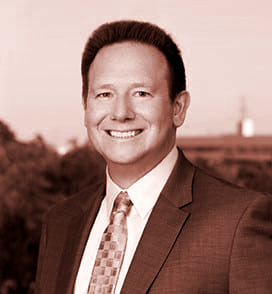 Robert R. Clayton '96 (Political Science, pictured at right) is a partner at Taylor & Ring, LLP, a law firm that specializes in personal injury. Clayton represents catastrophically injured plaintiffs in California, and he has developed a particular niche in transportation injuries, including car and motorcycle accidents and public transportation injuries. He has been named a Super Lawyer every year since 2012. As an undergraduate, he was awarded the Jenniellen Ferguson Memorial Award for Academic Excellence. He also participated in a semester-long externship with the California Superior Court, where he observed several jury trials. He is married to Laurie Clayton, and they have two teenage daughters.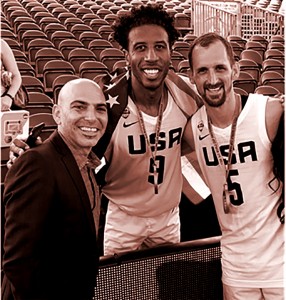 Mike Kechichian '97 (Marketing, pictured at left) is the vice president of marketing, client solutions and sports initiatives at the Los Angeles Times. He has more than 23 years of experience in successful execution of marketing strategies for California Times, Tribune, ESPN and ABC Sports and CNN Networks. In 2019, he led the L.A. Times' efforts to bring the FIBA 3×3 basketball World Tour to Los Angeles for the first time. The FIBA 3×3 World Tour Masters was featured as part of the L.A. Street Festival.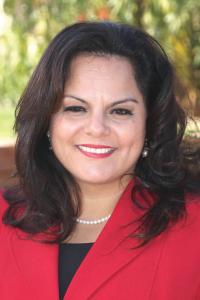 Vivian (Williams) Malauulu '96 (Journalism, pictured at right) became the first Latina elected to the Long Beach Community College District Board of Trustees, where she taught journalism prior to her election. For the 2019-20 academic year, Malauulu's colleagues on the board elected her as board president. She represents Area 2 of the district, which covers the west and south central parts of Long Beach. In Sept. 2018, Malauulu also was elected Benefits Officer for Local 13 of the International Longshore and Warehouse Union — where she has worked in marine cargo work for the past 20 years. In this position, she oversees the welfare and pension of more than 12,000 members, retirees and their dependents. "I am the first woman to hold this position in the 83-year history of the union," Malauulu noted. She and her husband have been married for 22 years, and they have four children, ages 12 to 20.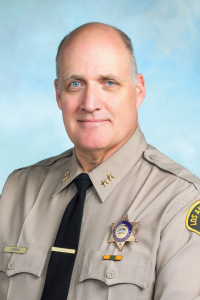 Patrick Jordan '97 (Political Science, pictured at left) is division chief of the East Patrol for the Los Angeles County Sheriff's Department, where he has worked for 37 years. A native of Detroit, he moved to California after his high school graduation in 1980. As division chief, Jordan oversees 12 cities in the eastern part of the county.
Rebecca Bjork '99 (M.P.A., Public Administration, pictured at right) is the interim community development director for the City of Santa Barbara, overseeing planning and permitting, housing, and building and safety functions. The Community Development Department is comprised of more than 77 employees and a budget of $13 million. Previously, Bjork served as the city's public works director. She has worked in local government for more than 30 years.
20

00s

Laura Lizaola-Barroso '01 (Sociology) was appointed vice chancellor of human resources for the Ventura County Community College District (VCCCD). Barroso has more than 28 years of experience in higher education and public agencies in California. She provides collaborative senior administrative leadership in the college district office and Moorpark, Oxnard and Ventura colleges. She oversees district recruitment, human resources operations, benefits, employee professional development and labor negotiations. Barroso, who earned an associate degree from Oxnard College, earned a bachelor's from CSUN and then a master's in psychology from Antioch University in Santa Barbara.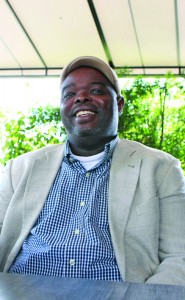 Jacquil Constant '02 (Radio-Television-Film, pictured at left) is the founder and executive director of the Haitian International Film Festival, which went virtual this year, on Aug. 15-16, 2020. Raised by parents from Haiti, he is passionate about promoting the country's culture. In 2018, he created a short film, "Haiti is a Nation of Artists." Since 2016, he also has been a professor of cinema at Pasadena City College.
Matt Bernstein '03 (Teaching Credential), '06 (M.A., English Literature) authored an article, "The Fix Is In," on tong warriors in old San Francisco's Chinatown, in the journal Wild West. Bernstein was invited to present his paper at the Western History Association Conference in Albuquerque.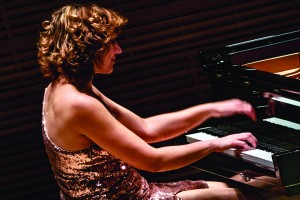 Kariné Poghosyan '03 (Music – Keyboard/ Piano Performance, pictured at right) teaches at the Manhattan School of Music. She made her orchestral debut at 14, playing Beethoven's Piano Concerto No. 1, and her solo Carnegie Hall debut at 23. She has gone on to win numerous awards and perform in some of the world's most prestigious concert halls. Poghosyan's musical studies began in her native Yerevan, Armenia, at the School of the Arts No. 1, and continued at Romanos Melikyan Music College and the Komitas State Conservatory. After moving to the U.S. in 1998, she earned her Bachelor of Music, summa cum laude, from CSUN, followed by her M.M. and D.M.A. degrees at Manhattan School of Music in New York.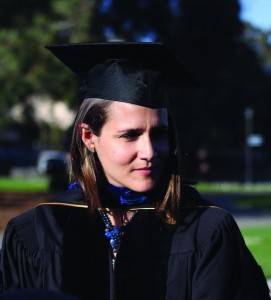 Hanni Jalil '04 (History, pictured at left), started a tenure-track position in the Department of History at California State University, Channel Islands. After graduating from CSUN, she earned a master's at UC San Diego and a Ph.D. from UC Santa Barbara. Jalil's family immigrated to the U.S. from Colombia. After completing her doctorate, she returned to Colombia to teach for a number of years before returning to the U.S.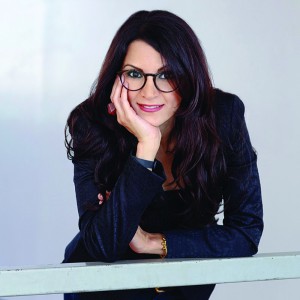 Mona Kasra '05 (M.F.A., Video/Digital Art, pictured at right) is a new media artist and an assistant professor of digital media design at the University of Virginia. She is also a faculty fellow at the university's New College Curriculum and Institute for Advanced Technology in the Humanities. Her research focuses on immersive media, such as virtual reality, and its representational and creative possibilities. One of her most recent projects explored how motion capture and spatial audio can represent cultural practices.
Jeremiah Gonzalez '06 (M.A., Educational Leadership), '07 (Teaching Credential), principal at Burbank Boulevard Elementary and Gifted Global Learning Magnet, and Veronica Ventura Gonzalez '04 (Credential), '06 (M.A., Educational Leadership), assistant principal at Vintage Magnet Elementary School, published "High-Achieving Latino Students: Successful Pathways Toward College and Beyond," in 2020, from Information Age Publishing. They collaborated with Susan Paik, associate professor at Claremont Graduate University, and Stacy Kula, assistant professor at Azusa Pacific University, in providing research-based recommendations on "what works" for supporting high achievement for Latino students.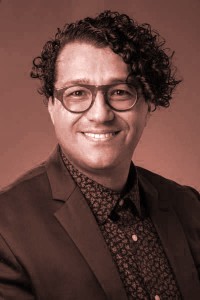 Jorge Leal '07 (History / Journalism), '11 (M.A., History, pictured at left) started a tenure-track position in the Department of History at UC Riverside. Leal's family immigrated to the U.S. from Mexico when he was 10. He earned his Ph.D. from UC San Diego, and he served as a history lecturer at CSUN and a post-doc at USC before joining the faculty at UC Riverside. While working on his doctorate, Leal worked with CSUN history department chair Susan Fitzpatrick Behrens to develop and co-teach a graduate class about L.A.'s Westlake-MacArthur Park. He also worked with professor Jessica Kim to develop CSUN's public history program and to plan revisions to the minor in California history. Leal also curated the Rock Archivo L.A., an online repository that collects, shares and examines Latinx youth cultures ephemera, from a historical perspective.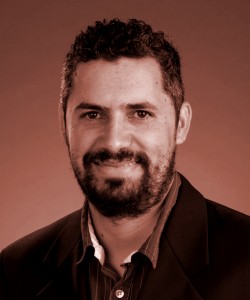 Romeo Guzman '08 (M.A., History, pictured at right) started a tenure-track position at Claremont Graduate University. He also has held a tenure-track position in public history and Latin American history at Fresno State. Guzman earned his Ph.D. at Columbia University, with full funding.
20
10s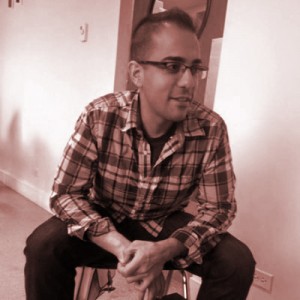 August "Auggie" Samie '11 (English – Creative Writing, Literature, pictured at left) completed a master's and Ph.D. in Middle Eastern studies, magna cum laude, from the University of Chicago. He defended his doctoral dissertation, "The Shibanid Question: Reassessing 16th Century Eurasian History in Post-Soviet Uzbekistan," in June 2020. At CSUN, he earned the Dean's Scholar Award and the Wolfson Scholar Award. At the University of Chicago, he founded Lights: The MESSA Quarterly. He also taught Islamic history at Loyola University Chicago and courses on history and Farsi at the University of Chicago.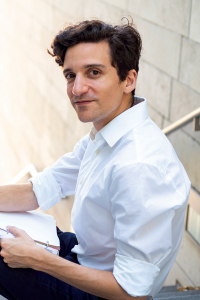 Mark Needle '12 (Electronic Media Management, pictured at right) has been deeply involved with film festivals, many of which have moved online this year. His short, "Orthorexia," was accepted to the Virtual Reel and Recovery Film Festival and Symposium, which started Nov. 6, 2020. One of the goals of the festival is to shed light on topics dealing with mental health and self-discovery. His comedy short film, "Fred," about an awkward meet-the-parents dinner, was recently featured in the Splice Film Festival (online). Previously, "Fred" was an official selection at the Cambria Film Festival and the Simply Indie Film Festival, and a special mention in the London-World- wide Comedy Short Film Festival in 2018.
Naomi Trantu '13 (Cinema and Television Arts – Screenwriting) began the American Film Institute Screenwriting Program.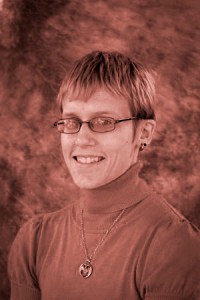 Elizabeth Dorssom'14 (M.P.A., Public Sector Management and Leadership, pictured at left) received the Edith Taylor Therrien Award from the Department of Political Science at the University of Missouri, where she is working toward a Ph.D. in political science. The award is given to highly accomplished female graduate students. She also served as a 2019-20 Oskar Morgenstern Fellow at the Mercatus Center at George Mason University.
Leticia Valente '14 (English – Creative Writing), M.A. '18 (English – Creative Writing), is completing an M.F.A. in creative writing at Cal State Long Beach this year. In the past year, she served as fiction editor for RipRap, the literary magazine at Cal State Long Beach, as well as a graduate assistant in the College of Engineering.
Victor Villa '15 (Management) was featured in local foodie site L.A. Taco, for his popular Highland Park taco stand, Villas Tacos. "Fresh out of CSUN in 2015, with big entrepreneurial eyes, he looked at the cornucopia of tacos that is Los Angeles and thought to himself, 'I want to bring something new and true to myself,'" the feature noted. "'Something I'd never seen in Mexico or in L.A.'" The taquero's pop-up shop has attracted more than 7,700 followers on Instagram alone.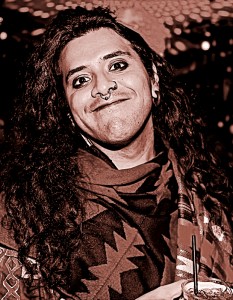 Juan "Moncho" Alvarado '16 (English – Creative Writing, pictured at left) completed an M.F.A. in creative writing at Sarah Lawrence College in 2018. Alvarado had their poems published in "Emerge: 2018 Lambda Fellows Anthology," Meridian, Foglifter and elsewhere. As winner of The Academy of American Poets prize, their work also has been published on the academy's website. They are the recipient of the Thomas Lux Scholarship for community service, as well as fellowships and residencies from The Helene Wurlitzer Foundation of New Mexico, Lambda Literary, Poets House, Troika House and others. They've worked with youth in Sunnyside Community Services in Queens, N.Y. Alvarado lives in Brooklyn, N.Y., and works as a poet, translator, Mexican American queer activist and educator.
Kathryn Hoppers '16 (Accountancy) was promoted to the position of Tax Senior at Gumbiner Savett Inc. in July 2020. She has been with the Santa Monica firm for approximately three years.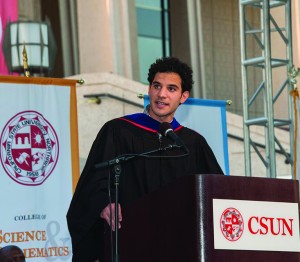 Joshua Khabushani '16 (Philosophy, pictured at left) completed an M.F.A. in creative writing at Columbia University. At CSUN, he received an Outstanding Graduating Senior Award and Associated Students Scholarship. He also served as a New Student Orientation leader and TAKE cast member. While at Columbia, he worked with writers from the New Yorker, including Hilton Als.
Paaez (Emami-Marand) Coleman '19 (English) has been named a finalist in the national competition for placement in Teach for America.
Modje Taavon '19 (M.A., English) started a doctoral program in comparative literature at the University of Illinois, Urbana-Champaign this fall. She was admitted with six years of funding, including a Distinguished Graduate Fellowship in the Humanities & Arts, and a research fellowship from the university's medieval studies program. Her research will focus on the Greco-Arabic translation movement and the formative role of the medieval Islamic world in the development of western intellectual traditions, especially in medieval and early modern Europe. At CSUN, she was a 2018-19 Sally Casanova Pre-Doctoral Scholar. She also took the top prize in the 2019 CSUN Distinguished Thesis/Graduate Project Awards.
20

20s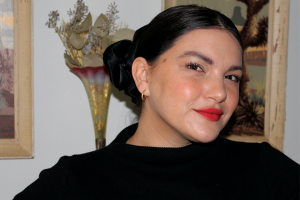 Rachel Birke '20 (M.A., English – Literature, pictured at right) began a Ph.D. program in English at UCLA in fall 2020. She received full funding to study narratives of the West from the 19th century to the present. She also was selected as one of the four recipients of CSUN's 2020 Outstanding Thesis/Graduate Project Competition.
Cristian A. Castro '20 (English – Creative Writing) started the USC Master of Arts pro- gram in Postsecondary Administration and Student Affairs, and he was named a finalist in the national competition for placement in Teach for America. He also won a $10,000 scholarship from USC.
Grace Kimball '20 (M.A., English – Literature) began UC Santa Barbara's Ph.D. program in theater, dance and performance studies, with full funding, to study early modern dramatic literature.
---
Matador Milestones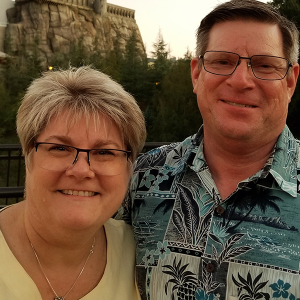 Diane (Roberts) Weber '84 (History) retired in January 2020 after 40 years working in various departments in the City of Los Angeles. She finished her career as a senior crime and intelligence analyst with the Los Angeles Police Department. Her husband, Charles "Buck" Weber '81 (History, both pictured at right) retired in June 2018 after 33 years as a high school social studies teacher, coach and school administrator. He finished his career as a middle school vice principal at Tehachapi Unified School District in Kern County. They met as history majors in 1983 at CSUN, and they celebrated their 35th wedding anniversary in July 2020.
Annette Besnilian '94 (Family and Consumer Sciences), Ed.D. '13 (Educational Leadership), M.P.H., R.D.N., is the director of CSUN's Marilyn Magaram Center for Food Science, Nutrition and Dietetics. Her daughter Melanie Besnilian '20 (English) graduated from CSUN in May and has been accepted to law school. Also, her younger daughter Emilie Besnilian began her studies in CSUN's Department of Theatre in fall 2020.
Doug Weissman '09 (Languages/Cultures – Italian) and his wife, Lisa, welcomed a daughter, Eloise. Weissman completed an M.F.A. from the University of San Francisco in 2013. He recently had his short stories published in several literary magazines, including "Blackbird" in Kingdoms in the Wild, and "Whistle in the Baobab" in Wild Musette. He also works as lead travel writer for Zicasso, an award-winning luxury and travel company based in Mountain View, Calif., and as an instructor for Southern New Hampshire University's online creative writing program.
---
Please submit notes for future publication to magazine@csun.edu.