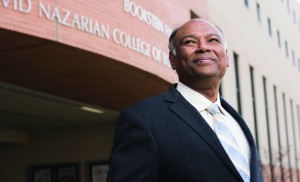 Dear friends,  
This past year presented us with challenges we never thought we'd face in our lifetime. The COVID-19 pandemic flipped the world on its head, forcing us to be more innovative and forward-thinking than ever before. Furthermore, the fight for social justice brought the importance of diversity, equity and inclusion to the forefront in all aspects of life.  
Through all of this, I have learned the value of human connection and understanding, especially with our students, faculty and staff. Ensuring their health and safety is our No. 1 priority, and since March 2020, we transitioned to a fully virtual learning and work environment. During this challenging time, the Nazarian College pivoted to allow students to continue their education with some sense of normalcy. With technology such as Zoom, we were able to maintain face-to-face interaction and education, and provide accommodations from afar.  
While many of us feared the possibility of unfavorable outcomes, our students thrived. We graduated more students this year than in the previous year before the pandemic. We also enrolled more students this academic year than in the previous year. Additionally, we've discovered and implemented new ways to serve our community, which will benefit generations to come. We did not succumb to the challenges of this unprecedented time, but instead persevered and enhanced the ways in which we serve our students, faculty, staff and surrounding community.  
This inaugural issue of the Nazarian College magazine highlights the ways in which we moved forward — toward success — through some of the most formidable times.  
I hope you enjoy learning more about the Nazarian College and those that make us great: our students, faculty, staff, alumni and donors.  
Sincerely,  
Chandra Subramaniam, Ph.D.
Dean