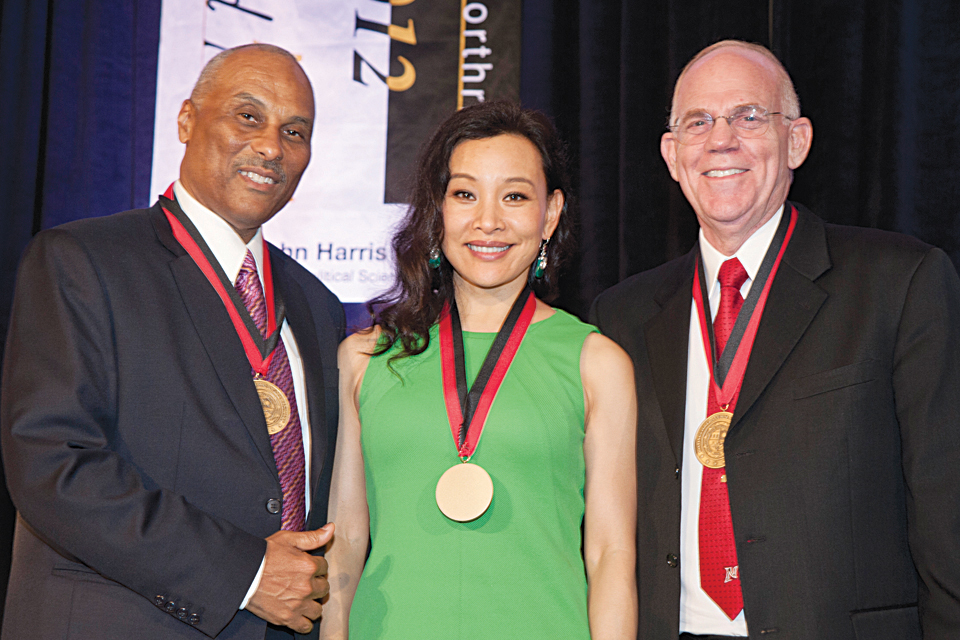 Honorees John J. Harris, Joan Chen and Richard Kaufman. Photos by Lee Choo.
On Apr. 21, the CSUN Alumni Association will be celebrating the post-graduate lives of three former Matadors by giving them the Distinguished Alumni Award. Actress Joan Chen '92, executive vice president of Nestlé S.A. John J. Harris '72 and Grammy Award-winning conductor Richard Kaufman '77 will be reminded where it all started and how happy the university is they represent it.
"There's no better way to judge a university's quality than to see how successful its alumni have become," said D.G. "Gray" Mounger, assistant vice president for alumni relations at CSUN. "The current and past recipients of the Cal State Northridge Distinguished Alumni Award are among the nation's very best in almost every profession, field or endeavor. We are very proud to call them Matadors."
Chen is known for her work on both the big and small screens, most notably "The Last Emperor" and "Twin Peaks." She is also the recipient of five Golden Horse Awards, China's answer to the Oscars. Harris is one of the highest-ranking executives at Nestlé, currently sitting in the EVP chair of Nestle worldwide, in Vevey, Switzerland. Kaufman is a two-time Emmy nominee who supervised music at MGM for nearly 20 years before pursuing his conducting career full time. But maybe most importantly, he penned the school's fight song.
The trio joins a pretty awesome group of people who previously received the honor. Some of them include former Governor of Hawaii Linda Lingle, former California Lt. Governor Mike Curb, CBS executive Michael Klausman, actors Teri Garr and Cheech Marin, astronaut Scott Horowitz, Oscar-nominated producer Don Hahn and opera singer Carol Vaness.
For more: Three Cal State Northridge Alumni to be Feted for Contributions to Their Fields [CSUN Media Releases]