Federal Funds Help Foster Diversity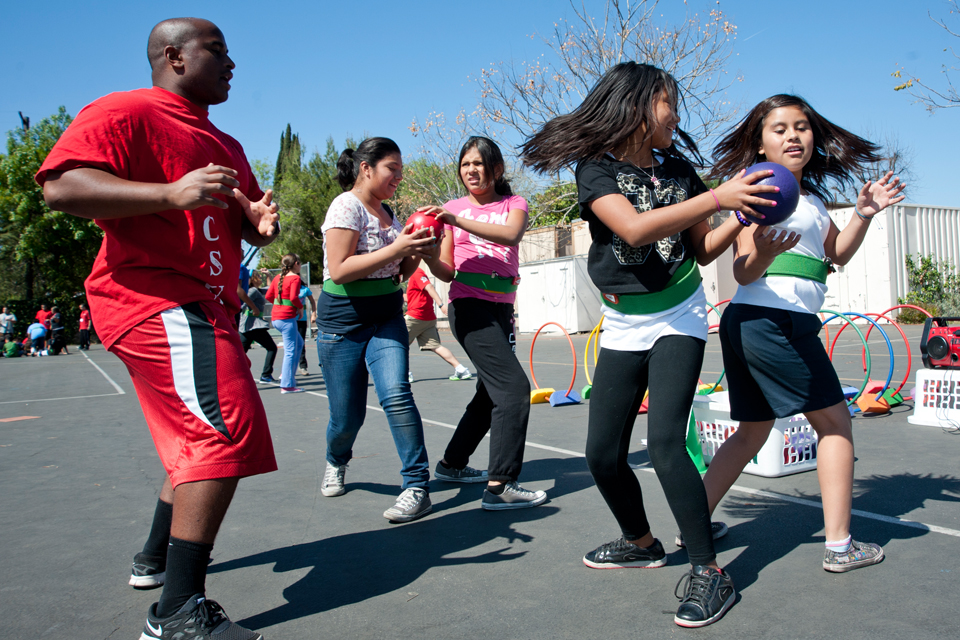 Eleston Thompson '12 (Kinesiology Physical Education Teacher Education) instructs fifth-grade students at Cohasset Street Elementary School as part of his course requirements. Photo by Lee Choo.
According to the latest US Census, almost half of the general population in Los Angeles County is Hispanic. Unfortunately, only 19 percent of that group ever completes college. CSUN, with the help of federal funding, is working to increase that number.
CSUN was named by Hispanic Outlook in Higher Education magazine as one of the top 10 schools for Latinos in the country, and it's also a certified Hispanic-Serving Institution (HSI), a designation given by the Hispanic Association of Colleges and Universities. To be eligible for HSI designation, and the funds to go with it, a quarter of a school's enrollment must be Hispanic; CSUN breaks down to be a third Hispanic.
Because of CSUN's HSI status, the university will receive more than $12 million that will be funneled into programs that help and promote Hispanic students' educational future. Many of CSUN's individual colleges will receive different amounts, but they will all be spent in the spirit of the endowments.
S.K. Ramesh, dean of the College of Engineering and Computer Science, is thankful that HSI funding is empowering his college to effect lasting change in traditionally underserved communities. "Our faculty and staff truly care about the success of our students," he said. "We want to make a difference in the demographics of the college and the workforce."
For more: Focus On: Diversity [Northridge magazine]