A Symbol of a University Rising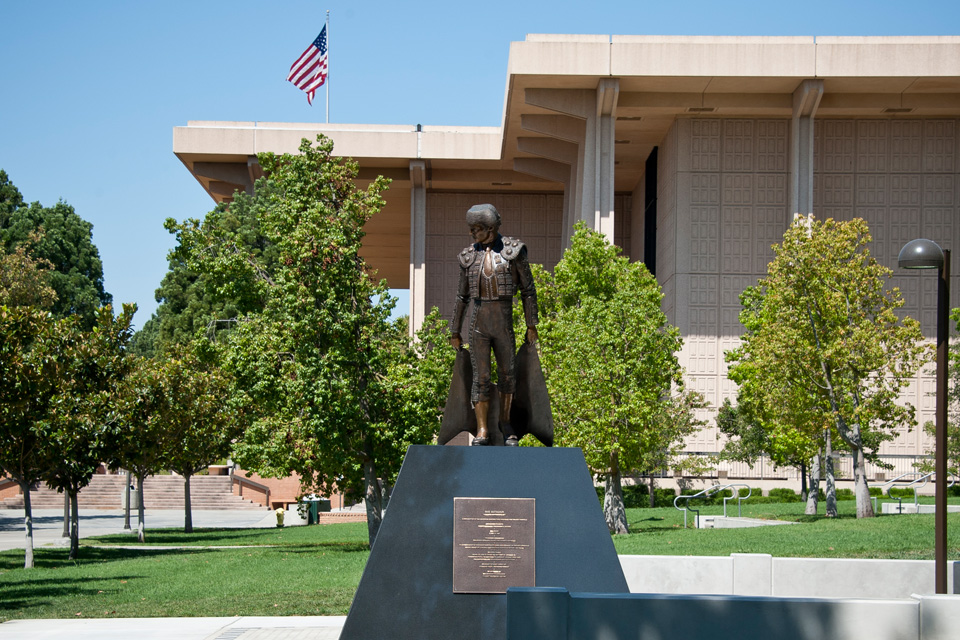 The Matador statue. Photo by Lee Choo.
A statue sits across from Matador Square, just east of the Delmar T. Oviatt Library on the CSUN campus. The elevated, larger-than-life Matador Statue, a bronze sculpture designed by artist Jon Hair, is a proper avatar for a campus looking to spread the word to the world about CSUN pride.
"We always talk about being 'the best kept secret,' but we have transcended that now," said William Watkins '74 (Urban Studies), CSUN's vice president for student affairs and dean of students. "This is a university that has emerged, and this statue is another symbol of that evolution."
The sculpture, like the school, has humble and strong beginnings. In 1989, the school kicked off a campaign to build it, but the 1994 Northridge earthquake derailed the process. However, as a tribute to the school's 50th anniversary, a community effort was made in 2009 to create a perfect symbol for the courage, grace, creativity, ability and strength of Cal State Northridge's students, alumni and campus community. Thus, the $150,000 campaign to build the statue without school or state funds began.
"This was a way we could give back to the university and do something for those who follow," said Pat Donnelly Minkiewicz '62 (Political Science), who noted that 35 members gave in amounts as small as $20. "The Matador really brought us together."
For more: Saluting Matador Pride [Northridge magazine]