President Harrison Encourages Business Leaders to Get to Know CSUN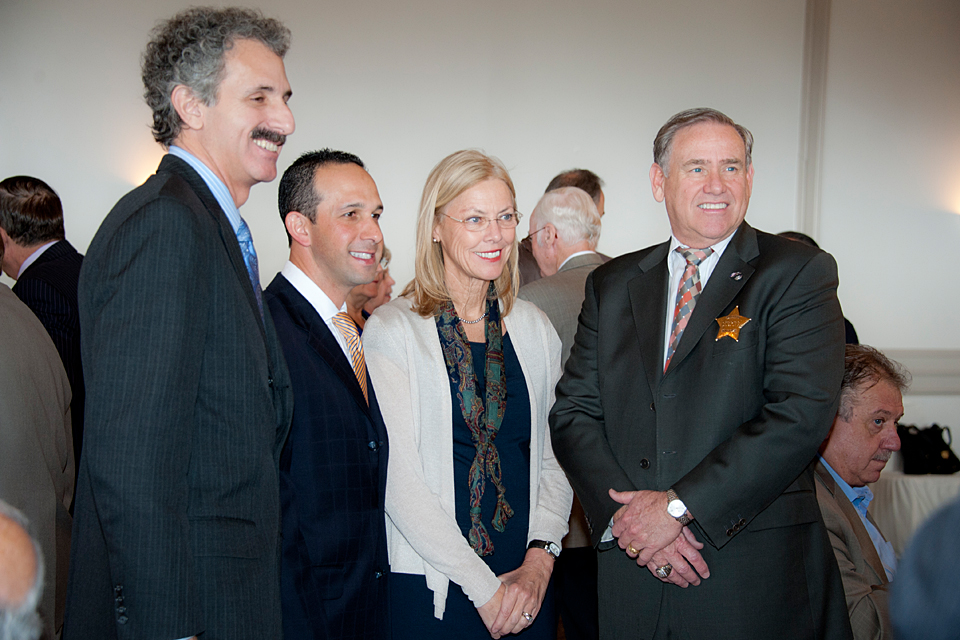 CSUN President Dianne F. Harrison encouraged local business leaders to embrace CSUN as "their" university on Friday, Feb. 15 during her keynote address at the North Valley Regional Chamber of Commerce luncheon. From left: Former assemblyman and candidate for Los Angeles City Attorney Mike Feuer, Los Angeles City Councilman Mitch Englander, CSUN President Dianne F. Harrison and NVRCC President and CEO Wayne Adelstein '70 (Political Science). Photo by Lee Choo.
California State University, Northridge President Dianne F. Harrison encouraged local business leaders to embrace CSUN as "their" university on Friday, Feb. 15, at the North Valley Regional Chamber of Commerce luncheon.
"CSUN really is your university, and I hope you will see us that way whether you are an alumni or if you have a son or daughter or a friend or a neighbor who is attending, attended or graduated from Northridge," said Harrison to the nearly 200 business owners, political leaders and others in attendance. She noted that CSUN is an integral part of the economic vitality of San Fernando Valley — generating a total impact of $954 million on the regional economy.
The president addressed the group as the keynote speaker at the chamber's installation and recognition luncheon. NVRCC President and CEO Wayne Adelstein '70 (Political Science), Treasurer Dennis DeYoung '87 (Finance) and Francesca Vega, CSUN's director of government and community relations, were among the board members installed at the meeting.
In addition to inviting those at the luncheon to visit CSUN, Harrison discussed her goals for the campus and some reasons the community should take pride in the accomplishments of the university. Harrison said she plans to "strengthen and deepen the connections to the community," "double" the amount of applied research, and further expand community service that is relevant to the region.
She also shared an extensive list of CSUN's distinctions and recognitions and encouraged the audience to share them with others. Some of those distinctions include:
CSUN is one of the largest universities in the United States, enrolling more than 36,000 students a year. Every year, 10,000 students walk in commencement exercises, which translates into 10,000 more college-educated adults ready to contribute their talents and training. Of our 220,000 alumni, approximately 85 percent continue to live and work in Los Angeles and elsewhere in California.
CSUN has the fastest-growing undergraduate engineering program in the country. The College of Business and Economics is among the 10 largest accredited undergraduate business programs in the United States, and CSUN's Environmental and Occupational Health program is the largest such accredited program in the nation.
CSUN ranks 10th in the U.S. in bachelor's degrees awarded to underrepresented minority students and is first in California and fifth in the United States for degrees awarded to Hispanic students. CSUN enrolls the largest number of deaf students of any mainstream university in the U.S., and the largest number of Armenian students outside Armenia.
CSUN ranks first, second and fifth nationally among comprehensive universities preparing students who later earn doctorate degrees in psychology, science and engineering and biology.
CSUN credentials more teachers than the entire UC system combined.
CSUN accounting majors rank among the top three California programs in pass rates on the CPA exam, and one-third of all managing partners of accounting firms in Southern California are CSUN alumni.
CSUN faculty publish basic and applied research, and secure sizable grants from the National Science Foundation, National Institutes for Health, NASA and others.
CSUN faculty and students in the Science Technology Engineering and Mathematics (STEM) fields are on the forefront of work in renewable energy, materials engineering, robotics, software engineering and climate change. CSUN students studying robotics have garnered international recognition with first-place awards for two consecutive years.
CSUN's Department of Music is considered among the top two or three at state universities. CSUN's Jazz "A" Band is regularly selected to perform at the prestigious Monterey Jazz Festival.
For more than 25 years, CSUN's Valley Trauma Center has served children and adults affected by interpersonal violence. The center last year responded to 1,800 crisis calls
CSUN business students, through the Colmer Volunteer Income Tax Assistance program, assist low-income families and individuals with tax form preparation, and CSUN's Bookstein Tax Clinic provides federal tax controversy resolution services to low-income taxpayers.
CSUN's Language, Speech and Hearing Center, which recently celebrated its 50th anniversary, serves 15,000 community clients annually.
CSUN's Center of Achievement through Adapted Physical Activity educates future professionals while providing affordable adaptive exercise programming to the community.
CSUN's Mike Curb College of Arts, Media, and Communication supports K-12 arts education, and hosted more than 12,000 K-12 students and teachers at matinee programs last year.