Students Look to 2012 Graduation and Beyond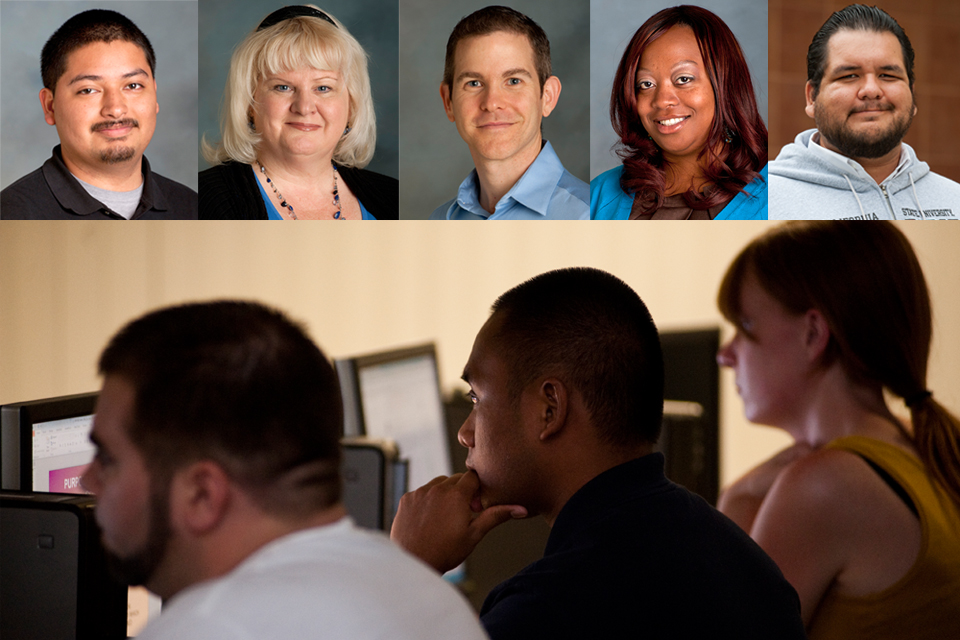 (Top row, from left) Jose Escobar, Bonnie Cheeseman, Pablo Corá, La Ronda Jones and César Soto. Photos by Lee Choo.
In May, more than 9,200 CSUN students will be imagining themselves getting a handshake and diploma as they complete one phase of their lives, ready to jump into another. Their graduation day has been a long time coming, and in 2012, they can finally celebrate.
Students like Jose Escobar Castro, who is getting degrees in Cinema and Television Arts and Central American Studies, are looking forward to utilizing what their professors equipped them with. For Castro, it was his professors in the Mike Curb College of Arts, Media, and Communication and College of Humanities.
"That's what I'd like to do," Escobar Castro said, "take what I've learned at CSUN and find a way to tell the stories of people most people don't hear about, like those in the Central American community."
While some students like Castro are just starting their post-education careers, Bonnie Cheeseman is the embodiment of the CSUN student who is changing theirs mid-stream. Cheeseman, now an English-as-a-second-language teacher at Pasadena City College and the UCLA American Language Center after leaving a prior career in the entertainment industry, will be receiving a master's in education administration. Cheeseman feels she is in a different place now and that attending CSUN was the best direction she could go in.
"I really wanted to make a difference in people's lives, to feel that I was making a contribution to the world," she said.
For more: Determination, Hard Work Pay Off as CSUN Students Look to Graduation and Beyond [CSUN Media Releases]