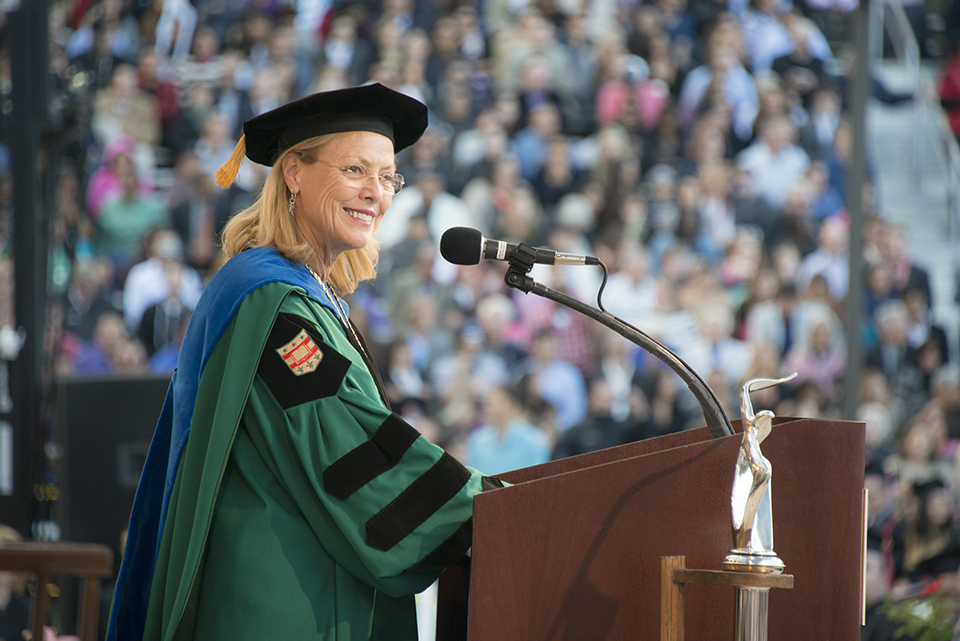 CSUN President Dianne F. Harrison's impact can best be measured by the tens of thousands of students who earned degrees, by the dozens of national rankings and awards received, and by the explosive growth in giving and reputation for the university.
More than 70,000 students earned degrees during Harrison's tenure, including a record 11,790 students eligible to graduate in 2020, many of them the first members of their families to go to college. CSUN helped them prepare to better their lives, to make a difference in their communities, to compete for meaningful jobs in the 21st-century economy, and to become the driving force for change throughout Los Angeles, California, the nation — and the world.
"CSUN prepares the next generation of leaders in every field — scientists, filmmakers, linguists, health care experts, poets, social workers and teachers," Harrison said. "The most rewarding part of leading at CSUN is helping our students realize their dreams and watching them go on to make a positive difference in the world."
Harrison, the fifth president in university history, is leaving her post on Dec. 31. Before arriving at CSUN in 2012, Harrison served six years as president of Cal State Monterey Bay — the first woman to serve in that role. Prior to that, she spent 30 years at Florida State University, serving as a dean and as vice president for Academic Quality and External Programs. Her academic discipline was social work, a field that values diversity, inclusion and social justice, where community-minded individuals must be resourceful and collaborative in solving real-world problems.
She has been a leader on the most important issues of our time, a driver of social mobility, a champion for sustainability, and an ally who opened doors for Dreamers when the country was building walls.
She led CSUN through a period unlike any in its 62-year history, as the COVID-19 pandemic sent shockwaves around the globe. Harrison agreed to delay her departure from CSUN, and the university pivoted to virtual learning in March.
Then on May 25, the senseless killing of George Floyd sparked protests and demonstrations, helping to bring attention and energy to vital issues and inequities in our society.
"I sincerely believe that at this moment in time, CSUN can be a force for good in advancing social justice and fighting systemic racism, and we will do everything we can to advance the recent progress and positive change," Harrison said of the ongoing movement. "More than just making our campus a welcoming place for all, we work to make a just society for all. There is more work to do, and we are up to the challenge."
Shortly after she arrived, Harrison engaged in deep discussions with the campus community to articulate a set of university priorities that would drive institutional change. These eight university priorities, beginning with "Advancing Student Success," were developed to provide focus and drive momentum to the work of elevating students and the region.
Harrison led these priorities to become interwoven into everyday campus life, with significant progress in all areas. She built upon the transformative work the university had accomplished in its storied history, and she established sustained success for students, alumni, faculty and staff, and the community.
ADVANCING STUDENT SUCCESS
Building on a variety of institutional initiatives, in 2016, CSUN joined a systemwide CSU effort to accelerate student success — helping more students graduate, and graduate on time, while also eliminating opportunity gaps and achievements for traditionally underserved students by 2025.
At CSUN, the initiative is known as Matadors Rising, and the university has placed much of its attention on identifying and removing barriers to success — such as redesigning courses with low pass rates and offering more opportunities to take required courses, including online. CSUN hired retention specialists to increase one-on-one support for at-risk students, helping them to meet deadlines and requirements. University leaders even reached out to students who had dropped out and encouraged them to return.
In 2019, CSUN opened the Matador Advising Hub (The Hub), offering incoming freshmen first-year major and general education advisement, assistance in identifying goals, and referrals to university resources.
The CSUN App made it easier to access campus services and resources on the go, even allowing students to register and pay tuition and other campus-related fees via their phones.
These efforts have made a difference. The percentages of first-time freshmen who are graduating within four and six years — for both traditionally underserved and better-served groups — have gone up across the board, as have the percentages of first-time transfer students who graduate within two and four years. Trends indicate these numbers will continue to improve, as the percentage of first-time freshmen who continue on to the second year also has increased, staying above 80 percent for three straight years.
Nearly 2,000 more students graduate from CSUN every year than before Harrison arrived in 2012.
She worked tirelessly to ensure that a CSUN degree was not just a framed diploma, but a recognized symbol of an individual's readiness to contribute to economies and communities in Los Angeles and beyond.
Money Magazine recently ranked CSUN sixth among the "most transformative colleges" in the nation, highlighting CSUN students' higher-than-expected graduation rates, earnings and student loan repayment.
Building on the work of university leaders before her, Harrison led CSUN to add opportunities for students to work with and learn from leaders in their communities and experts in their respective fields. Groundbreaking partnerships and record-setting research grants increasingly have demonstrated that CSUN graduates are uniquely prepared to lead and compete in 21st-century America. Curriculum and extracurricular activities emphasized flexibility, adaptability, critical thinking and innovation, giving students not just a fixed set of skills but the ability to learn and grow. These also have instilled in students a willingness to take risks that could pay off with new discoveries and accomplishments.
The Entrepreneurship Program in the David Nazarian College of Business and Economics, now in its sixth year, is just one example. The program holds a series of innovation competitions that provide mentorship as student teams develop their business ideas, with access to mentors, coaching and potential investors. The showcase event is the Bull Ring, a competition modeled after ABC's "Shark Tank" reality show, in which students compete for $20,000 to help launch their product. The 2017 winner, Sleepyhead, an e-commerce startup that sells boxed memory-foam mattresses and bed toppers, later attracted a $50,000 investment from the CEO and founder of a successful e-commerce furniture retailer.
In 2017, CSUN launched its new entrepreneurial program, Innovation Corps (I-Corps) Site Program, which helps students undertake the challenge of customer discovery.
The annual Art of Innovation Conference, with hosts including the College of Engineering and Computer Science, the College of Health and Human Development and the Nazarian College, gives students the opportunity to learn from panels of industry leaders to gain perspectives on what it takes to succeed in the 21st century.
The CSUN Information Technology department has fostered cross-disciplinary teamwork through its technology-centered series of competitions known as "Jams." In recent years, the IT Jams have used different technologies including apps (App-Jam), virtual and augmented reality (VARJAM), and artificial intelligence (AI-Jam) to address issues within topics that have included accessibility, student life and student finance.
FOCUSING ON EMPLOYEES FOR SUCCESS
Developing strong leaders fosters an environment where students and employees achieve their goals. To this end, CSUN developed and launched a guiding list of leadership principles, which articulate shared expectations and values for leadership. The principles include being collaborative, accountable, inclusive and mission aligned.
To further help employees develop professionally, in 2014 CSUN created the CSUN Shine from Within Program, which each year helps a cohort of motivated employees from numerous divisions to learn more about the campus, become more invested in the university and its planning priorities, and hone skills in public speaking, business writing and relationship building.
Faculty success initiatives included an orientation program, a network of mentors, and workshops to address the concerns of underrepresented scholars.
On a campus-wide level, CSUN also has worked to build a sense of community with activities including the annual faculty and staff Summer Celebration and Winter Celebration events, which bring employees together for festivities in a relaxed atmosphere. "It's important to connect with one student at a time, and it's just as important to connect with faculty colleagues one at a time," Harrison said.
FOSTERING DIVERSITY AND INCLUSIVE EXCELLENCE
CSUN students already reflect the future demographics of California and the United States — it is a "majority minority" institution, with 59 percent of its student body composed of traditionally underrepresented communities or multiracial students.
CSUN has the second-most diverse learning environment in the nation, according to The Wall Street Journal/Times Higher Education College Rankings. The university recognizes the power of this diversity. A multitude of perspectives generates new ideas, encourages the exploration of new possibilities and helps make meaningful change in the world.
During Harrison's tenure, CSUN opened the CSUN Pride Center, a central place for LGBTQIA+ individuals to obtain resources and support. At a time when the federal government cracked down on immigration and moved to close its borders, CSUN established scholarships for undocumented students and the newly opened DREAM Center to provide resources for navigating barriers to an education for such students.
Harrison appointed CSUN's first chief diversity officer and created the university's Commission on Diversity and Inclusion, composed of faculty, staff, students, administrators and community leaders. As the university has hired more tenure-track faculty, it has redoubled efforts to be more inclusive in the search processes. Although CSUN is still working to ensure its faculty represents the diversity of its student body, approximately 40 percent of its tenure-track faculty were non-white in 2019. Nationally, fewer than 25 percent of faculty were non-white.
CSUN's commitment to diversity also extends beyond campus, as several university programs work to diversify various professional fields. The BUILD PODER program is developing a national model to increase the number of traditionally underrepresented students in the biomedical fields. The MARC U-STAR program prepares students for acceptance into competitive Ph.D. programs. The AIMS2 program, which has served more than 500 students in the College of Engineering and Computer Science, was recognized as an Example of Excelencia, the only national initiative to recognize evidence-based programs advancing Latino students in higher education.
In the wake of the death of George Floyd and other Black Americans at the hands of law enforcement, Harrison announced a campus action plan to improve diversity, equity and inclusion, as well as the launch of the Diversity, Equity and Inclusion Grant program.
INCREASING THE VISIBILITY AND REPUTATION OF THE UNIVERSITY
CSUN's impact on the region during Harrison's tenure was significant.
In 2015, CSUN was recognized by the Los Angeles Economic Development Corporation (LAEDC) for its impact on the prosperity of Los Angeles residents when it received a prestigious Eddy Award. The award honors those who have played leading roles in the development of the county's economy and in the creation of well-paying jobs for its residents. CSUN was the first CSU campus to receive the coveted Eddy Award for Educational Leadership, and the fourth university overall, following Caltech, USC and UCLA.
"We, at the university, are honored to be recognized for doing something that is such an integral part of who we are — elevating the social, cultural and economic well-being of Los Angeles," Harrison said.
Harrison also has worked to interact with community leaders and build partnerships in the region, nationally and around the world with organizations that recognize the value and ability of CSUN graduates. Recognized for her leadership and service in higher education and other fields, Harrison has served on more than 80 boards and committees of national, state and local organizations. She currently serves on the board of the American Council on Education (ACE) and Second Nature. She is the board vice chair for the coalition of Urban Serving Universities (USU) and the chair of the Voluntary System of Accountability (VSA) advisory board at the Association of Public and Land-grant Universities (APLU). In 2019, Harrison became the first academic leader elected to serve as chair of the LAEDC.
In 2015, CSUN developed a new brand platform, showcasing the brilliant work of faculty, staff and students, as well as the achievements of alumni. The platform won multiple national awards and elevated CSUN's reputation in the region.
"Your degree is only worth as much as what the public thinks it's worth, and I like what she's done with the branding of this university," said CSUN cinema and television arts (CTVA) professor and film production option head Nate Thomas, who also serves as the president of the CSUN California Faculty Association chapter. "We've got some great people that have graduated from the university, top-notch in their respective fields. Highlighting them has helped the community at large, including employers, understand our work in Southern California, and nationally as well. I really applaud her for that."
CSUN is one of the founders of the CSU5 partnership between the five California State Universities in Los Angeles County, which pools the resources and reach of the universities to increase innovation in industry and job creation in L.A. For example, in 2019 the CSUN VITA Clinic, a service of the David Nazarian College of Business and Economics that provides free income tax return preparation for individuals and families with low incomes, worked with the CSU5 to extend its footprint from its traditional roots in the San Fernando Valley to reach every corner of Los Angeles County.
CSUN also took the lead on environmental issues, beyond campus-wide sustainability initiatives, including efforts to secure millions of dollars for mass transit enhancements to the campus and surrounding area.
In 2018, CSUN was recognized by the Association of Public and Land-grant Universities (APLU) as an Innovation and Economic Prosperity University, for its efforts to promote innovation and entrepreneurship, leadership in talent and workforce development, and strong government-university-industry partnerships.
PLANNING FOR A FUTURE LESS DEPENDENT ON STATE FUNDING
Following years of reductions in state funding to the CSU system, the university worked to find other sources of support to ensure students have the resources they need for a top-notch education. Grant funding and philanthropic gifts became increasingly important sources of revenue for specific programs and non-discretionary projects.
Philanthropic support for CSUN and its students has reached new heights, including total gift commitments of $22.1 million in fiscal year 2019-20. And the university's endowment doubled during Harrison's tenure, reaching $116 million.
The university also received some of the biggest gifts in its history, supporting programs in the arts and the business college.
Businessman, investor and philanthropist Younes Nazarian and his wife, Soraya, an internationally recognized sculptor, provided a gift of $17 million to support the programming and operations of the venue that now bears their name, the Younes and Soraya Nazarian Center for the Performing Arts. The gift is one of the largest in the history of the CSU and the system's largest single gift to support the arts.
One of the university's biggest champions and supporters is the Nazarians' son, business and community leader David Nazarian '82 (Business Administration), founder and CEO of Nimes Capital. In 2014, he launched a $25 million fundraising drive with a $10 million personal commitment toward the college that now bears his name, the David Nazarian College of Business and Economics.
"Dianne was a big reason I got involved at CSUN," David Nazarian said. "The strength of her leadership gave me the confidence that the university was ascending. Her leadership has firmly placed CSUN in the very top tier of universities in California, and its national reputation has never been stronger."
In 2016, a $5 million gift from accounting industry leader Harvey Bookstein '70 (Business Administration) and his wife, Harriet — both CSUN alumni and lifelong supporters of the university — pushed CSUN over the top in the two-year campaign to raise $25 million for the Nazarian College. The college is housed in a building now named Bookstein Hall in their honor.
At the end of her tenure as president, longtime supporters Milt '68 (Journalism) and Debbie Valera made an $11,075,000 gift to CSUN, to establish 10 endowments across the university.
"Most of Milt and Debbie's wonderful gift will go to support our Resilient Scholars program," Harrison said. "The students in this program come to CSUN out of the foster care system and are navigating their way to achieving a college degree that will truly change their lives. This gift, and its lasting impact, is gratifying to say the least. The friendships I have made with Matadors like the Valeras will last long after I step away as president."
CSUN also has greatly increased its revenue from licensing — film shoots, facility rentals, licensing royalties from trademarks/logos and cellular site leases. The university has topped $1 million four years in a row, including a record $1.5 million in 2018-19.
The campus has starred in numerous shows and films recently, including "American Idol," "So You Think You Can Dance," "We Are Your Friends" starring Zac Efron, "The Good Place," "This Is Us," "Veep," "NCIS," "S.W.A.T.," and "Ballers."
EXPANDING RESEARCH ACTIVITY AND SPONSORED PROGRAMS
From the cells in our bodies to planetary orbits, CSUN researchers have tackled some of humankind's biggest mysteries.
Biologist Jonathan Kelber and a team of current and former trainees have identified a small molecule compound that, when delivered to breast cancer cells in animal models, can interfere with metastasis. Professor James Flynn and the late professor Sharlene Katz and their students launched their CSUNSat1 cube satellite from Kennedy Space Center in Cape Canaveral, Fla., to the International Space Station and into low Earth orbit.
The breadth and impact of research at CSUN continues to grow. Total grants and sponsored programs have exceeded $30 million each year during Harrison's tenure, reaching $34.8 million in 2019-20.
In 2014, the National Institutes of Health (NIH) gave CSUN the largest grant in CSUN history, a $22 million, five-year grant for the BUILD PODER program, which aims to increase the number of traditionally underrepresented students in the biomedical fields. The project was renewed in 2019 with an additional $19 million, five-year grant to complete the 10-year effort to establish a national model at CSUN that can be replicated across the country.
In 2016, the journal Nature ranked CSUN among the Top 25 rising star institutions for research in North America, with an increase in publication rate of 190 percent, ahead of NASA, Stanford University and Carnegie Mellon University.
In 2018, CSUN officially opened the doors to the university's latest building, the newly minted Lilac Hall, a 10,000-square-foot building on Plummer Street/North Campus Drive that serves as a collaborative research hub.
SUPPORTING SUSTAINABILITY
Harrison also led the way in addressing climate change, both on campus and in the larger community. In November 2017, she participated in the United Nations annual climate conference in Bonn, Germany, part of a delegation of leaders who gathered to voice their support for the Paris Agreement on climate change. In 2013, Harrison joined with nearly 600 other university presidents representing every state in the U.S. to sign the Presidents' Climate Commitment, and the revised Climate Leadership Commitments in 2015. The revised Climate Leadership Commitments include carbon emission reduction and a Resilience Commitment that is focused on climate adaptation and community capacity-building, to deal with a changing climate and resulting extremes.
CSUN has in recent years been named a Tree Campus USA and a Bee Campus USA. The Hispanic Association of Colleges and Universities awarded CSUN with the Leadership in Climate Change Awareness award in 2016, and the American Association of State Colleges and Universities recognized CSUN for Excellence and Innovation in Sustainability and Sustainable Development.
On campus, CSUN opened the first-ever Sustainability Center in the CSU system — it's CSUN's and the CSU's first Net Zero Energy Building. The Associated Students Sustainability Center uses solar panels for electricity and photosensors to take advantage of natural daylight entering the building, and collects greywater for irrigation. On the other side of campus, the Extended University Commons earned CSUN's third LEED Certification for energy-efficient design.
CSUN's efforts to address California's frequent droughts, including changes in irrigation practices, updated landscaping and installation of more efficient plumbing, have led to a savings of nearly 322 million gallons of water since Harrison became president.
USING ATHLETICS AS A TOOL FOR ENGAGEMENT
Harrison has been deeply involved with the NCAA and athletics, including serving as a former member of the NCAA Board of Governors and the Division I Board of Directors. She is also a past chair of the Big West Conference. So, it's no surprise that Matador Athletics continued to flourish during her tenure.
The university currently boasts 17 varsity sports teams, and CSUN launched its newest varsity sport (beach volleyball) in 2014. CSUN teams made nine NCAA Tournament appearances, and three golfers combined for four NCAA Regional individual appearances.
The university also dedicated resources to helping athletes succeed off the field. The Matador Achievement Center opened in fall 2013. The center expanded tutoring services and new technology such as iPads and laptops, which athletes can check out.
During Harrison's tenure, the university had 131 Academic All-Americans. The Varsity N Honor Roll Ceremony continued to grow, celebrating student-athletes who achieved a GPA of 3.2 or higher for the two most recently completed semesters.
LOOKING TO THE FUTURE
Harrison said she plans to continue advocating nationally for social justice, educational accessibility, sustainability and improvements in mental health care. She also looks forward to watching CSUN continue to build on the accomplishments of past and present CSUN leaders.
"It has been an honor and privilege to lead our great institution, and I take pride in what we have accomplished together," Harrison said. "CSUN students receive a life-changing education that prepares them to be valuable citizens of the world, and the university is in great shape to carry on this important mission for years to come."
---
A NATIONAL LEADER
A leader on campus and off, Dianne F. Harrison shared her deep experience with service on national boards and earned recognition internationally, bringing positive attention back to CSUN for her efforts. The following is a summary of some of these awards and recognitions Harrison received during her tenure leading CSUN:
Invited to participate in Fulbright International Education Administrators Seminar in France.
Named to the Valley 200 list multiple times by the San Fernando Valley Business Journal, and recently included on its "Icons of Influence" list — the top 20 most influential Valley leaders.
Named to the LA500 list of the most influential Angelenos, by the Los Angeles Business Journal.
Appointed to the Western Interstate Commission for Higher Education three times.
Elected as the first university president to chair the Los Angeles County Economic Development Corporation board.
Named 2019 Woman of the Year for the state's 18th Senate District by Sen. Robert Hertzberg.
Invited to the Obama White House to participate in the Task Force to Protect Students from Sexual Assault, led by former VP Joe Biden.
Participated in the 2014 White House Summit on College Accessibility.
Received the 2014 Trailblazer Award from Leadership California.
Serves on the Second Nature Board and is a past chair of its Climate Leadership Steering Committee.
Served as a former member of the NCAA Board of Governors and the Division I Board of Directors.
---
TIMELINE:
2013
MAY
Dianne F. Harrison, former president of Cal State Monterey Bay, is inaugurated as the fifth president of CSUN, the third consecutive woman to lead the university.
2014
Enrollment surpasses 40,000 students.
Alumnus David Nazarian launches a $25 million fundraising drive with a $10 million gift. In recognition of his gift and pledge of continued support, CSUN names its college of business the David Nazarian College of Business and Economics.
The CSUN Women's Basketball team wins the Big West Conference Tournament and reaches the NCAA Tournament, a feat they repeat in 2015 and 2018.
The National Institutes of Health (NIH) awards CSUN's undergraduate research training program BUILD PODER a $22 million grant for five years — the largest grant in university history. In 2019, the NIH awards CSUN $19 million over the next five years in ongoing support of BUILD PODER.
CollegeNet ranks CSUN fifth in the nation in the annual Social Mobility Index.
2015
APRIL

CSUN launches new brand and reputation and visibility campaign.
2016
AUGUST

CSUN expands its campus with the opening of the Extended University Commons (EUC) on the west side of campus. In 2017, the U.S. Green Building Council awarded the EUC a LEED (Leadership in Energy and Environmental Design) Gold Certification.
2017
JULY
The Valley Performing Arts Center is renamed the Younes and Soraya Nazarian Center for the Performing Arts (The Soraya), after a $17 million gift from the Nazarian family —the largest gift to support the arts in CSU history.
NOVEMBER
CSUN opens the Sustainability Center — a first of its kind in the CSU system.
2018
CSUN reaches 350,000 alumni.
The university has an all-time high 11,500 graduates participate in 2018 commencement ceremonies.
2019
The Association of Public and Land-grant Universities designates CSUN as an Innovation and Economic Prosperity University.
2020
FEBRUARY
With a $3 million grant from NASA, CSUN opens the NASA Autonomy Research Center for STEAHM (Science, Technology and engineering, Entrepreneurship, Arts, Humanities and Mathematics).
NOVEMBER
Longtime volunteer leaders Milt '68 and Debbie Valera contribute $11,075,000 gift to establish 10 endowments across the university.