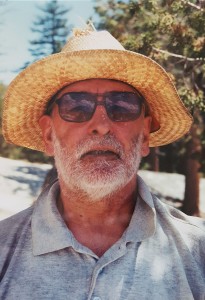 By Patty Park
A longtime supporter of CSUN's engineering programs, the late Tony Iles — an avid outdoorsman, antique collector and brilliant engineer — established the Anthony Iles Endowment to provide unrestricted support for the College of Engineering and Computer Science.
Iles was born in Gloucester, England and grew up in difficult circumstances during WWII and post war years. As an escape, he developed a passion for hiking and climbing, finding a deep joy in the great outdoors. He eventually developed a love of exploring caves and became a founding member of the Gloucester Speleological Society, a caving club whose halls proudly display his name on a plaque. When he wasn't out hiking or backpacking with friends, Iles was an ardent antique collector who loved to frequent garage sales and flea markets for his next treasure.
A passion for learning also became an escape for Iles during his youth. He received his education at the Crypt School in Gloucester, where his genius in mathematics and engineering became evident. In 1967, he was hired by what was then Lockheed Martin and moved to Georgia to work on many top-secret projects with the Skunk Works team (Lockheed Martin's Advanced Development Programs). In 1970, Iles moved to California, where he continued to work with Lockheed in numerous capacities, even investigating air crashes as Director of Flight Safety, and consulting with NASA on various projects. Upon his retirement, he continued to work as a consultant for more than a decade on projects including the F-117 stealth fighter, X-33 reusable space vehicle, the Airbus tanker and the Boeing tanker.
During his long career, Iles hired and supervised many CSUN students, noting the university's strong engineering program. Upon his passing, he donated a large majority of his estate to several charities that reflected the passions close to his heart, with the largest portion of his wealth given to his alma mater The Crypt School, and to CSUN to create an engineering endowment in his name.
"The Anthony Iles Endowment provides valuable funds to address the priorities of the College," said Houssam Toutanji, dean of the College of Engineering and Computer Science. "As student success is our greatest priority, this endowment allows us to further provide support for our students to enrich their experience at CSUN."