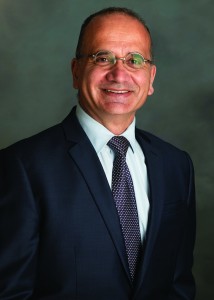 Welcome to the first edition of the newly relaunched Spectra magazine for the CSUN College of Engineering and Computer Science.
Our goal with Spectra is to highlight the good work of our students, faculty and alumni as they make their mark. This will include a variety of stories about our current research, competition results, innovative beginnings and successes as our community strives to make the world a better place.
Having just wrapped up my first year at CSUN as dean of the College of Engineering and Computer Science, I am pleased to share with you some of my top priorities for the college:
Student Success – this includes scholarship support, support for academic success and accelerated graduation, and equipping undergraduate and graduate laboratories with up-to-date equipment.
Center for Integrated Design and Advanced Manufacturing – also referred to as the Center of Possibilities.
Honors Co-Op – expanded industry partnerships to get our students into paid, year-long internships providing them valuable industry experience and meaningful work for the companies.
Leadership – this includes the dean's Industry Advisory Board, departmental advisory councils, faculty development, college alumni chapter, student group leadership and more.
Since last spring, the college has put much energy and resources toward ensuring the safety and well-being of our entire community. Our college was just one of the four colleges approved for hybrid teaching, a blend of in-person and virtual learning, allowing us to provide the necessary access to labs for our students and faculty and to preserve the quality of our academic programs. We have provided laptops to students, faculty and staff; lab kits for remote experimentation and more, so that our students are well-equipped to continue their studies with little negative impact. Learning outcomes are of the utmost importance, and we will continue to adapt and evolve as necessary.
To say these are unprecedented times is an understatement, but engineers and computer scientists are problem solvers. As we look to advance manufacturing, autonomy, energy, cybersecurity, artificial intelligence and more, we do so with the mindset that our work will make our world a better place.
I very much look forward to the day when we can welcome you back to campus.
Please enjoy this issue and be well. Thank you for all you do to make our world a safer and better place.
Sincerely,
Houssam Toutanji, Ph.D., PE, F.ASCE
Dean