Please submit notes for future publication to magazine@csun.edu.
1960s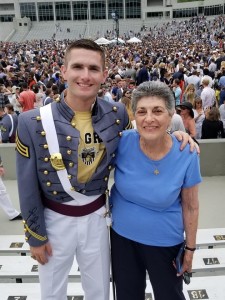 Adrianne (Eder) Weinberg '64 (History, pictured at right, pre-pandemic) '65 (Teaching Credential), '92 (College Student Personnel Services) watched the oldest of her four grandchildren, Hayden Cook, graduate from West Point, the United States Military Academy, in 2019.
Will Gorenfeld '65 (Sociology) has been writing history books and articles on the American West prior to the Civil War. Previously, he enjoyed a 35-year career as a lawyer, adjunct professor of law at Loyola University and writ attorney for the California Courts of Appeal. Gorenfeld credited Valley State professors Bess, Hawes and Buer for encouraging his historical research in 1965, which eventually led to him writing a book.
Arnold Fogelman '66 (Sociology) and Sheryl (Friedman) Fogelman '66 (Spanish) retired from careers in local government and teaching, respectively. They have been married 53 years and raised two sons. Two of their four grandchildren live in Japan, where Arnold and Sheryl have been traveling every year for the past 20 years.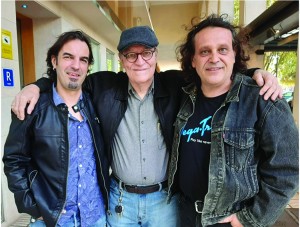 Craig Buzzart '68 (Political Science, pictured at left, middle) packed up the day after his 75th birthday and moved to Palma de Mallorca, Spain, for "semi-retirement," where he plans to build acoustic guitars and work with Vega-Trem Guitars, designing new products.
1970s
Julie Hanks '71 (English) is a writer of Western novels with female protagonists, after serving 40 years as a teacher and earning her Ph.D. Hanks has written four full-length books and 10 short stories under the pen name Jesse J. Elliot.
Randolph J. "Jack" Meyers '71 (Anthropology) lives in Taos, N.M. He has spent more than 40 years in international resource development, working in 25 countries. Currently, Meyers is busy volunteering in microfinance work in Kenya and Tanzania.
John W. Powell '71 (Physics), M.S. '73 (Physics) was granted professor emeritus status at Reed College in 2018. Inspired by the note about fellow alum Art Altshiller in the fall 2019 CSUN Magazine, he congratulates Altshiller on a great career and seconded the impact of the late CSUN physics professor John W. Nagle, who taught Powell in astronomy and mathematical physics. Powell also noted the impact the entire CSUN Department of Physics faculty in the late '60s and early '70s made on his physics career, particularly professors Collas, Doty, Natale and Seki.
Charles Blute '74 (Sociology) retired after dedicating the majority of his career to the healthcare industry. At retirement, Blute was a practicing psychotherapist for Catholic Charities, treating children, families, individuals and couples. He also has served on the leadership council of a local police Community Advisory Council, and he has volunteered with the Department of Elder Affairs, YMCA and Community Health Center. Blute enjoys spending time with his wife, Nancy, taking guitar lessons and remaining as active as he can. He also enjoys walking around town, wearing his CSUN T-shirt!
Leonard Friedman '77 (Biology/Teaching Credential), M.P.H '82 (Public Health) was named editor of the Journal of Health Administration Education. The journal is published by the Association of University Programs in Health Administration.
Frank Lala '77 (Community Health Education) is a CSUN alumnus who is deaf. He is a vocational rehabilitation counselor for the Department of Human Services in Georgia, and he published a book on substance abuse among the deaf and hard of hearing, "Counseling the Deaf Substance Abuser." Lala also founded the Chatham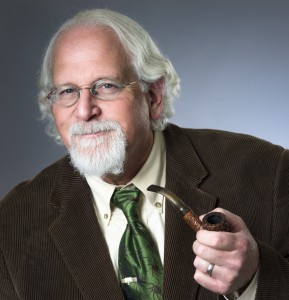 County Association of the Deaf, where he serves as president. Lala is a fifth-degree Black Belt in karate and jujitsu.
Craig Leener '77 (Radio-Television Broadcasting, pictured at right) published "All Roads Lead to Lawrence," the sequel to his bestselling young adult novel, "This Was Never About Basketball," from Green Buffalo Press. Leener plans to publish the final book in the coming-of-age basketball trilogy in spring 2021.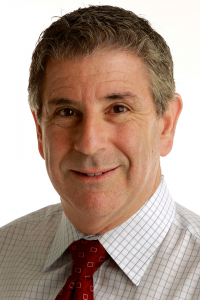 Douglas Friedman '78 (Radio-TV Production, pictured at left) is the director of communications for the Alzheimer's Association – San Diego Imperial Chapter. After graduating from CSUN, Friedman spent more than 40 years in television production and marketing before moving into the nonprofit sector. Friedman said he cherishes connections he made during his years at CSUN.
Ruth Lindeck Forman '79 (Communicative Disorders) established the Ruth Lindeck Forman and Lee Forman Endowment in 2009 for CSUN's Department of Communication Disorders and Sciences, celebrating with Vicki Lin, the first recipient. Forman also has served in the Dean's Circle for the College of Health and Human Development, attended CSUN's 60th Anniversary Grand Reunion and became a Lifetime Member of the Alumni Association. With sustained support from CSUN colleagues, Forman also published a book, "Soul to Soul Connection and Communication," which includes a multitude of Matador experiences and tools she honed as a Matador.
1980s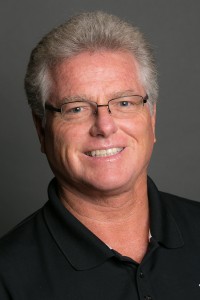 Mark Henschke '80 (Biology, pictured at right) was recognized by the Maine Osteopathic Association for 30 years of service as an osteopathic physician in Maine, at the association's 2019 Annual Convention. Henschke is a board-certified physician in internal medicine and medical management, and he maintains a hospital-based practice in York, Maine. Henschke has served on numerous health-related boards at the state and local levels and serves as a speaker on medical and pharmaceutical topics. He lives in New Hampshire and, when not working, can be found surfing off the New England coast.
Karen Mansky '80 (M.A., Communicative Disorders/Teaching Credential) retired in June 2019 after 30 years as a speech language pathologist with Los Angeles Unified School District. Mansky said she is profoundly grateful for the education she received at CSUN, which allowed her to pursue her career. Karen has been married to her spouse, Terry, for 32 years, and they have two grown daughters, Hannah and Jackie. In retirement, Mansky plans to travel, visit family and friends, and play golf.
Vicki M. Roberts '80 (Radio-TV Broadcasting) published an anthology of original poems, "A Kaleidoscope of Short Adventures Found in Bourgeois Poetry." Previously, Roberts served as a judge pro tempore (temporary judge) for the Los Angeles Municipal Court from 1984-90, and she has appeared on TV multiple times as a legal commentator. Roberts also contributed to "Beyond a Reasonable Doubt," with an introduction by Larry King, published in 2016.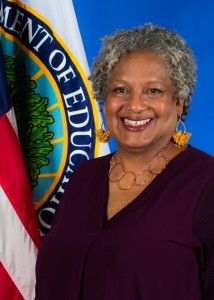 Catherine DeMonte '84 (Deaf Studies), M.A. '86 (Educational Psychology) had her book, "Beep! Beep! Get Out of My Way! Seven Tools for Living Your Unstoppable Life," published by St. Germain Publishing. She based the book on tools she created as part of her psychotherapy private practice in Calabasas.
Dawn Carroll Ellis '84 (Communicative Disorders, pictured at left) was appointed as a liaison to parents and families at the U.S. Department of Education.
Michael Sellars '84 (Radio-TV Broadcasting) retired as a Los Angeles reserve police officer after serving 26 years, and he received a Lifetime Achievement Award from the LAPD in 2019. He is co-president of the Los Angeles Police Reserve Foundation and editor-in-chief of The Rotator, the publication for LAPD reserve police officers. Beyond police work, he is the chief operating officer of West Coast Film Partners. Previously, Sellars served as a sales executive at Baker and Taylor, Inc., managing more than 150 accounts in California and Hawaii, and later as executive director of sales at Artisan Pictures and Lionsgate Films.

Michael Jantze '85 (Radio-TV Production) published a new comic collection for his weekly strip, "The Norm." "The Norm 4.0" is a collection of more than 150 full-color comics originally syndicated at GoComics.com. The syndicated comic strip previously ran in newspapers worldwide for a decade. He is the owner of Jantze Studios, a studio that focuses on character-based humorous entertainment for print and animation. Jantze lives in Washington state.
Tom McKay '86 (Finance) was inducted into the Matador Hall of Fame with his entire 1984 National Championship CSUN Baseball team.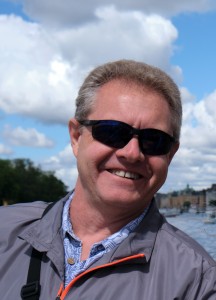 Dwight Odland '87 (Finance/Real Estate, pictured at left) retired after 30 years in business development in the space industry. He led proposal teams to win more than $1.5 billion in new business for his company. He also served 10 years on the board of directors for the West Valley Boys & Girls Club, and he serves as Los Angeles-area coordinator for the PKD Foundation, which educates and supports fellow patients with polycystic kidney disease. Odland is an internationally known PKD patient advocate and has raised nearly $1 million toward disease research. He enjoys skiing, hiking and traveling with his wife, Jean. Odland has taught as "Professor for a Day" at CSUN several times. He noted that some of his fondest memories as a student were selling snacks in the Sierra Quad to raise money for scholarships (and parties) for the Management Association at CSUN.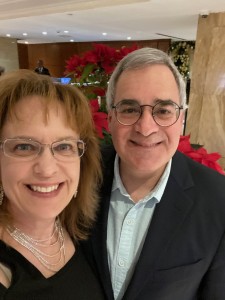 Stephen B. Bluestein '88 (English Literature, pictured at right), Ed.D. '11 (Educational Leadership/ Teaching Credential), M.A. '95 (Elementary Education), is the executive director of Ivy Bound Academy, a public charter middle school with campuses in Northridge and Sherman Oaks. Previously, Bluestein was superintendent of schools for the Cuyama Joint Unified School District in Santa Barbara County, and a teacher and administrator in LAUSD for 27 years. He is married to Stephanie Bluestein '88 (Journalism, also pictured at right), M.A. '07 (Mass Communication), Ed.D. '12 (Educational Leadership), an associate professor of journalism at CSUN.
Linda Cooper '88 (Radio-TV Production) is a TV host and executive producer of "Travel Time With Linda," available on Amazon Prime. Her show's first season received a bronze Telly Award.
1990s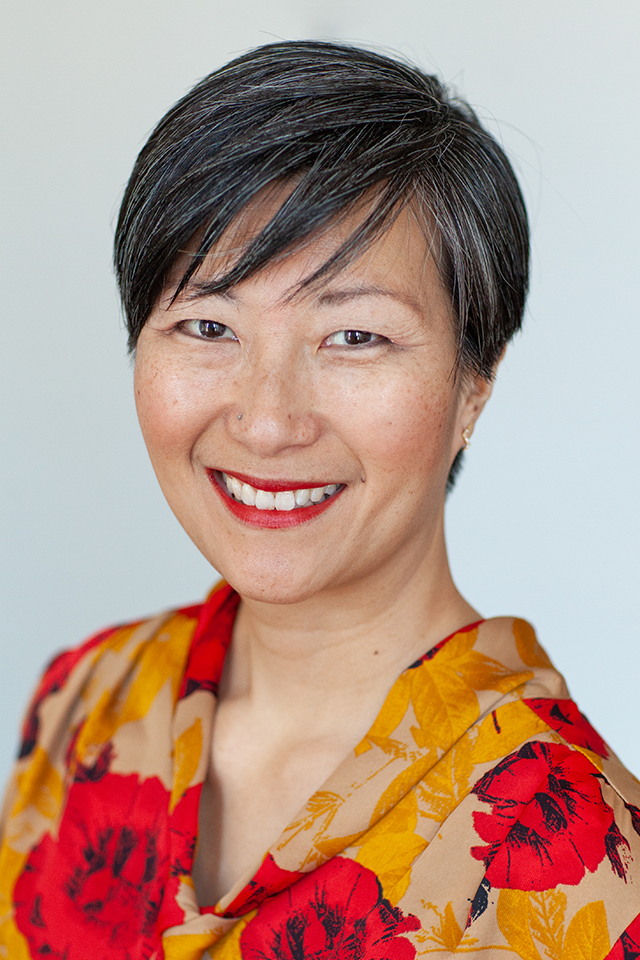 Jean Lane '90 (Radio-TV-Film, pictured at right) is a freelance post-production supervisor specializing in feature films and documentaries. Her recent work includes the Sundance Film Festival special jury prize-winning documentary "Dick Johnson Is Dead," IDF award-winning Netflix series "Abstract: the Art of Design" and the indie film "Hide and Seek," produced by CJ Entertainment.
Susan K. Weiner '90 (English Literature) published her second book of poetry, "Before the Foundation of the World."
Bridget Sampson '91 (Speech Communication), M.A. '93 (Speech Communication) retired after 28 years teaching in the Department of Communication Studies at CSUN. While teaching, she launched and grew Sampson Coaching & Consulting, where she now works as full-time CEO.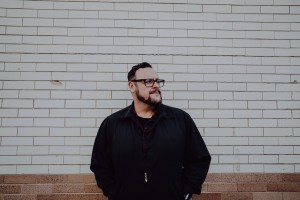 Mike Cubillos '92 (Radio-TV Production, pictured at right) celebrated the 21st anniversary of running his own independent music and lifestyle PR company, Earshot Media, where he has handled publicity for various record companies, musical acts and events such as All Time Low, Avenged Sevenfold, All-American Rejects, the Vans Warped Tour, Punk Rock Bowling and Music Festival, Music Tastes Good, Reel Big Fish, Foxy Shazam, Hawthorne Heights and many others.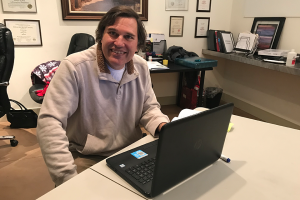 Scott Alpert '95 (Psychology, pictured at left) published his third book, "Self-Helping," about the practical application of spiritual psychology, which he has used to treat more than 7,000 people at the Mental Health Urgent Care Center in Long Beach.
David Barbee '95 (Radio-Television-Film) was nominated for two primetime Emmys for sound editing in the 30-minute category, for the TV shows "Ballers" and "What We Do In The Shadows." Barbee is a sound effects editor and designer at Formosa Group, a full-service, post production sound company.
Robyn L. Goldberg '95 (Home Economics – Dietetics) had a new book published, "The Eating Disorder Trap: A Guide for Clinicians and Loved Ones," in March. Goldberg is a registered dietician in private practice. She is also a nutrition consultant for the Celiac Disease Foundation. She began her career at Cedars-Sinai Medical Center, as the in-patient dietitian for the Department of Cardiology.
Virginia Adame '97 (Child Development/Communicative Disorders) M.S. '99 (Communicative Disorders/Teaching Credential) has been working in the school system as a bilingual speech-language pathologist. Adame is working in a TK-5 elementary school with general education and mild/moderate populations.
Christopher J. Moore '97 (Radio-TV-Film/Psychology), M.A. '12 (Screenwriting), M.F.A. '15 (Screenwriting) is a proud CSUN alumnus and successful writer who also teaches as an adjunct professor at USC.
2000s
Jennifer D'Alvarez '00 (Psychology) is the vice president of Advancement at Pacific Clinics, a Southern California-based community mental health agency. Previously, she served as chief advancement and communications officer at Optimist Youth Homes & Family Services. D'Alvarez is a member of the Greater Los Angeles Chapter of the Association of Fundraising Professionals and a Certified Fundraising Executive.
Heather Robyn '02 (Child Development) continued her education, completing a master's in counseling and a doctorate in education. She published her first YA book, "Group," and is working on her first children's book. Robyn has two teenagers, one of whom aspires to follow in her mother's footsteps as a Matador and member of Delta Delta Delta. Robyn lives in San Jose and works as an informatics educator for Stanford Medicine.
Shawn Litchfield '03 (Accountancy), M.S. '11 (Taxation) launched his new tax consulting firm in January.
Richard A. Pedroza '03 (Psychology), M.A. '07 (Special Education), '07 (Teaching Credential) completed his Doctor of Education degree from the University of Southern California in December.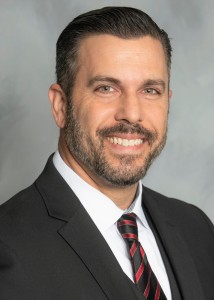 Alicia A. Wolfson '03 (Communication Studies), M.A. '11 (Communication Studies) is pursuing a Master of Science in human genetics and genetic counseling at Keck Graduate Institute.
Peter Genovese '05 (Information Systems, pictured at right) is a business applications specialist at the Hallmark Channel. Previously, he was a business analyst at Doheny Eye Institute, and an IT manager at Sideshow Collectibles, a specialty manufacturer of licensed and proprietary collectible products. This past fall, CSUN honored him with a Volunteer Service Award for his dedication to the university.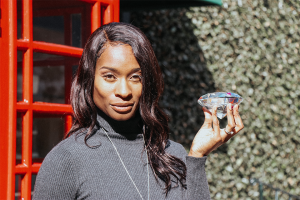 Genein Letford '05 (Teaching Credential, pictured at left), M.A. '09 (Education) leaped into entrepreneurship to teach creative and financial empowerment strategies with her "Diamond of Destiny" Program, after teaching for 15 years. Letford is a best-selling author and national speaker, and she aims to empower college students to live their best lives.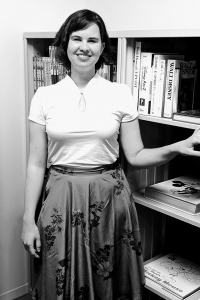 Jessica Lynn Clark '07 (Cinema and Television Arts – Electronic Media Management, pictured at right) is a senior clearance specialist at The Walt Disney Company, working on legally clearing feature films for release in theaters and on Disney+.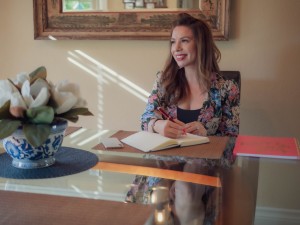 Karla Monterrosa '07 (Urban Planning – Environmental Analysis, pictured at left), M.P.A.'16 (Public Sector Management and Leadership) published her first book, "Unbraided: Transform Your Pain to Power and Purpose," about the path to breakthrough and healing from abuse. Monterrosa has helped provide women, youth and families with programming about higher education, economic opportunities and financial literacy. An abuse survivor herself, Monterrosa is passionate about using her skills and experiences to help others overcome their past.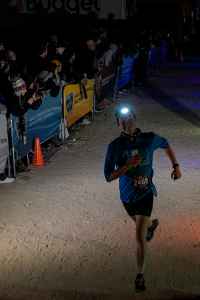 Tommy Vinh Bui '08 (Cinema and Television Arts – Screenwriting, pictured at right, running), M.A. '10 (English Literature) ran a desert marathon in Eilat, Israel, which culminated at the Red Sea. Bui described the experience and the scenery as equal parts lung bursting and awe inspiring.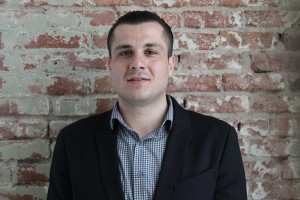 Manouk Akopyan '09 (Journalism, pictured at left) launched a one-hour radio show, "Time Out With Manouk Akopyan," on KLOS-FM 95.5 HD3 and across all major on-demand audio streaming platforms. The lifestyle radio show discusses culture around the nexus of arts, entertainment, sports, film, music, food, business and everything in between.
Jean-Paul Jones '09 (Music – Vocal Arts) starred as Nanki-Poo in the 42nd Street Moon theater company's 2019 production of "Hot Mikado" in San Francisco, a daring jazz adaptation of the Gilbert and Sullivan comic opera.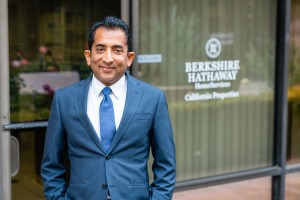 Ruwan Kotuwelle '09 (Management, pictured at right) is a realtor with Berkshire Hathaway Home Services. Previously, he worked as an insurance agent.
2010s
Sevak Agakhanyan '11 (Accountancy) has spent the past 14 years supporting his family with his CSUN degree, and he noted that he enjoys his accounting profession so much that he feels he's found his true calling.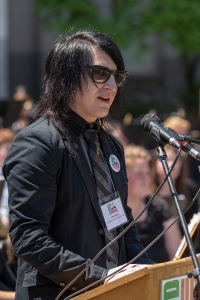 Justin Emord '11 (Communication Studies, pictured at left) was named the California Music Educators Association artist spokesperson and was selected to speak at the State Capitol in March, as an advocate for music education in schools throughout California.
Crystal Luna '11 (Sociology) graduated with an M.A. in Communications – Professional Emphasis, from Cal State Fullerton.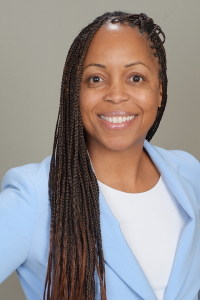 Deanne Moore '11 (Educational Administration/Teaching Credential, pictured at right) is a loan officer in the mortgage lending industry. Moore said she enjoys helping people through the emotional journey that is securing a mortgage for their dream home. 
Thomas Orlina '11 (Cinema and Television Arts – Electronic Media Management) returned to his YouTube docuseries, "Your Time With Thomas," for a second season, covering Breast Cancer Awareness month, the LGBTQ+ community and more.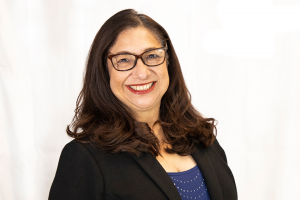 Irma Vargas '11 (M.P.A., Public Administration, pictured at left) is a co-owner of Canterbury Business Center, which provides workshops for entrepreneurs and emerging businesses to find the support they need to thrive in the San Fernando Valley.
Mark Needle '12 (Cinema and Television Arts – Electronic Media Management) had a screening of 10 years' worth of content he's produced (some while attending CSUN). Needle also started a vlog (video blog), where he answers questions based on his experiences as a multi-hyphenate in the entertainment industry. Needle specializes in turning grandmothers into "#InstaGrandmas" by teaching senior citizens about social media and computer technology.
Melissa Granados '13 (Business Law) found her calling in helping undocumented immigrants. She is the chief operating officer of an immigration law firm in Downtown Los Angeles, which recently opened a number of new offices, including one in Texas.
Laura Aragon '14 (Psychology) self-published a self-improvement book, "I Have No Idea What I'm Doing," under the pen name Candy Aragon. Her goal, she said, is to help others in her generation find their calling in life.
Sheri Arcuria '14 (Humanities) published "Unzipped," a book that chronicles her weight loss journey and gastric sleeve surgery while at CSUN, with the encouragement of her husband.
Elizabeth Dorssom '14 (M.P.A., Public Sector Management and Leadership) was named a 2019-20 Oskar Morgenstern Fellow at the Mercatus Center at George Mason University. She also was selected to attend the Institute for Qualitative and Multi-Method Research at Syracuse University in June. Dorssom is working toward a Ph.D. in political science at the University of Missouri.
Ereny A. Hanna '14 (Cinema and Television Arts – Electronic Media Management) is a production manager for Disney Jr.'s new show, "Chicken Squad." After interning at "Jimmy Kimmel Live" and Michael Bay's production company, The Institute, during her years at Pasadena City College and CSUN, Hanna became an assistant production manager at Warner Brothers Animation and completed the first season of "Bunnicula," as well as three movies ("LEGO Scooby-Doo! Blowout Beach Bash," "LEGO DC Super Heroes: The Flash" and "LEGO DC Super Heroes: Aquaman: Rage of Atlantis"). Hanna also worked as a production coordinator at Cartoon Network for the shows "We Bare Bears" and "Victor and Valentino."
Brooke Noska '14 (Cinema and Television Arts – TV Production) was a 2019 Emmy nominee for her work as a visual effects producer on "The Orville."
Crystal Duran '15 (Kinesiology – Dance) opened a dance studio in Tarzana, CrystalArts Dance Academy.
Demontea ("Tae") '15 (Management) and Demonte ("Tray") Thompson '15 (Finance) appeared on "The Kelly Clarkson Show" in November, to talk about their work with foster children (they also gave a big shout-out to Cal State Northridge Matadors). The brothers founded a nonprofit, TwInspire, to advocate for, empower and educate young adults from economically disadvantaged backgrounds. In 2019, they established the Lorenzo Edwards – TwInspire Scholarship in the Department of Financial Aid and Scholarship, within CSUN's Division of Student Affairs.
Marcos Ascencio '16 (Criminology) is an eligibility worker for the Los Angeles Department of Public Social Services, a job he described as extremely rewarding.
Kevin Cazares '16 (Sociology) is a school counselor in Colton and giving back the wisdom and inspiration he received from CSUN, he said. "As a male Latino, CSUN gave me the inspiration, courage and determination to be myself — but more importantly, taught me the skills needed to get my master's degree," Cazares said.
Carolyn Jordan '16 (Honors Psychology), M.S. '18 (Counseling – Marriage and Family Therapy) is an associate Marriage and Family Therapist in a private practice in Woodland Hills, while gaining her hours toward licensure. She described it as her dream job, working close to home, during the hours of her choice, with clients she loves.
John Mata '16 (Interdisciplinary Studies) was proud to earn his degree, while working to support his family. His wife, Olivia, recently became a U.S. citizen, and Mata hopes to raise awareness about "hybrid families" — families where an American citizen marries an undocumented immigrant — and he hopes to earn an advanced degree in psychology.
Sofia Ramirez '16 (Honors Psychology), M.U.P. '19 (Urban Planning) is a mental health counselor in the San Fernando Valley Community Mental Health Center's homeless continuum program. Ramirez is also working on a second master's degree, in USC's Master of Social Work program.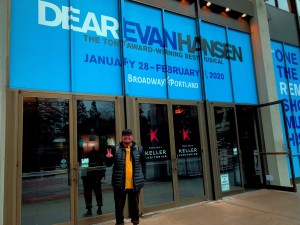 Marco Roman '16 (Cinema and Television Arts – TV Production/Central American Studies, pictured at right) was on the "Paw Patrol Live" tour, coordinating merchandise, before moving on to work with the "Dear Evan Hansen" tour and opening "Hamilton" in Los Angeles for its second run. Roman was born and raised in Hollywood and is excited to play hometown shows. He hopes to manage his own "Hamilton" show one day.
Katharine Coldiron Mason '17 (M.A., Creative Writing) published her first book, "Ceremonials." Her work has appeared in Ms., The Washington Post, the Times Literary Supplement, The Guardian and The Kenyon Review, among others. Born in the American South to a professor of poetry and translation and a U.S. Navy captain, and raised along the East Coast, she lives in Los Angeles.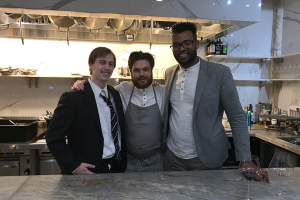 Julian Maynes '17 (Linguistics, pictured at left, in middle) discovered his true passion in cooking, and he has worked in several kitchens, including as a head chef. Maynes works in what he believes is one of the best restaurants in L.A.: Scratch Bar & Kitchen.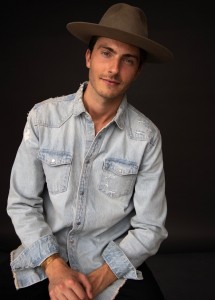 Ishaan J. Reyna '17 (Communication Studies, pictured at right) founded Malibu West in 2018, a multimedia production company that is "rooted in the fundamentals of human communication," according to Reyna. His company provides services including film production, podcast production, social media management, digital brand consulting, web design and more.
Ben Villalobos '17 (Computer Science) recently completed his first year working at Microsoft. Villalobos joined the developer division, where he works on MSBuild.
Natalie Harris '18 (Psychology) joined College Access Plan (CAP) as a high school program coordinator. As part of the CAP team, Harris said, she is excited to help students succeed by supporting their educational goals in order to create a more inclusive and equitable community.
Karina Perez '18 (Political Science – Public Policy and Management) presented research at the International Astronautical Congress in 2019. Perez is manager of strategic initiatives at the Aerospace Industries Association in Alexandria, Va., where she works under the former Secretary of the Army and his chief of staff. She was featured in Aviation Week magazine as a rising star in the industry, and she runs a one-day conference for young professionals and students in the space industry for the Space Generation Advisory Council (SGAC), a non-governmental organization. Perez has represented the industry on panels at SXSW and the Humans to Mars Summit. At CSUN, Perez participated in the CSUN in D.C. Internship Program, and she co-authored an article in Room, The Space Journal, along with members of SGAC.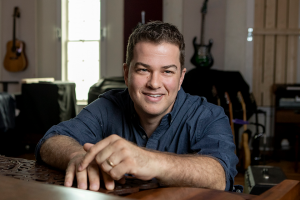 Chad Rehmann '18 (Music Industry Administration, pictured at left) worked on the score for the horror film "Camp Cold Brook," released in February.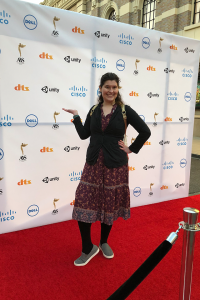 Bridget Fornaro '19 (Journalism, pictured at right) landed her first job in public relations after graduation, and she has worked on Hollywood industry events for organizations such as the Visual Effects Society, Television Critics Association and Project Angel Food's Angel Awards.
Kelli Jones '19 (Journalism) was in a USAA Bank commercial that has aired more than 3,000 times, during national sporting events on networks such as ESPN, NBC and CBS.
Please submit notes for future publication to magazine@csun.edu.
---
MATADOR MILESTONES
Bruce Lemmerman '69 (Physical Education) and his wife, Brigitte, are celebrating their 50th anniversary in September 2020.
Marlene Leone '72 (English), M.A. '79 (Educational Psychology) and Nicholas Leone Jr. '74 (Art) celebrated their 50th anniversary in March, having married while still students at CSUN. They have been retired for 10 years, after spending a combined 70 years teaching in the Los Angeles Unified School District. They have two children, one of whom followed their path and became a Matador.
Angela (Beroukhim) Cohan '96 (Mass Communications) watched her son and fellow Matador, Alex Cohan '19 (Management), graduate from CSUN in May 2019 with a bachelor's degree in management.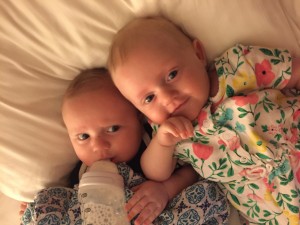 Alice (Chalikian) Kouyoumdjian '97 (Biology) welcomed a set of twins, one boy and one girl (pictured at left), in December 2016. She is a chiropractor living in Houston, Texas. During her years at CSUN, she worked on professor emeritus Steven Oppenheimer's cancer research team, and she has noted that the professor's embryology class started her medical career.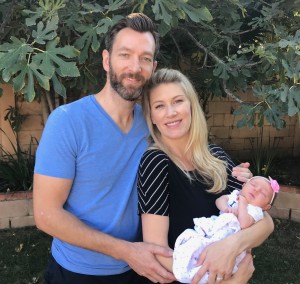 Sam Yaggy '03 (Economics), M.S. '08 (Mechanical Engineering) moved with his wife, Raychel, to Seattle, where he works as a propulsion engineer at Blue Origin. Just a couple months before their move, Yaggy and his wife welcomed their first child, Zoe (all pictured at right).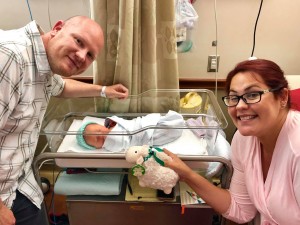 Christopher Gately '04 (Business Law) and his wife, Diana Bobe-Gately, welcomed their son, Connor Jackson "CJ" Gately, to the world on May 24, 2019 (all pictured at left). In October 2019, Christopher also celebrated five years as a business owner, with Gately Properties.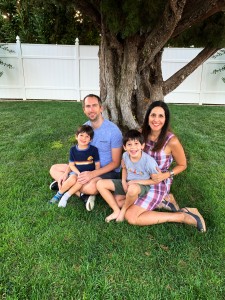 Andrew J. Van Gilder '05 (Business Honors) and Bita (Moore) Van Gilder '05 (Accountancy) met in Professor Weiss' Accounting 350 class in January 2003, and they tied the knot in 2008. In 2014, they welcomed their first son, Cameron, followed by their second son, Aiden, in 2015 (all pictured at right).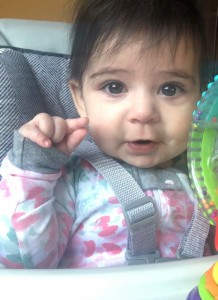 Andrew Batenhorst '06 (Management) and Celina (Agaian) Batenhorst '07 (Anthropology), M.P.A '16 (Public Management and Leadership) welcomed their first baby, Ava, on August 21, 2019 (pictured at left).
Daniel Monteleone '08 (Political Science/English), M.A. '11 (Political Science), married Carlotta Isabella Iapichino in Rome, Italy. He works for the European Landowners Organization and she for the European Economic and Social Committee (a consultative arm of the European Union), both in Brussels, Belgium. At CSUN, Monteleone served as chair of the University Student Union Board.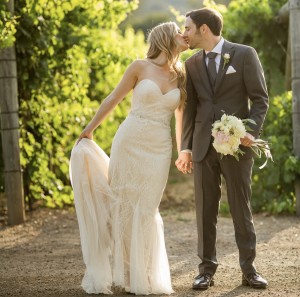 Brittney (Naff) Brotman '12 (Creative Writing/English Literature), M.A. '15 (Literature) married fellow Matador Jason Brotman '11 (Radio-TV-Film, both pictured at right). Brittney is working toward an M.A. in Education Administration, also at CSUN, and Jason has a blossoming career in television thanks to CSUN. He has worked on popular shows such as "Veep," "Ballers," "Haunting of Hill House," "The Boys" and more. They described themselves as Matadors through and through.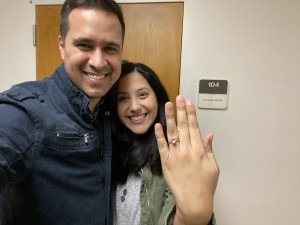 Jonathan Gonzalez '13 (Journalism) and Maricela Lopez '13 (Liberal Studies) got engaged in December 2019 in Sierra Hall, "in the same spot where we met almost eight years ago (pictured at left). Thank you, CSUN, for bringing us together," Gonzalez Tweeted. He is a weekend evening anchor and reporter at NBC L.A.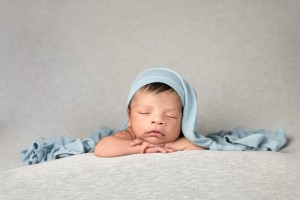 Andres Blanco '15 (Public Health) and his wife, Keyli, welcomed a baby boy, Theo Blanco, on August 21, 2019 (pictured at right).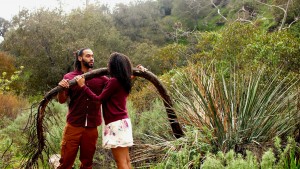 Melissa Del Pino '15 (Speech and Language Pathology), M.S. '17 (Communicative Disorders) and Domenick Booker-Pomata '15 (Environmental and Occupational Health, both pictured at left), M.S. '17 (Environmental and Occupational Health) are engaged, after falling in love on the CSUN campus. The couple said they have fond memories of long study sessions at the Oviatt Library. Booker-Pomata works for the Los Angeles Fire Department, and Del Pino is a fully licensed speech-language pathologist.