Naming Recognizes Transformational Gift from Alumnus
By Carmen Ramos Chandler
California State University, Northridge announced the naming of the university's administration building in honor of alumnus and notary pioneer Milt Valera '68 (Journalism) and his wife, Debbie, who have committed more than $11 million for programs across the campus, particularly those that support students who have been part of the foster care system.
The Valeras' gift creates an endowment and scholarship for The Milt and Debbie Valera EOP Resilient Scholars Program, which provides a safety net for college students who grew up in the foster care system, as well as scholarships and endowments in colleges across the campus, including an endowment for the Younes and Soraya Nazarian Center for the Performing Arts (The Soraya).
In November, the CSU Board of Trustees voted to name CSUN's administration building, formerly known as University Hall, Valera Hall in recognition of the Valeras' generosity to the campus. A longtime volunteer leader at his alma mater, Milt Valera has served on numerous CSUN-affiliated boards and advisory councils.
"Debbie and I feel fortunate to be able to make this gift to CSUN at this point in our lives," he said. "We hope that our gesture can serve to motivate others to support CSUN and other CSU campuses. Education has always been an important part of our lives, and we are proud that our gift will be able to be put to good use at so many programs on CSUN's campus."
As executive director of the National Notary Foundation, Debbie Valera is a noted philanthropist and supporter of numerous causes.
"Using a word that is not taken lightly, it is indeed a privilege to be able to give to the university and provide for others what we have been so fortunate to have for ourselves," she said.
In addition to The Milt and Debbie Valera EOP Resilient Scholars Program and The Soraya, the Valeras' gift supports scholarships and endowments in CSUN's David Nazarian College of Business and Economics; Mike Curb College of Arts, Media, and Communication; the University Library; and the Michael D. Eisner College of Education, as well as an endowment for the university's Jewish Studies Interdisciplinary Program in the College of Humanities.
"Some gifts cause ripples to reverberate across a university," CSUN President Erika D. Beck said. "Through this transformative gift, the Valeras — with their extraordinary depth and breadth of generosity — have made waves of positive impact that wash over our entire campus. Their dedication to CSUN and our mission is inspiring and will inspire others to join them."
In recognition of the gift, the Resilient Scholars Program was officially renamed "The Milt and Debbie Valera EOP Resilient Scholars Program."
"We thank Milt and Debbie Valera for their generous donation to the Resilient Scholars Program," said Shiva Parsa, director of CSUN's Educational Opportunity Program (EOP), which is home to the Valera Resilient Scholars Program. "This contribution will help us expand the capacity of our current program and provide much-needed services to foster youth attending CSUN. Our Resilient Scholars Program will be able to further develop the community of learners, strengthen support networks and meet the unique needs of foster youth. Our students face obstacles on a daily basis, and having the ability to remove some of them will have a great impact in our students' lives."
University officials also are naming The Soraya's lobby the "Milt and Debbie Valera Lobby."
"Milt and Debbie Valera have been among The Soraya's most committed supporters since it opened a decade ago," said Thor Steingraber, executive and artistic director of The Soraya, and interim vice president for University Relations and Advancement and president of the CSUN Foundation. "With their endowment for arts education and their regular underwriting of performances, Milt and Debbie have provided indispensable philanthropic leadership. That long-term support is now amplified with a visionary gift that provides for some of the most important needs as we look far into the future."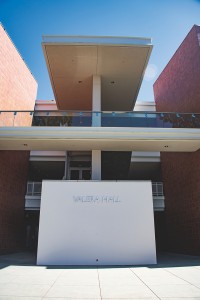 Milt Valera was born and raised in Lihue, Hawaii, and he came to California for his college education. He enrolled first at Los Angeles City College, before matriculating to what was then San Fernando Valley State College, now CSUN, to study journalism. He graduated in 1968 and worked at two of Los Angeles' metropolitan newspapers before forming his own public relations and marketing agency. That same year, Valera closed up shop on the agency and began working exclusively for the National Notary Association (NNA), handling its marketing and communications. In 1982, he became the association's president and CEO.
Valera was an instrumental figure in the association's growth. The NNA is the leading authority on the American notary office — serving hundreds of thousands of customers annually. In more than 50 years with the NNA, Valera has overseen all of the major programs that now define the arena of notary education and support services. He has written standards that have better unified the industry and has consulted with state governors and legislators on notary best practices.
Debbie Valera, like her husband, has been a key player in the growth and development of the NNA for more than three decades. Her service as the organization's executive director spanned 23 years before she became vice chairman and executive vice president. She represented the NNA on several state task forces and was active in the research and formulation of The Model Notary Act and The Notary Public Code of Professional Responsibility. As executive director of the National Notary Foundation since its founding in 1997, Debbie Valera has been key in the awarding of dozens of college and university scholarships and thousands of dollars being awarded to institutions throughout the country. Prior to joining the NNA, Debbie Valera was a reporter and editor at newspapers in Pennsylvania, where she was born, and Los Angeles. She holds bachelor's degrees in English and journalism from Syracuse University.
The Valeras are longtime supporters of CSUN and education. They are members of CSUN's President's Associates and Heritage Society, as well as champions of the university's Department of Journalism, The Soraya, the library and numerous other programs. They also sponsor several university scholarships and endowments.